Huawei Freebuds Pro 2 review- trendblog.net
Huawei Freebuds Pro 2 review. In terms of sound quality, the FreeBuds Pro from Huawei are among the best earphones I've ever tested. They had great audio quality, effective active noise cancellation, and an interesting look (nearly as unique as earphones can get, anyway). After announcing them at the Berlin launch event, the company has returned with the second version, and they're just as good as their predecessors. Devialet, the French audio company that also co-engineered Huawei Sound, is involved in the design of these earphones.
Huawei Freebuds Pro 2 Features
When it comes to features, the Huawei FreeBuds Pro 2 offers a few that you won't find on any other Bluetooth headset. For starters, a feature known as "Ultra-hearing True Sound Dual Driver" makes its debut. Two drivers are employed in this design: a planar diaphragm for high and low frequencies, and a quad-magnet dynamic driver. They can produce sound with a frequency range ranging from 14 Hz to 48 kHz. Using Huawei's "True Adaptive EQ," the Huwaei FreeBuds Pro 2 can automatically adjust to your ear canal structure, wearing posture, and volume level.
Noise Cancellation
Active noise cancellation, on the other hand, is able to tune itself to your environment. There's a noticeable difference in noise cancellation when you walk between different settings, and the company claims that these can cancel out up to 47 decibels of sound. In essence, these earphones pack a lot of punch in the specification table, and they manage to keep their word on a lot of the greatness that they promise.
A look at the Huawei FreeBuds Pro 2:
Specification
Huawei FreeBuds Pro 2

Build

N/A
In terms of size and mass, The following information is provided for each earbud:
The diameter is 29.1 mm.

Width: 21.8 mm

Height: 23.7 mm

Weight: 6.1 g 0.2 g approx.
Charging case:
Length: 67.9 mm

24.5 mm is the width.

Inches tall, or 47.5 millimetres

Weight: Approximately 52 g – 1 g.
Drivers for the speakers
Planar diaphragm driver and 11 mm dynamic driver
Microphone(s)
An array of four microphones
Connectivity
It's Bluetooth 5.2
Chargers and Batteries
Only if you're using earbuds:
For up to four hours, the ANC is activated.
Up to 6.5 hours with ANC off
Earbuds + Carrying Case:
Up to 18 hours of ANC on.
ANC off for up to 30 hours.
Wireless and wired charging are available:
Features Not Mentioned
a system for actively reducing background noise (47dB peak)
Charging via USB Type-C
The use of a handheld device is possible.
Colors
Blue and Silver

Frosted Snow

White Ceramic
I'd like to share my thoughts about it: On June 28th, 2022, Huawei sent me the Huawei FreeBuds Pro 2 for review. To attend the company's launch event in Berlin, I was flown there by the company, which also covered the cost of my travel and lodging. However, it had no say in what was included in this evaluation.
Huawei's FreeBuds Pro 2: Its Form
It's hard to tell the Huawei FreeBuds Pro 2 apart from their predecessor simply by looking at them; they have the same "typical" earbud shape and stem design. That being said, the design is functional and comfortable to use for long listening sessions. I'd call this colorway "Silver Blue," but it looks more lavender or violet to me. Because they don't look blue in real life, keep that in mind if you're looking for "blue" earphones. With the same squared-off stems, they're also easy to control. A swipe up or down on the front of the earphones can also be used to control volume, but it can be a bit finicky to get working and you may end up pushing them out of your ears a little. Squeezes, on the other hand, are fantastic!
Huawei FreeBuds Pro 2 are a pleasure to wear
For extended periods of time. With the exception of the touch controls, the design is functional and comfortable to use for extended listening sessions. Although there is a larger set of silicone tips available if you prefer, I had to use the smaller ones included in the box. While there may not be a "one-size-fits-all" solution, you will find a variety of options in the box to meet your specific needs. It's not a big deal, but I've noticed that my regular earbuds have a tendency to fall out of my ears after a while.
The audio, battery, and software of the Huawei FreeBuds Pro 2
If a pair of earphones don't sound good, I don't care what else they have to offer, and I'll always accept a pair of earphones that lack features if they sound good. In the end, that's why they're being sold in the first place. Given Huawei's previous audio prowess, I expected these earphones to impress me, and I was right on target with my expectations. 
Time Period
These earphones have amazing sound quality and can be worn for extended periods of time without feeling fatigued. Listening for long periods of time has already resulted in the earphones being destroyed, which is something I rarely do with earphones because I usually take them out when they become uncomfortable. While traveling, I was using headphones with active noise cancellation to keep myself entertained by watching television shows, movies, and listening to music.
Spotify Playlist
Check out my Spotify playlist if you want a taste of what I've been listening to while using these headphones. Lows and highs are clearly separated in songs like Car Seat Headrest's Famous Prophets (Star) at the bridge's minimal bass guitar focus. As a tribute to the plucky chorus guitar and the cacophony of instruments in No Halo's second chorus by Sorority, Modest Mouse's Float On does an excellent job. Earphones and headphone that aren't properly tuned may struggle to reproduce sound clearly.
These earphones have only a few minor flaws in my opinion. The first is that these earphones' mids and lows are tuned higher than I prefer with their default settings. This causes a noticeable loss of detail in the midrange. I also believe Huawei and Devialet did an outstanding job with the audio tuning of these earphones. The only time the lows would be an issue is if they overpowered the rest of the mix. Additionally, the LDAC audio support ensures excellent sound quality.
Active noise cancellation
The Huawei FreeBuds Pro 2 excel at active noise cancellation. The noise cancellation curve for aeroplanes is supposed to be specific, but I didn't notice much of a difference between normal noise-canceling earphones and that when I was on a plane. The fact that I didn't notice anything in particular that "wowed" me in that instance doesn't mean they did a bad job. On public transportation like the bus and the train, they do a good job of blocking out background noise.
ANC Application
It's interesting to note that the AI detection for various ANC application settings actually works. As soon as I put my earphones in, I could hear a noticeable difference in noise cancellation from what I had heard outside. In terms of how loud I perceived my surroundings to be, it didn't really make any difference, but it was still doing something.
Microphone Capabilities 
These earphones have also been praised for their microphone capabilities, and I must admit that I am impressed. In the middle of a Discord call, my friends noticed that my audio quality had dropped significantly when I stepped outside. I explained to them that I was using Bluetooth earphones instead of my phone's microphone when they asked me what was wrong with my microphone. To make my voice more audible, we discovered that it was cutting out frequencies around my voice to reduce the amount of background noise. The sound quality was poor, but I could still be heard and understood on a busy street among cars, motorcycles, and pedestrians.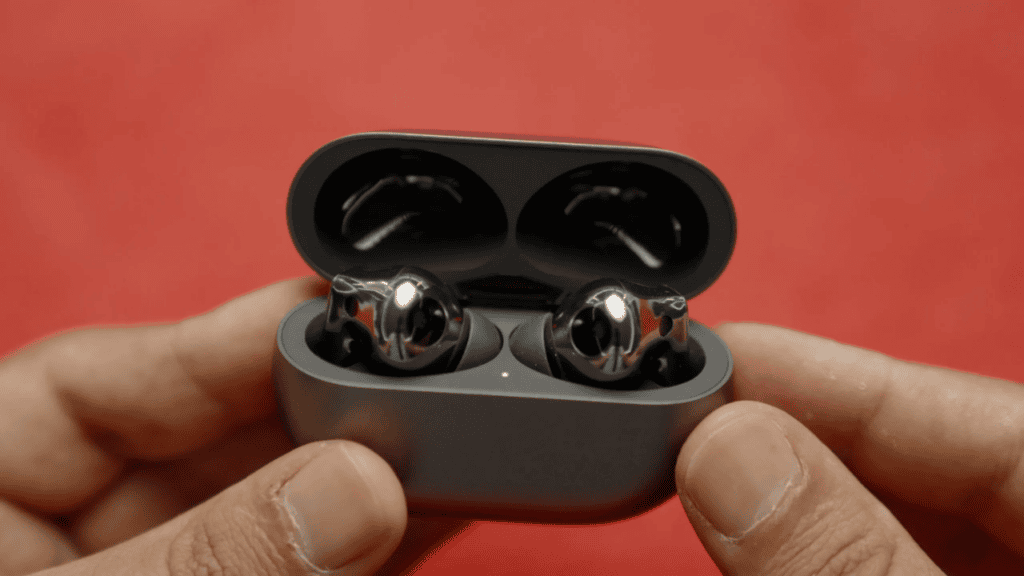 Also Read: 
Sony linkbuds s True Wireless WF-L900 lightweight wireless earbuds with ring design
Google Pixel Buds Pro vs AirPods Pro: Which one wins!!
Redmi Buds 3 Lite is On Sale: Here's How to Grab it
Google Pixel Buds Pro Come With Noise Cancellation and Long Battery Life
FAQs:
Q1: Is FreeBuds Pro safe to use in the shower?
Splash and dust resistance isn't a given, and over time, the level of protection may deteriorate due to normal use. The earphones should not be worn while you are bathing, showering, or taking a steam bath.
Q2: Can two FreeBuds Pro units be connected?
A description of the features of a product. The earphones can be used with two Bluetooth devices at once, including smartphones, tablets, PCs, and smartwatches, for example (but they are not compatible with MacBook series laptops).
Q3: What do you think of Huawei FreeBuds?
The FreeBuds Pro is a huge success for Huawei. Audio is punchy, energetic and well-balanced thanks to a clever implementation of active noise cancellation. The earbuds are comfortable to wear for long periods of time thanks to the smart implementation of touch controls.
Q4: Is Freebuds Pro 2 waterproof?
It has an IP54 rating for water resistance, Bluetooth 5.0, and an ergonomic design. Use AI-assisted voice recognition to make hands-free phone calls. A single charge of the 420mAh battery is good for 2.5 hours of use.
Q5: Is Freebuds pro worth it?
For Spotify or even Tidal's lossless audio, the Freebuds Pro are an excellent choice. In addition to the Huawei P40 Pro and its Histen Sound Effects, we also tried the Freebuds Pro on a different Android phone with Dolby sound enhancement, and they worked flawlessly on both.