A research conducted by IDC (International Data Corporation) has revealed that global smartphone market has gone flat. In the first quarter of 2016, the market shows stagnant growth. However, the research also calculated a total number of shipments by manufacturers. Samsung emerged as the market leader while Apple stayed in the second spot followed by Huawei. Even though the data shows impressive growth by Chinese manufacturers, but IDC claims that their sale grew by just 2.5 percent from last year.
Commenting on the research, IDC analyst, Anthony Scarsella, said,"Outside of China, many of these brands are virtually unknown and the ability of these rapidly growing Chinese vendors to gain entry into mature markets such as the United States and Western Europe will be essential if they have aspirations of catching Apple or Samsung at the top,"
The report also reveals that the smartphone market showed growth of 0.2 percent with 334.9 million of total device shipments. Surprisingly, Chinese manufacturers Oppo and Vivo claimed the 4th and 5th spot in the list of top five smartphone vendors. Interestingly, this time around last year's 4th and 5th spot holders, Lenovo and Xiaomi have dropped from the list.
IDC statistics for Q1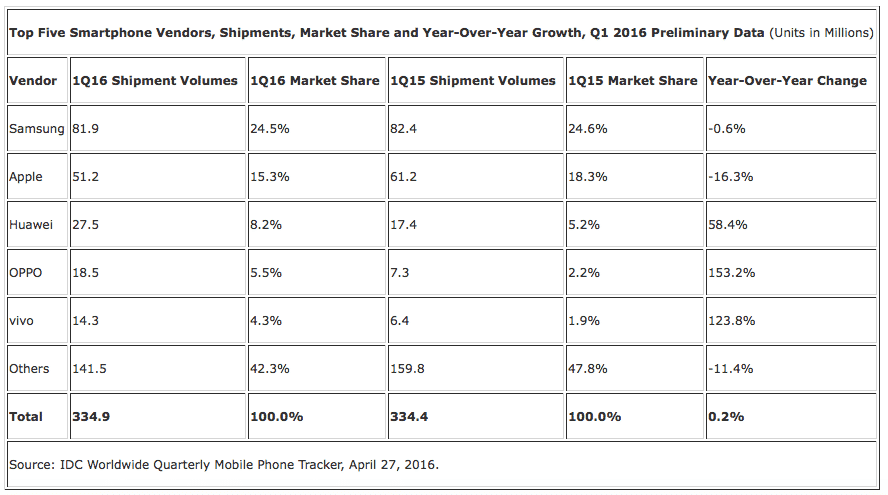 Samsung claimed the top spot with a global market share of 24.5 percent (sales drop of 0.6 percent from last year). Apple reigned the second spot with a worldwide market share of 15.3 percent (sales drop of 16 percent from last year). Huawei managed to get the third spot with a share of 8.2 percent (gain of 58 percent sales from last year). Oppo got the fourth spot with 5.5 percent market share (gain of 153 percent sales from last year) while Vivo settled for the fifth spot with a market share of 4.3 percent (gain of 123 percent sales from last year).