Have you ever had the feeling that sleep is playing tricks with you? I had. It's like one day you toss and turn in bed trying to get rid of restless thoughts, while the other night you wake up to rise and shine at 4 am. As time went by, I started feeling anxious before night. It was unclear whether I could get to sleep or not, and I thought that I was losing control over sleep.
Trying to get my sleep back, I've tried whatever I could. Sleeping pills and melatonin? Nope, I felt sleepy the next day, and there were no effects when I didn't take them. Yoga? Great, but getting out of bed to practice wasn't that tempting. Sleep affirmations? Well, I wasn't that convincing to lull myself to sleep. Sleep consultants? It sounded promising, but the prices ranged from 100$ to eternity. I tried different sleep-related apps, but they didn't seem to help that much. Besides, most of them weren't adapted for seniors (as I'm 65): small letters, confusing design, pointless or general tips.
Also, I've found out about CBT-I methods, extremely popular practices used for anxiety and sleep issues. I was intrigued to try it. That was when I came across the Journey: Sleep Insomnia Helper and decided to give it a go. At least I had nothing to lose (except sleep that was already lost).
How did it all start?
I've downloaded the app from AppStore and got ready to fight for my sleep. As many apps had similar quizzes, I wasn't surprised to be asked about my sleep problems and daily habits. I kept making my way through questions and learning about the app methods along the way.
Insights from sleep experts and the presence of a real sleep coach sounded like a real bargain. The quiz ended with a screen telling me the personal program was ready. These were my sleep goals and the tools to achieve them. I was eager to fight night awakenings, fall asleep faster, and reduce anxiety caused by sleepless nights. At this step, the app suggested talking to a coach, taking a sleep course, and listening to various audio. "What a nice combo" – this thought ran through my mind. Intrigued, I pressed the button Start the Journey.
That's where I saw that it's a paid app. As I wasn't sure yet, I was pleased to see that there was a free 7-day trial to check all the features and make a decision. That was just what I needed, so I chose this option.
Finally, I turned up on the Home screen. It greeted me by name, asking how my day was. That was so cute. This screen became my starting point for the next week for whatever I needed. There I could choose from different categories whether I needed to clear my mind or go back to sleep. The app kept offering me sleep stories and music that I might like and updated me about the new and popular audios.
The app's media gallery is also worth mentioning. I was surprised to see hundreds of nature sounds, meditations, various music, and sleep stories. There were sounds I'd never heard, such as the Space sound. It was great to see the music of different genres. I'm not much into classical music, so I was happy to find rock from the 60s and 70s, folk rock, and country music. These brought back so many good memories from my life. But sleep stories became a personal treat. I used to fall asleep listening to TV murmur, but now there was a soothing voice telling me good stories, such as 'Traveling to Italy' or 'In late afternoon.'
I've even created a personal sleep playlist by saving audio to favorites. So I just turned to it whenever I was too tired to choose or not up to new tracks. I knew it would always be there for me.
I should say that I felt like being taken care of with the Journey App. Chatbot kept asking me how my day and sleep were, and the app suggested audios that might suit my needs. I could just relax and rely on it.
What's more, I've decided to take the sleep course. It looks like a chatbot and lasts for 30 days. But I've still had an enjoyable week of it and even got an action plan of what I should expect from it. Every day the digital coach kept asking me how I felt and, depending on my answer, offered me tips on sleep, articles, simple exercises, and certain audios.
I was pleased to learn that these tips are based on CBT methods (Cognitive behavioral therapy), and the course is made by real sleep experts. The good thing is that it was all thought out. For example, I could read the tip or listen to it if I was busy. So again, I felt supported, as somebody created a clear way to sleep, and I was free from searching for random '5 ways to sleep better'.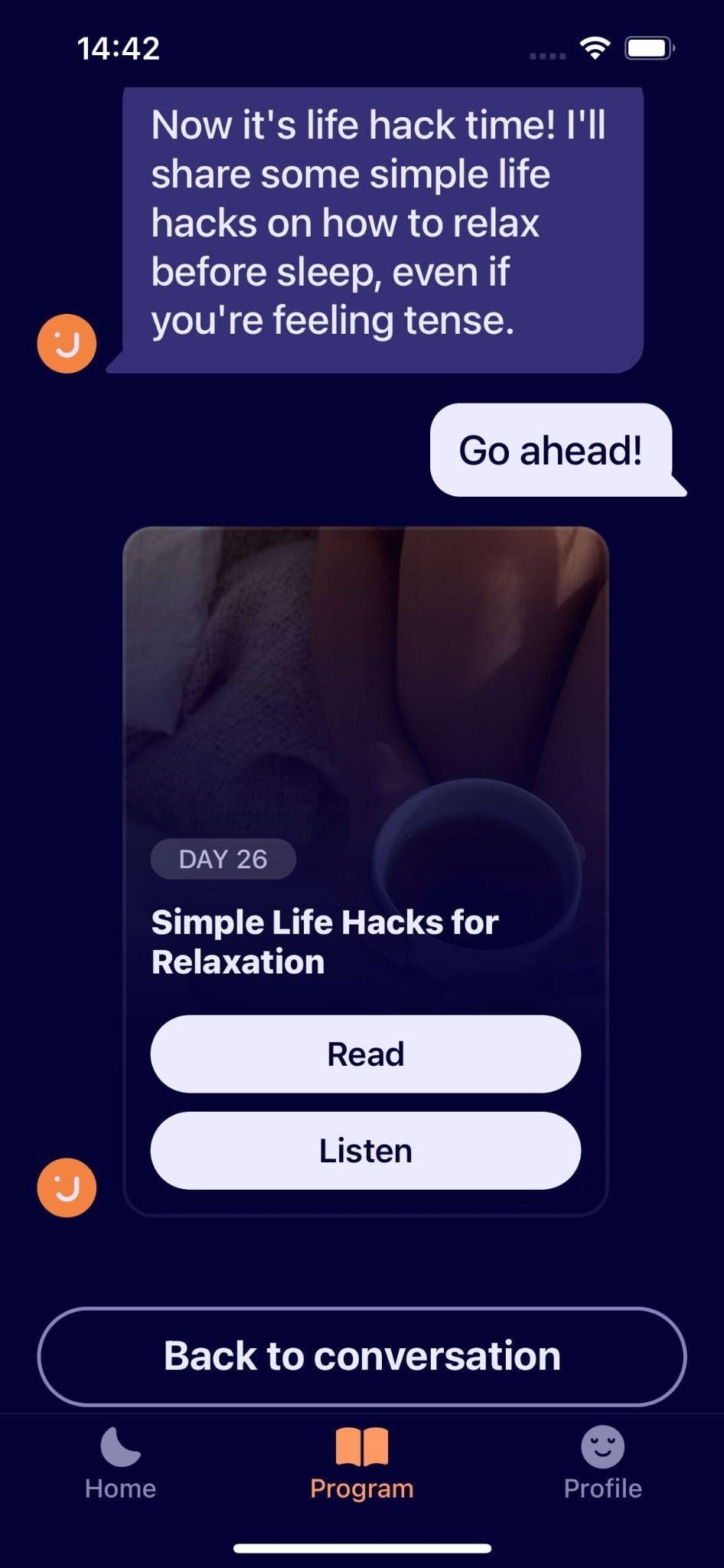 Also, there was a real sleep coach Lori to talk to. That's so convenient that you can contact her via the app and discuss what worries you with a real expert. I felt as I started getting back in control of my sleep and the coach helped to stay on track. I wasn't sure what to ask at first, but then I decided to ask about melatonin supplements.

Was the Journey App useful?
I can say that Journey: Sleep Insomnia Helper is definitely worth a try. During the first week and the next ones (yep, I've subscribed), I felt a great relief. Now I started to fall asleep faster and stayed asleep throughout the night. I felt refreshed the next day, and my anxiety was gone. Journey App offered me a personal plan to sleep better. However, I'd like to see this in progress, such as a diagram that shows how my sleep improves or a sleep diary. So it would be nice if the app would add this feature.
My habits improved with the sleep course, and I even found new soothing routines to calm down. Journey supported me at each step with personalized tips and audio I might like. It encouraged me to go on and get my sleep back. I know I'm still at the beginning of my way to healthy sleep, but I'm so happy that I've started this journey.