Lenovo's Yoga 9i – I review a lot of computers, so if you've heard of it, chances are it's come across my desk. So when I declare that the Lenovo Yoga 9i is now the greatest laptop on the market, I'm speaking from experience, having tested the competition.
The one exception is that Dell hasn't revealed the XPS 13 for this year, and HP hasn't announced the Spectre x360 for this year, but Lenovo has just gone above and above in past years. It's incredible. The bottom line is that if you want to go all out, this is the laptop to have.
Lenovo's Yoga 9i convertible laptop is the company's flagship model, and it's one of the best on the market this year.
Lenovo's Yoga 9i Features:
Description An edge-to-edge keyboard with 1-Click function keys.

Intel chips from the 12th generation

Dolby Vision, up to 14″, 16:10, 4K OLED, 100% DCI-P3 display
Pros:
The new rounded design with shiny edges is quite beautiful.

As expected, the OLED display is breathtaking.

The audio quality is still the best in the industry.
Cons: 
There is no place to keep the pen.

On the 4K model, the fan can be quite loud.
Price and availability of the Lenovo Yoga 9i (2022).
Lenovo is presently only selling one model, which costs $1,079 to purchase. Other models will be available at Best Buy and Amazon. Lenovo's new Yoga 9i laptops were first introduced at CES earlier this year, in January. While it was months before they began selling, it's worth remembering that Intel had not yet revealed the processors that will be inside these devices.
I'd call it a gradual rollout now. There is only one model available on Lenovo.com, and it costs $1,079. It has a Core i7-1260P processor, 8GB of RAM, a 256GB SSD, and a Full HD+ display. Of course, there will be more configurations. Reviewers received units with 2.8K or 4K OLED panels, 16GB RAM, and 512GB or 1TB of storage.
When I asked Lenovo where I could get one, they said these combinations are from Best Buy SKUs, but the listings aren't available yet.
Specs for the Lenovo Yoga 9i (2022).
CPU – Intel® CoreTM i7-1260P (2.1 GHz / 12 Cores / 18M Cache) 12th Generation
Graphics – Iris Xe graphics from Intel
Memory – LPDDR5-5200 16GB Dual Channel (soldered)
Display – Touchscreen, 14″ 2.8K OLED (2880 x 1800) IPS, 400 nits, 100% DCI-P3, 90 Hz, 16:10 (WQHD+),
                   Touchscreen, 14″ 4K OLED (3840 x 2400) IPS, 400 nits, 100% DCI-P3, 60 Hz, 16:10 (WQUXGA),
Memory – (One M.2 2280 PCIe Gen 4 slot, supports M.2 2242/2280 SSD) 512GB, 1TB
Connectivity – Bluetooth 5.2 + Intel Wi-Fi AX211
Ports – 1x USB 3.2 Gen 2
1 USB-C 3.2 Gen 2 cable (support data transfer, Power Delivery 3.0 and DisplayPort 1.4)

2x Thunderbolt 4 / USB4 40Gbps (data transfer and Power Delivery)

3.0 and 1.4 DisplayPort)

1x jack for headphones and microphone (3.5mm)
Audio – 2x 3W (side woofers), 2x 2W (front-facing tweeters on hinge bar), Bowers & Wilkins Speakers, Dolby Atmos optimised
Keyboard – LED lighting, 6-row multimedia Fn keys, 1-click function keys
Touchpad – Multi-touch touchpad with a buttonless glass surface that supports Precision TouchPad (PTP), 80 x 135 mm (3.15 x 5.31 inches)
Battery – Li-Polymer 75Wh with Rapid Charge Boost (2 hrs runtime with 15 min charge)
Camera – Fixed focus 2.0-megapixel IR & RGB hybrid, FHD 1080p webcam with privacy shutter
Chassis – 318 x 230 x 15.25 mm (12.52 x 9.06 x 0.6 inches)
                    Beginning with 1.4 kilogramme (3.09 lbs)
Material – CNC Aluminum (top & bottom)
Color – Oatmeal, Storm Grey
OS – Windows 11 Home Edition
Price – Prices start at $1,079.99.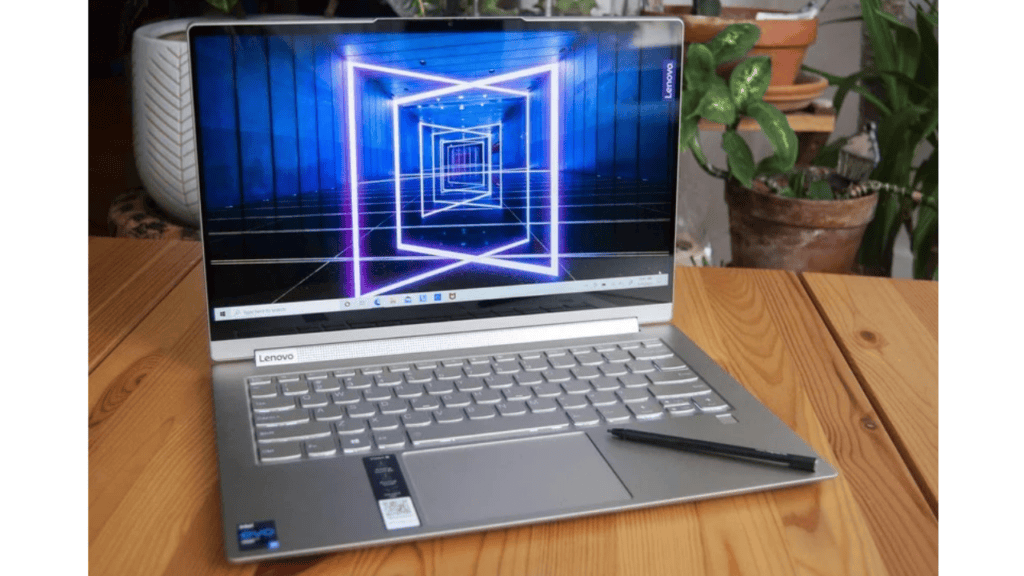 Lenovo actually provided me two of the models above due to an issue that isn't relevant at this time. One has a 2.8K OLED screen, while the other has a 4K OLED screen. The first is in Oatmeal, while the second is in Storm Grey.
The Lenovo Yoga 9i (2022) is the most beautiful Lenovo laptop ever.
With glossy and curved edges, the Lenovo Yoga 9i (2022) has been totally revamped. Beautiful laptops are my weakness. After reviewing hundreds of computers, it becomes clear that many of them are the same. This is especially true with Lenovo's consumer PCs, which often come with a grey slab.
I'm reminded of a 2008 Cadillac commercial in which Kate Walsh asks, "Does your automobile return the favour when you switch it on?" I've used that statement in various reviews during my career because there's something seductive about utilising a laptop.
I've stated it before regarding HP's Spectre x360 notebooks, however, the company appears to be significantly reducing the design. When Lenovo's ThinkPad X1 Yoga Gen 2 was one of the only laptops with an OLED display, I stated the same thing.
Everything is OLED these days.
The Lenovo Yoga 9i (2022) has a 14-inch 16:10 display, with a couple of OLED options. When 2.8K is so good, 4K looks excessive. There are three options for the display on the Lenovo Yoga 9i (2022): 1,920×1,200, 2,880×1,800 OLED, and 3,840×2,400 OLED. I'll be focusing on the latter two since those are the two I've had the opportunity to test.
The results on the color gamut tests are identical. Of course, it's worth noting that if you get the FHD+ model, you will see different results, since that one isn't OLED. Brightness was higher on the 2.8K model, coming in just above the promised 400 nits. The 4K model fell a bit short.
Both screens are beautiful, of course, and going back to the design, even that is a nice look. The chin starts out with a flat grey or gold, depending on the model, and it goes right into the black bezel of the screen. It's all a very clean design. With the combination of glossy and matte, they almost feel two-tone.
Keyboard: It has a button for dark mode
The keyboard is comfortable and quiet. The touchpad is large. There are buttons for things like dark mode, performance, audio profiles, and background blur. The keyboard on the Lenovo Yoga 9i is quite nice. The glossy edges meet a matte keyboard deck, making it feel clean and stylish, the theme of the whole design.
And also, it's just a great keyboard. It feels comfortable to type on, and it's quiet too. I really like it, maybe even more than some ThinkPad keyboards these days. The touchpad is nice and big too, as you can see, yet it doesn't feel as wobbly as the big touchpads in some of Dell's premium laptops. The whole experience is just delightful.
Also Read: 
Sony Launches Wh-1000xm5 Wireless Noise-canceling Headphones
Google Pixel Watch Is Expected to Come With an Older Exynos 9110 Chipset
Google's 'Premium' Pixel Tablet Is on the Way for 2023
Google Pixel 7 Pro Leaked Case Renders Confirm the Camera visor
FAQs:
Q1: Is Lenovo Yoga a good laptop brand?
It has fast speeds, a comfortable keyboard and decent battery life. If you'd prefer a laptop made for consumers, rather than enterprise users, the Lenovo Yoga 9i is an outstanding option and a good alternative to the Dell XPS 13 2-in-1 or HP Spectre x360 14.
Q2: Does Lenovo Yoga 9i come with pen?
The Lenovo Yoga 9i-14 ships with its own garaged active/digital pen.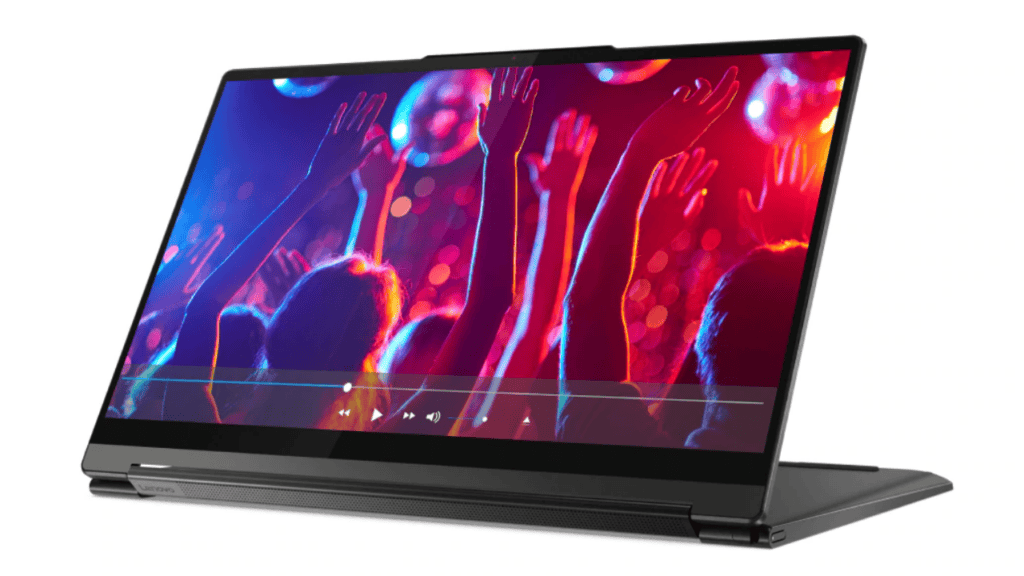 Q3: Is Lenovo Yoga 9i good for gaming?
The Lenovo Yoga 9i is inadequate for gaming. Although its Intel 11th Gen CPU is fairly capable, its integrated GPU isn't powerful enough to provide smooth gameplay in graphically demanding AAA games
Q4: Is Lenovo laptop better than Dell?
In comparison between Lenovo VS Dell, overall, Dell laptops are a good option in terms of price, but when it comes to other factors like innovation, battery life, and specifications, then Lenovo laptops top the list. Aside from being rated as the best laptop by most people, Lenovo laptops offer great value for money.
Q5: Which is better Lenovo or HP?
Lenovo is the better choice of the two brands if you're looking for the best value for money option, and they dominate the market for work and business laptops. However, HP laptops typically have better quality components, but they cost more than the Lenovo equivalent.
Q6: Is yoga 9i touch screen?
Lenovo's 14-inch Yoga 9i line starts at $1,299.99 for a configuration that features an 11th-gen Intel Core i5 CPU, 8GB of RAM, a 256GB SSD, and a Full HD (1920×1080) touch display. Our test system features upgrades to the CPU, RAM, and SSD.
Q7: When was Lenovo Yoga 9i released?
The Yoga 9i convertible laptop (14", 7) with 12th Gen Intel Core processors is expected to be available starting in Q2 2022 and will start at $1,399.00.
Q8: Is the Yoga 9i good for graphic design?
The 15-inch Lenovo Yoga 9i combines robust design with more potent processing and graphics performance than many rivals, even if it's rather big and awkward as a 2-in-1 convertible, and lacking in ports. PCMag editors select and review products independently.