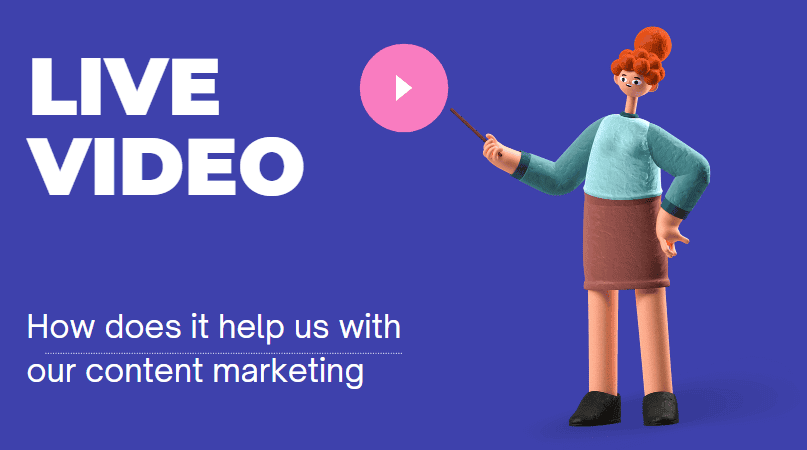 If you want to go one step further and get ahead of the competition in content strategy, you have a good ally in Live Video. Thanks to the rise of platforms such as Facebook Live, Twitter Live or Instagram Stories (live mode), brands not only have the possibility to communicate with their audience through social networks, but they can also do so in real-time.
You can use the comments that offer you constructive criticism. and use that information. Make an infographic or an infographic video to show the date of the live video to refine your digital content in the future.
How can Live Video help us with our content marketing
As a content manager, you may be wondering how live video (also known as live streaming) can help your digital marketing strategy, especially if your strategy is working properly. Take a few seconds to measure the potential of your live video based on these four factors:
Digital audiences and consumers find multimedia content, especially video, more engaging and entertaining than written content.
And what's even better: 92% of video consumers share content with their contacts.
Live videos grab three times more user attention than pre-recorded videos.
More than half of digital marketers say that live video offers more ROI (return on investment) than any other type of content.
What are the advantages of live video over traditional video? The interactivity. Live broadcasts offer not only entertainment but also interaction. Your audience doesn't just sit around watching your content. They become part of it.
And in addition, the brands that use live videos at the present time are seen as innovative firms, which will exponentially differentiate you from your competition. And what's better: broadcasting live is no more expensive than traditional video; all you need is a device that records with correct quality and a good internet connection.
After the broadcast ends, you can save the video and upload it to your YouTube channel for those who missed the live stream. Transcribing your videos using the software and posting them on your website would also be a good idea to reach more people.
Formats for Live Video
If the above has convinced you to jump into the generation of live content, you should know that you have to have a structure or script that allows you to deliver your message before you start recording correctly. You can try any of these formats, depending on where you want the conversation to flow.
Question and Answer
Invite a relevant person to whom users can question and ask questions, which will cause viewers to continue watching the video to see if their questions will be answered. This strategy can be interesting to build authority on a topic and create emotional ties with the audience.
Series
Select a topic that has to do with your industry and your content strategy, and discuss various subtopics at the same time every day or once a week. These series are good for building a loyal following of the user, who will come to you every day to discover your latest news.
Information and news
Live video can also be a great way to share information with your followers when you need to send an instant and direct message. And what is better: this type of content reinforces you as a reference in the sector and shows that the company is dynamic and maintains the pulse of today.
Making-of
Teach your audience what goes on behind the scenes or behind computer screens. Showing what is not seen makes it easier for the user to feel 'inside' your company, which reinforces the affective ties with it.
Live Video Challenges
As you may be imagining, launching yourself to publish live videos will pose a series of challenges that you must solve to fully adapt to the needs of your audience. These are some of the challenges and small alterations that you will find along the way.
How to attract and retain the audience
Promote and publicize your broadcast live through distribution channels. Post it on your blog and all social channels and make sure you send your audience to the correct link when the broadcast starts.
How to keep the audience's attention during the live show
Cover trending topics and invite people to arouse your audience's interest. Pay attention to the content that worked especially well on your website and social networks, and then use those topics as inspiration for your live video.
How to get the length of the video right
Make sure the video is not too long or too short. If you are covering an event live, a longer broadcast may be necessary. But if you're broadcasting an interview or making-of, don't waste your time. And if you do, be sure to break it up into different parts so that you hold the audience's attention without the live being monotonous.
Avoid live glitches
The main disadvantage of broadcasting live is that any pose can pass. 'Live magic' can turn against you and that is why you must be prepared to make mistakes. Still, make sure you are relaxed and confident. Don't worry. Your audience won't abandon you if you don't. Of course, prepare the live broadcast very well, draw up a script, and prepare for anything to happen. Especially outdoors.
Examples of brands that are winning with Live Video
If you are not using live video yet, you should know that some brands are already taking advantage of this publication format a lot. Some even dominate their sector and positioning themselves as the benchmark concerning the competition.
The BBC regularly publishes new publications live, as long as the reason for the news is relevant enough to broadcast live. This strategy allows immediacy ( we were there when it happened ) and permanence (which we saw when we were there ).
Summary
So video is effective, and live video maybe even more so. During a live broadcast, users can instantly comment on what they are watching and reply to other comments, even creating personalized interactions. Even because the audience is giving you instant feedback (I like you). Now you know how Live Video can help us with our content marketing. Go ahead!