Yes, you read that right. A man named Thomas S. Ross has slammed Apple with a 10 billion dollar lawsuit. He claims that he sketched the design and elements of the first iPhone back in the year 1992. Well, that's almost 15 years before Steve Jobs presented the first ever iPhone in the year 2007. In the lawsuit, Ross has also claimed that Apple also lifted the utility design, which he patented 24 years ago. By Ross's claim, the stolen design is allegedly implemented on iPod and iPad.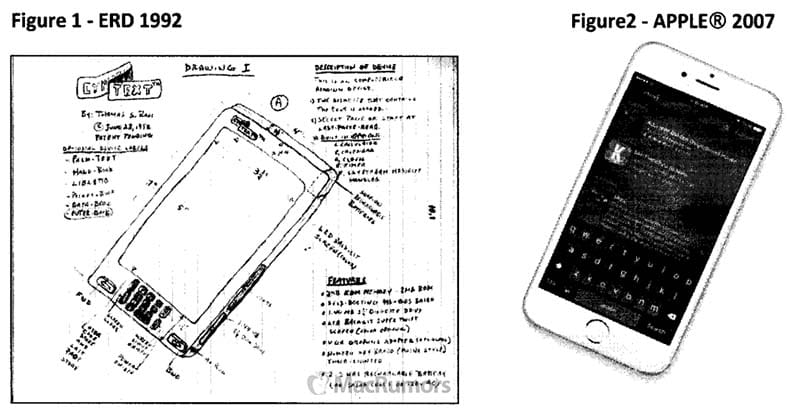 Ross's claim also states that all three Apple products (iPhone, iPad, iPod) are based on his sketches. These drawings were submitted by him to USPTO in 1992 as a part of his patent submission named as "Electronic Reading Device." Going by the images of his sketches, the device drawn by Ross does resemble a modern day smartphone with a touchscreen. As a compensation for damages, Ross is requesting the jury to grant him a $10 billion settlement from Apple. He is also seeking 1.5% of royalty on all the future sales made on iOS devices.
Ross vs Apple: Patent application dropped in 1995 by USPTO
Interestingly, the USPTO dropped Ross's application in 1995 as he failed to pay the patent process's sustainability fee. It means that Ross did not succeed in having a legal patent for his device sketches. Other than a single touchscreen display smartphone design, Ross's submission also had a dual-display smartphone design. We wonder if he would sue the makers of dual-screen smartphone makers too? Also, in the year 2014, Ross did file his technical drawings with the U.S. Copyright Office.
Throwing further claims at Apple, Ross says that Apple performed "dumpster diving" when it got his sketches. The lawsuit also contains a quote from Steve Jobs; wherein Jobs said,"we have always been shameless about stealing great ideas."
As a part of the lawsuit, Ross states that Apple's actions caused him "great and irreparable injury that cannot fully be compensated or measured in money." Erm, we do not know if these claims would stand authentic, but we do ponder on the question that, was this man living under a rock for these many years? The first iPhone came out in the year 2007, and it took Ross 10 years to confront Apple?
Witnessing the ultimate result of this lawsuit would be interesting. What do you think? Let us know through the comment section below.