Instagram stands out as a social media platform that keeps changing to meet user needs in a world where social media is always changing. Music is one of the many features of Instagram that has become very popular. Users can add their favorite songs to their stories with this feature, making a very interesting mix of pictures and music.
But, just like with any other technology, people who use Instagram Music may run into problems and bugs. In this detailed guide, we'll look at a number of ways to find and fix these issues. Whether you are an influencer, a content creator, or just a regular user, these tips will help you get the most out of Instagram Music.
Understanding the Basics
Before we try to figure out what's wrong, let's make sure we know how Instagram Music works in general. With this basic knowledge, we'll be able to find the real causes of problems and solve them in the best way.
How does Instagram Music work?
Users can add music tracks to their stories with Instagram Music. This is a changeable part. It makes your stories more interesting by letting you choose from a large library of songs, search for specific songs, and even pick out parts of songs to use in your stories.
Common Issues with Instagram Music
Now, let's talk about some of the most common problems Instagram Music users might run into:
1. The biggest problem is that you can't use a Music Sticker when you make a story. You can't add music to your story without this sticker.
2. The music won't play: Even if you add music to your story, your followers may not hear it when they watch it. This can be especially annoying if you take a long time to choose the right music.
3. Regional Limits: Instagram Music might not be available in all countries because of licensing agreements. In some places, this feature might not be available.
What are the Methods to Fix Instagram Music?
Below are the best 4 methods to fix Instagram Music's not working issues:
Method 1. Ensure Your App is Up to Date
Before you try to fix a problem in other ways, you should make sure that your Instagram app is running the most recent version. The people who make Instagram Music often release new updates that fix bugs and make the app run better, which can fix problems with the app.
To update your app:
Go to the app store for your device. Depending on what kind of device you have, this will be the Google Play Store or the App Store.
Type "Instagram" into the search box to find it.
Click the "Update" button if there is a new version.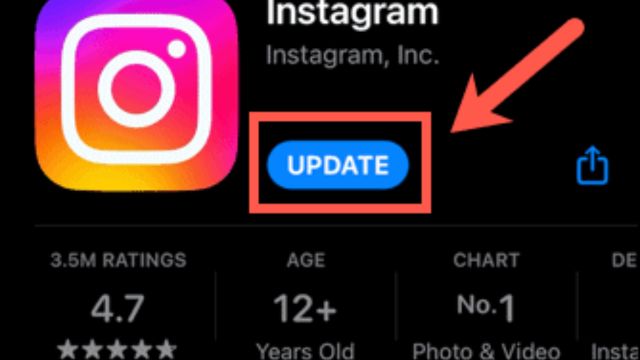 Method 2. Check Your Location Settings
As was already said, depending on where you live, you may or may not be able to use Instagram Music. Here's how to check and change your location settings:
Turn on your device and go to the settings.
Go to the menu and click on "Location" or "Privacy"
Make sure Instagram is set up to use your location.
Method 3. Log Out and Log In
Some problems, like those with Instagram Music, can be fixed by doing the most simple things. You might be able to fix the problem by logging out of Instagram and then back in.
Signing out and back in:
Open the app for Instagram.
Go to the page called "About Me"
To open the menu, tap the three horizontal lines in the top right corner.
Scroll to the bottom of the page and tap "Settings."
Scroll up and click "Log Out."
After logging out, you can use the same username and password to log back in.
Method 4. Clear Cache and Data
The Instagram app might not work as well if you have a lot of cache and data. If you delete these, Instagram Music might work again. Keep in mind that the steps may be slightly different depending on your device and operating system.
For Android:
Go to the menu for setting up your device.
Click on "Apps" or "Application Manager."
Find and tap "Instagram."
Pick "Storage."
Choose "Clear Cache" and "Clear Data."
For iOS:
Go to the settings menu on your device.
Scroll down and click on "Instagram."
To get rid of the app temporarily or permanently, tap "Offload App" or "Delete App."
You can get Instagram from the App Store again.
Method 5. Check Music Availability
If you still can't get into Instagram Music, it could be because your country has restrictions. It's too bad that this problem can't be fixed quickly. But you can use a Virtual Private Network (VPN) to connect to a server where Instagram Music is available and then use that server to access Instagram Music.
Conclusion
You can tell a better story with pictures and music when you use Instagram Music. Even though technical problems can be annoying, they are usually easy to fix if you know what to do. We've talked about a lot of different ways to fix problems with Instagram Music in this detailed guide.
Make sure you get the most out of this creative feature by keeping your Instagram app up-to-date, checking your location settings, and doing simple maintenance like clearing your cache and data.
You can get around problems with regional restrictions by using a VPN. Now that you know these things, you can be sure to use the right music in your Instagram stories. Don't let problems with technology stop you from showing who you are through music.
Why don't you just do it? Get back to putting beats in your Instagram stories that describe you to make them better. It's a lot of fun to use Instagram. To read more content like this, visit https://www.trendblog.net.
Frequently Asked Questions (FAQs)
Why can't I put a Music Sticker on my Instagram story?
There could be more than one reason why the Music Sticker isn't there. Make sure your Instagram app is up to date and check your location settings to see if you are in an area where Instagram Music is available. If you can't get to the feature, you might need a VPN.
I put music in my Instagram story, but it doesn't work. What should I do?
You might be able to fix this problem by making sure your app is up-to-date and by clearing the app's cache and data. Do what is said in each of the sections above to solve this problem.
Does everyone use Instagram Music?
No, Instagram Music might not be available everywhere because of licensing deals. Check your location settings and think about using a VPN if it's not available where you are.