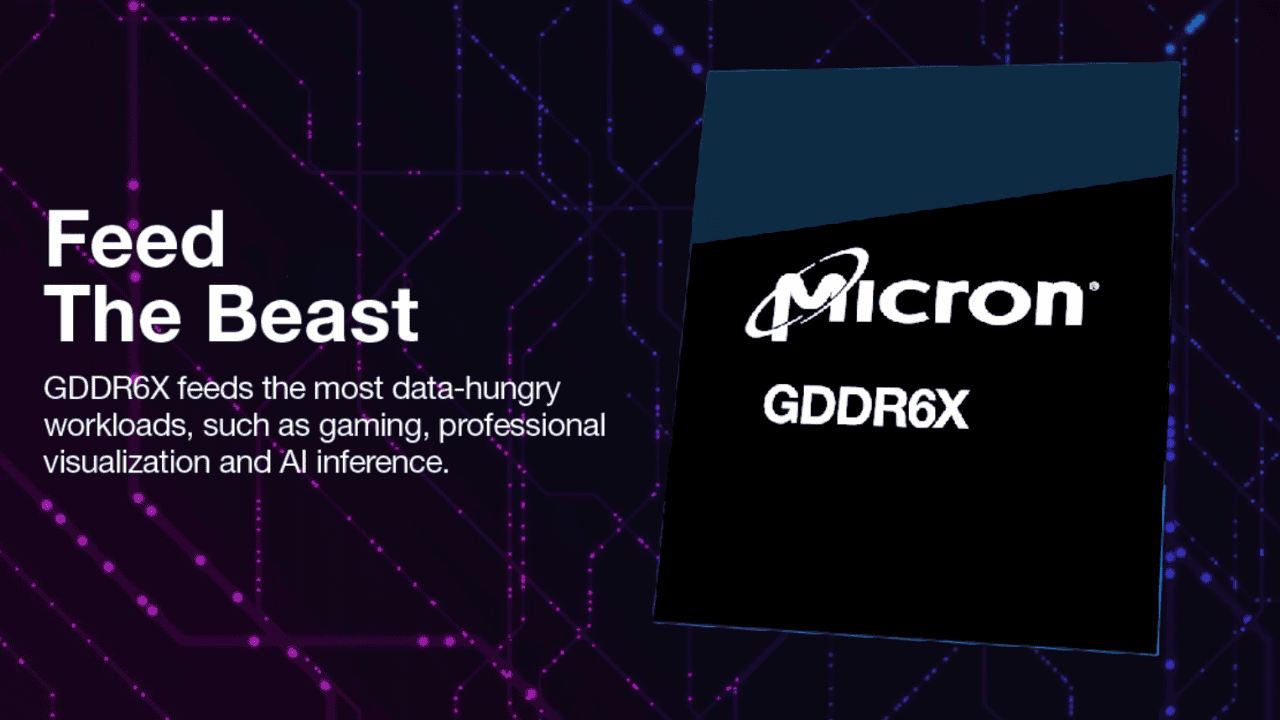 Micron Blazingly Fast 24 Gbps GDDR6X Memory Enters Mass Production, Coming To A Next-Gen NVIDIA GPUs Soon!
Micron Blazingly Fast 24 Gbps GDDR6X. Now Micron has begun mass production of its next-generation GDDR6X memory chips, which can deliver up to 24 Gbps of data transfer. NVIDIA's Next-Gen GPUs will be powered by Micron's 24 Gbps GDDR6X Memory later this year. Early this year, Micron made a public announcement that they were working on their brand new 24 Gbps GDDR6X memory modules for future graphics cards. Interestingly, Micron's announcement coincided with the release of NVIDIA's GeForce RTX 3090 Ti, which features up to 21 Gbps DRAM modules.
Micron's 24 Gbps GDDR6X Memory
A 16 Gb density of Micron's new 24 Gbps pins will allow for the same 2 GB VRAM capacities and up to 24 GB capacities across the 384-bit bus interface. RTX 4090 would feature its 12 GDDR6X modules on the front of the PCB, just like the RTX 3090 Ti, which had all of its memory modules on the front of the PCB, allowing for more cooling than solutions that feature memory modules on the back of PCBs like the RTX 3090 Ti (Non-Ti).
Though NVIDIA GeForce RTX 4090 is expected to offer 21 Gbps die speeds, it is not expected to use the full 24 Gbps speeds, but the 24 Gbps GDDR6X memory modules can offer up to 1.152 TB/s of bandwidth, a 14 percent boost over the 1.008 TB/s offered by current 21 Gbps GDDR6 memory modules. The RTX 4090 may offer 21 Gbps die speeds.
Bandwith Figures:
With a 24 Gbps DRAM solution, the following bandwidth figures can be expected:
A 512-bit solution – 1.5 TB/s

At 1.1 Tbps, the 384-bit solution is 384 times faster

960 GB/s in a 320-bit solution

It's a 768 GB/s 256-bit solution

576 GB/s with a 192-bit solution

384 GB/s for a 128-bit solution

276 GB/s with a 92-bit solution

192 GB/s in a 64-bit solution
This year's NVIDIA GeForce RTX 4090 will be one of the first next-generation graphics cards to utilise the new GDDR6X memory modules. Overclocking enthusiasts can take advantage of the fact that these chips will likely be downclocked in order to meet their power targets.
On the other hand, AMD's next-generation RDNA 3 lineup is likely to rely on Samsung, the company's partner. GDDR6 memory modules running at 24 Gbps are also being developed by Samsung, and should be available for purchase soon.
GRAPHICS MEMORY
GDDR5X
GDDR6
GDDR6X

Workload

Graphics

GraphicsAI Inference Accelerator

GraphicsAI Inference Accelerator

Platform (Example)

TitanX

Titan RTX

RX5700 XT

GeForce® RTX™ 3090Ti

GeForce® RTX™ 3080Ti

Number of Placements

12

12

12

Gb/s/pin

11.4

14-16

19-24

GB/s/placement

45

56-64

76-96

GB/s/system

547

672-768

912-1152

Configuration (Example)

384 IO

(12pcs x 32 IO package)

384 IO

(12pcs x 32 IO package)

384 IO

(12pcs x 32 IO package)

Frame Buffer of Typical System

12GB

12GB

24GB

Average Device Power (pJ/bit)

8.0

7.5

7.25

Typical IO Channel

PCB

(P2P SM)

PCB

(P2P SM)

PCB

(P2P SM)
Also Read: 
iPhone 14 Event Date is Changed Its maybe One month away
Galaxy Watch Active 2- Design, Specifications- Latest Updated
Google Pixel Fold might not have a camera cutout in its interior screen
Sony linkbuds s True Wireless WF-L900 lightweight wireless earbuds with ring design
FAQs: 
Q1: Is GDDR6X a superior memory technology to GDDR6?
In spite of the fact that only the most expensive Nvidia GeForce GPU models are equipped with GDDR6X, it is a significant performance improvement over the previous generation. To put it another way, the new memory has a data rate of 21GB/s per pin, which is an increase of almost 43% over the previous generation of GDDR6 memory.
Q2: Is GDDR6X fast?
GDR6X is the world's fastest discrete graphics memory solution from Micron and will be available in the first quarter of 2015. In conjunction with NVIDIA, GDDR6X is now available on the GeForce® RTXTM 3090 and GeForce RTXTM 3080 GPUs, bringing enhanced gaming realism and high-performance AI inference to gamers.
Q3: How reliable is Micron Blazingly Fast 24 Gbps GDDR6X?
Gddr6x's PAM4 signalling technique means that memory bandwidth can be increased up to 1TB/s, making it ideal for graphics applications that require extremely fast, low-power memory. This is a feature that no other memory vendor provides.
Q4: GDDR6X stands for what?
Synchronous Dynamic Random Access Memory (SGRAM) with high bandwidth, "double data rate" interface, designed for use in graphics cards, game consoles and high-performance computing (GDDR6 SDRAM) is GDDR6 SDRAM.
Q5: What is the temperature of GDDR6X memory?
Heatsinks and copper shims allow the ASUS TUF Gaming GeForce RTX 3070 Ti to operate at 64C instead of the typical 110C for GDDR6X.