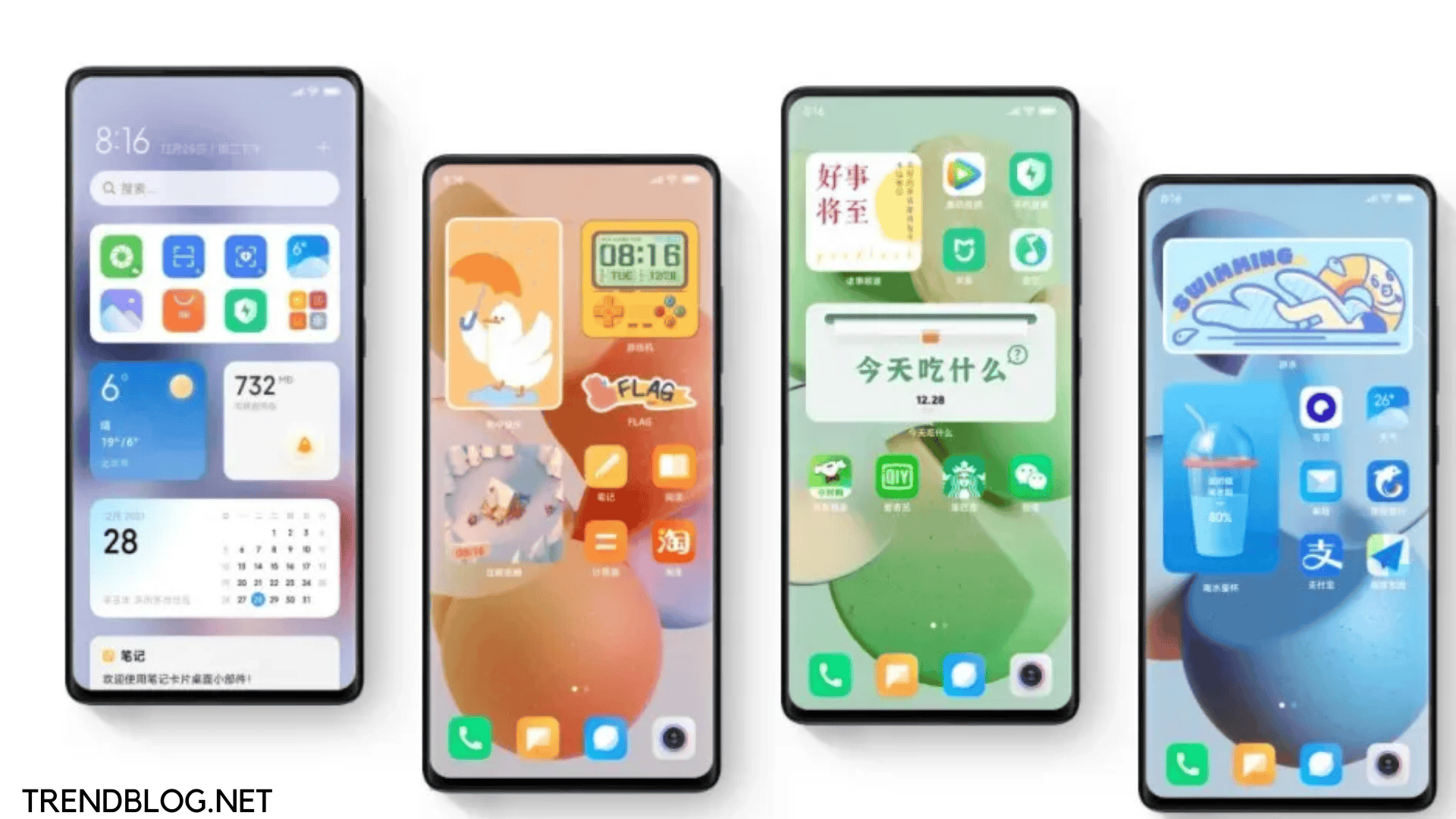 MIUI 13 Features in India for Andriod : 2022 Xoami's Report
MIUI stands for "Mobile Internet User interface." It is a company-created and-used application that allows consumers to perform at their best without needing to be tech-savvy. In a nutshell, the app was created with the user in mind. It is a stock and aftermarket firmware for smartphones and tablet computers running the Google Android operating system, produced by Xiaomi. In Redmi Phones and other devices, the user interface is crucial. It specifies the user interface, appearance, numerous functionalities, and design of a device's components.
It's a place where humans and machines come together to interact. The purpose of these interactions is to enable successful machine operation and control from the human end. In contrast, the machine simultaneously feeds back information to enhance the operator's decision-making process. 
What is MIUI?
Xiaomi's smartphone firmware is based on a customized Android ROM. This is a version of the Android operating system that has been forked. MIUI comes with several options, including the ability to change the theme. Each Xiaomi phone has multiple versions, each with its own set of variants based on location in which it is offered, such as Chinese, Global, EEA, Pakistan, Russian, Indonesian, Indian, Taiwanese, and Turkish. MIUI's next update is MIUI 13. Xiaomi has released MIUI 13, the latest version of its popular custom MIUI skin, which runs on Android 12. The MIUI 13 new update replaces MIUI 12.5 and adds a slew of new features to the platform, including cosmetic tweaks and some useful utilities. Miui 13 is the latest version in India.
MIUI new updates: 
Compared to previous MIUI versions, Xiaomi updated to the latest miui version in India. MIUI 13 is better optimized for multitasking, allowing users to have up to 14 apps open in the background on flagship phones, with the number of apps you can have open on other devices set to increase as well. Optimized File Storage Systems, RAM optimization, Processor Priority Optimisation, and more are among the characteristics of MIUI 13 India.
Face verification protection, privacy watermarking, and fraud protection will all be included in the new skin. For example, the privacy watermark function will allow users to share photos of their IDs and other important documents with a watermark to prevent them from being misused. MIUI 13 features include Liquid Storage, a new system-level file storage system. The latest MIUI version also has widget functionality, which is very similar to what we have on iOS 15. The price of the MIUI global version is usually more than that of the Chinese edition.
MIUI 13 Update Tracker:
Xiaomi has officially released MIUI 13 in India, its next major software upgrade for its Android skin. The next version of its custom Android interface will run on Android 12 and, as usual, will contain a number of enhancements to help the interface stand out. 
MIUI 13 Update India and MIUI 13 Release Date
In India, Xiaomi unveiled MIUI 13, its newest Android 12 overlay. MIUI 12.5 next update is MIUI 13. In December, the company unveiled MIUI 13 based on Android 12 alongside the Xiaomi 12 series. Starting in the first quarter of 2022, the company expects to push out MIUI 13 to all Global Mi users. The Mi flagships, of course, will be the first to get the upgrade, followed by the Redmi Note 10 series. There are many features in MIUI 13.
MIUI 13 Features :
MIUI 13 is based on Android 12 and boasts a redesigned interface and a slew of privacy features. The MIUI 13 update list is: 
Wallpapers and Widgets 
Advanced Privacy Options
Big Performance Improvements
MIUI 13 update download: 
To find the MIUI version, 
Go to Settings 
Then go to My Device
Click on the MIUI version
Press and hold the MIUI logo multiple times till the text "extra features are on" appears. 
Select the hamburger menu option
Now select "Choose update package" from the drop-down menu.
The MIUI 13 Update (Early Access) is now available on Google Play, but it's not quite what you'd expect. The update is necessary due to MIUI 13 features. 
The MIUI 13 Beta is not suitable for everyone. Because these are official China beta tester ROMs, you'll have to deal with ROMs that don't have Google services, don't speak Italian, and are packed with apps that are only helpful in Asia.
Poco X2 latest update: 
The gadget was released with MIUI 11 based on Android 10 and was upgraded to MIUI 12 last year. The POCO X2 MIUI 12.5 update has now been launched in India. Xiaomi's modified Android ROM, MIUI 12.5, is the most recent version. While the new MIUI version was first released in December of last year, the stable version was only released in March of this year. Xiaomi Redmi Note 13 also has Android 12: MIUI.
Also Read: 
How Do I Turn Off Siri on AirPods With Some Simple Steps
A Very Really Easy Way to Make Siri Cuss
How to Use Siri/ Voice Assistant in IOS for iPhone 11
Connect Your Device to Alexa Bluetooth: Phone, Speaker
The MIUI official website is https://global.miui.com/en .
FAQs: 
Q: Which device will get MIUI 13?
Ans: In some of the Xiaomi series, Mi 10 and 11 series, Redmi Note 9 and 10 series, Redmi 9 series, Poco M and X series, Poco C3, C31, F3 GT. 
Q: What is the latest version of MIUI?
Ans: Xiaomi has officially announced MIUI 13 in India. The custom ROM is identical to the global version, which means it lacks a few features seen in the MIUI 13 China edition.
Q: How do I download MIUI 13?
Ans: 1. Download the ROM and save it to the memory of your smartphone.
Select "System Settings / Info" from the drop-down menu.

At the top left, click the MIUI logo.

Select the three dots in the upper right corner.

Select "Choose an upgrade package" from the drop-down menu.

Start the update by selecting the ROM from memory.
Q: What's new in MIUI's latest update?
Ans: New live wallpapers were captured utilizing a polarization microscope and 8K time-lapse photography in this version. New widgets are also included in the upgrade to make users' life easier. The Mi Magic Center, which allows users to manage all of their Xiaomi products in one spot, is also included in the update.
Q: When MIUI 13 will release?
Ans: Xiaomi intends to start rolling out MIUI 13 to the first batch of smartphones by the end of January 2022. 
Q: Is MIUI 13 launched in India?
Ans: In India, MIUI 13 will be released on February 3 at noon. The new Android 12-based OS will be rolled out after the launch event. Xiaomi claims that MIUI 13 would give Xiaomi phones better performance, a fresh design, and new features.
Q: How many GB is Miui 13?
Ans: This upgrade, which comes in at 3.2 GB and is based on Android 12, introduces MIUI 13 to the popular phone.
Q: Will Mi 11X get Miui 13?
Ans: Yes, Mi 11X will get miui 13. 
Q: Is Miui 13 coming to Android 12?
Ans: In India, the Xiaomi Mi 11 Lite is receiving the MIUI 13 upgrade based on Android 12. The current update is believed to include the February 2022 security patch and the Android version upgrade.
Q: Does Mi 11X get Android 12?
Ans: Android, 12 Developer Preview Program, is available for the Mi 11, Mi 11 Ultra, Mi 11i, and Mi 11X Pro.
Q: Will Xiaomi get Android 12?
Ans: Xiaomi has officially sent out their all-new Android 12-based MIUI 13 to the rest of the world. The MIUI 13 concentrates on the UI's actual performance and optimization.
Q: What will Android 12 bring?
Ans: Material You, as well as the other new design aspects, new Features, Under-the-hood changes, have been made, Improvements in security and privacy
Conclusion: 
The most unexpected component of this approach is the gain in fluency and stability. The reaction is fast, whether you're entering the desktop from the lock screen, swiping to load a picture, or pausing the opening of an app in the middle of it. In the dual-open software option, the MIUI 13 also fixes the issue of delayed image loading. This is one of the most noticeable enhancements in MIUI 13. However, this will only be noticed by users who have attempted to use this mode in both systems.