Mobile devices are getting more powerful from day to day. Yesterday, NVIDIA announced a new processor that might catapult mobile gaming to the next level. The chipset offers more raw horsepower than the Xbox 360 or Playstation 3, while being more power-efficient than the current Tegra generation.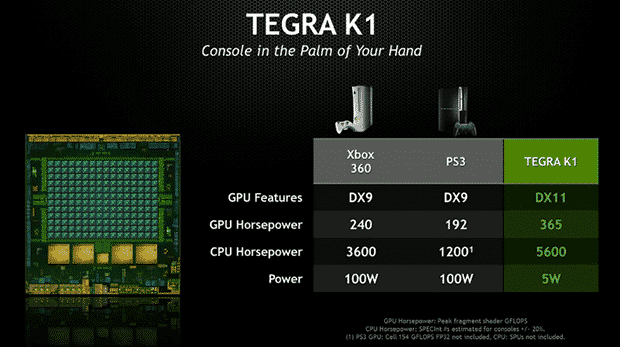 The Tegra K1 brings true gaming power to mobile devices
The Tegra K1 seeks to make the process of porting console or PC games developed to mobile devices easier.
Over the past two decades, NVIDIA invented the GPU and has developed more graphics technologies than any other company, with Tegra K1, we're bringing that heritage to mobile. It bridges the gap for developers, who can now build next-gen games and apps that will run on any device.

Jen-Hsun Huang, co-founder and CEO, NVIDIA
The GPU provides full support for the latest PC-class gaming technologies such as DirectX 11, OpenGL 4.4 and tessellation. It's also the first mobile processor supporting NVIDIA CUDA, a parallel computing platform.
NVIDIA claims that the Tegra K1 will be able to deliver the same graphic features like next generation consoles such as the Playstation 4 for Xbox One. To make this possible, Epic Games are currently porting the Unreal Engine 4 for mobile devices via the Tegra K1.
Tegra K1 will be available in two versions: The first includes a 32-bit quad-core (plus a helper core), ARM Cortex A15 CPU and is expected to be available during the first half of 2014. The second uses a custom, 64-bit dual Super Cure CPU based on the ARMv8 architecture and should arrive late 2014.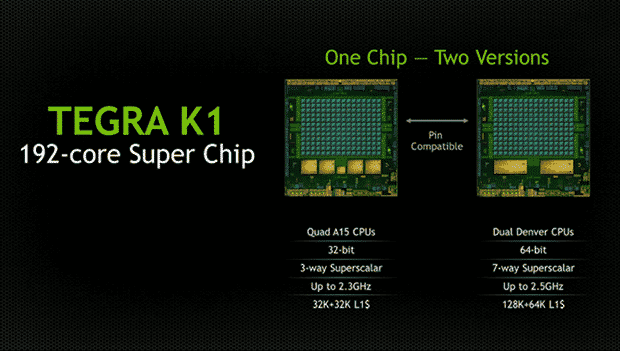 So what do all these fancy and complex words really mean?
When Apple announced the iPhone 5S with a 64-bit A7 processor last year, they set a new standard for mobile processing power. The Tegra K1 raises the bar the a whole new level and especially the Unreal Engine 4 support might give Android a huge advantage in terms of mobile gaming. It could also mean that we'll see better looking and complex games on our Android devices soon. I mean, how awesome would it be to play GTA5 (or GTA6) on your Android tablet? I know some (older) games are already available, but having Unreal Engine 4 support right from the beginning could mean that we see games being released for PC, PS4, Xbox One AND Android at the same time.
It will be interesting to see how fast developers will adapt to the processing power available on mobile devices. However, this will heavily depend on the amount of smartphones and tablets actually running the Tegra K1. With only a limited amount of mobile devices using NVIDIA's new processor, it might take a while before developers are starting to create games for the new chip.
Via NVIDIA