Mobile Payment Overview: Definition, Trends And Payment Systems
Have you ever purchased something with your mobile phone or tablet? If not, you will do so in the near future, I'm sure of that. Mobile payment is about to reach the tipping point of rapid growth, just like mobile internet usage had a little while back.
With the first smartphones on the market, mobile internet usage grew very slowly for a while and then – BAM: With the introduction of the iPhone it exploded and has been rising exorbitantly ever since.
Mobile payments will most likely show the same pattern: The research firm IDC Financial Insights published a report in November this year, which predicts that global mobile payments will top $1 trillion in 2017! What does that mean exactly?
Consumers and businesses will purchase goods and services on mobile devices with a total value of $1,000,000,000,000. That will only account for 2.5% of all global payments, which means that there will be still a lot of room to grow.
Today, in 2012, the mobile payment volume is (only) $171.5 billion. However, paying with your smartphone or tablet is already important in e-commerce. Any online shop owner who has been ignoring the value of mobile commerce is destined to go down. Mobile already accounts for 17% of all e-commerce sales, which means that almost every fifth online sale was made on a mobile device.
In this article, I will talk about:

What is "mobile payment"?
What forms of mobile payment do exist?
Mobile payment advantages for consumers
Mobile payment advantages for shop owners
Mobile Payment – Definition
Here's a quite precise definition of mobile payment:
A payment, defined as a transfer of funds in return for a good or
service, where the mobile phone is involved in both the initiation and confirmation of
the payment. The location of the payer and supporting infrastructure is not important:
he may or may not be 'mobile' or 'on the move' or at a Point of Sale (PoS); the
payment may be processed by credit cards or by a prepaid wallet. Example: funds are
transferred and deducted from the prepaid amount or billed by the MNO.
Source: Innopay
There are basically two mobile payment categories:
Proximity payments
Proximity payments are made in close distance without making any physical contact with a corresponding device, such as holding two phones near each other to transfer money between two friends or paying your metro ticket by holding your phone to a reader.
Remote Payments
Mobile money transfers count as a remote payment. Doesn't matter if you transfer money with your phone to your neighbor's account or to someone in India. Both transfers are considered remote payments. One popular service for P2P mobile transfers is PayPal, which is widely used in the US.
Another remote payment type are mobile online payments. M-commerce (mobile commerce), which means online shopping using a mobile device is a very hot topic since the growth rate is rising rapidly. Next to m-commerce, and often forgotten, is purchasing digital goods, such as apps, games or music, for example in the App Store or Google Play Store.
What Forms Of Mobile Payment Do Exist?
SMS Payment
Payments via SMS have been around for a long time already and are still very prominent in developing markets. SMS are attractive for micro payments and are fast, easy and anonymous. Nowadays, in mature markets, SMS payment is an unusual way to pay with your smartphone.

QR Code Payment
Almost everyone has scanned a QR code until now and most of the time the reason was just to try it out. Besides that, QR codes haven't been successful as a marketing tool yet. As a mobile payment tool, however, they are more performing better. QR codes can be scanned with phones in order to be directed to a mobile website or location within an app with the option to buy a product. This way can be time-saving. You can avoid cues of waiting customers or even order something before you enter a fast food restaurant and pick up your order directly when you arrive.
Split Bread, a gourmet sandwich restaurant, implemented QR codes quite well. On every table customers can scan a code, order and pay directly on their phone without ever talking to a waiter.
NFC Payment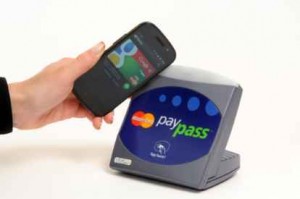 NFC – which has become quite a buzz word now – stands for Near Field Communication. NFC chips are now a standard feature for new smartphones. Interestingly, Apple decided to wait using NFC chips in their iPhone. With such a chip a customer simply has to put his smartphone close to a NFC reader to make a purchase. You will have the possibility to pay your new sweater or your groceries with a swipe over a NFC terminal. Some cities already use NFC payment systems in public transport. With this form of mobile ticketing, passengers can pay their ride with their smartphone instantly.
Some critics say that there is no added value to NFC payments in stores. It's as much work as pulling out a credit card and swiping it through a card reader. In both cases an additional action is required (PIN or signature). This might be true but, eventually, I think that people will tend to use the phone instead. They will use it in other payment situations as well and rather stick to only one payment tool.
Google has developed the currently most known NFC payment application called Google Wallet. You can link your credit and reward cards securely to the app and pay for goods in stores with a NFC terminal.
NFC technology is also used more often as a marketing tool. We have already covered some NFC marketing best practices. Check it out if you are interested in the marketing side of NFC.
Payments Within Apps Or Mobile Websites
Such payments are usually m-commerce payments and purchases of digital goods (explained in "Remote Payments" above). One great example is the e-commerce shop Fab.com. They have successfully designed intuitive apps, which have been generating one third of their sales on this year's Thanksgiving.
Also, more and more online shops are offering their customers to pay their order online with their mobile device using Google Wallet. It's a win-win situation: customers can easily skip filling out annoying forms and purchase an item with only one click. This will most likely increase conversion rates and revenue.
Virtual Prepaid Cards
A virtual prepaid or gift card is basically a digital version of the plastic gift card inside of an app. Starbucks did a good job there. It uses this approach to offer their customers an easier way to pay for a hot coffee. Starbucks Cards exist in both versions, a plastic card with an amount of money on it and the same card, but only digital in the Starbucks app.
If you pay for your order with your virtual card the app will spit out a barcode, which will be scanned to complete your purchase. Starbucks also offers its customers to pay with their Square Wallet app, which works similar to Google Wallet. This is possible in over 7000 locations. It works similar, a barcode gets scanned and you pay with your credit card instantly.
Mobile Credit Card Readers
Mobile payment goes both directions. It means accepting credit card payments with the help of a little card reader connected to a smartphone. There are several different card readers to choose from already. Square is the pioneer and most known service provider until now. It offers a small credit card reader that business owners can use to accept credit card payments. There are also other companies that offer mobile readers, such as Bank of America and PayPal. The advantage of those card readers is that smaller store owners can afford to accept credit card payments.
Normally, a credit card terminal costs a decent amount of money to set it up and most providers charge a monthly fee and an additional fee for each transaction. With a mobile card reader, merchants only need to pay a transaction fee of around 2.6%, depending on the provider. This way, shop owners can save money plus avoid any setup costs.
Mobile Payment Advantages For Consumers
Mobile payment offers many advantages:

It makes the payment process easier and less complicated. In a mobile future, the need to carry around change or countless gift and credit cards won't exist anymore (hopefully). People will just pay everything with one device – their smartphone.
Mobile payment is a secure way to pay. Credit card information are not stored on smartphones directly but in the cloud. So no thief could extract your credit card details just by stealing your phone. By the way, iTunes has the world's biggest credit card database.
Paying with your smartphone is simply "cool". This might not be a valid argument for many, but for the early adopters amongst us, it's definitely a good reason to use their phone to pay.
Mobile Payment Advantages For Shop Owners
One valid advantage are the lower costs of using a mobile card reader or barcode scanner than having a credit card terminal from a bank, which charges merchants with a monthly fee plus transaction fees. On top of that, shop owners need to pay setup costs for a terminal.
Offering mobile payment options to customers, both online and offline simply makes the purchase process easier for them. This can increase conversion rates and the number of returning customers.
Conclusion
Mobile Payment is a very exciting topic and will be covered in the media more frequently in the next years. It will be interesting to see which payment form and provider will take over the leading position in this yet very fragmented market.
This post will be updated along the way to cover the newest developments.
Which mobile payment forms have you tried and what are your experiences with them? Let us know in the comments below.
3 thoughts on "
Mobile Payment Overview: Definition, Trends And Payment Systems

"