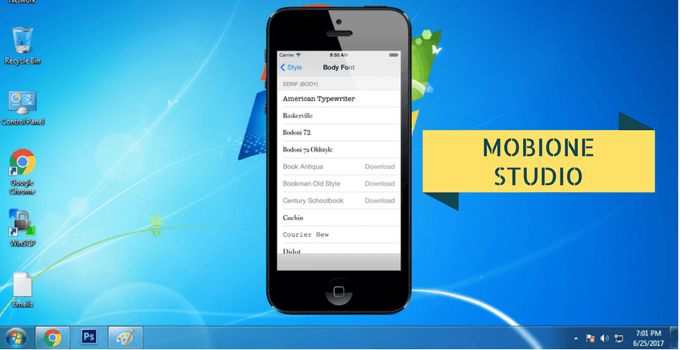 MobiOne Studio – Remove the limit on creating Apps for Apple's Appstore
It is indisputable while all the authors and software companies admit it, that the Apple's app store is a large supplier of applications and games for iOS devices (To know more about the App Store click here). And, it is simple to download & utilise these incredible iPhone applications. The apps are mostly built on an Apple device with a MacOS using the Swift or other platforms. But folks don't you worry here's how to tackle the issue even though you are a Windows user: Get an iOS emulator, which means it allows PC applications to manipulate and work on iOS applications. Despite Apple's operating system is both beautiful and inspiring, you can easily utilise iOS Emulator as your option to tackle such issues.
So, are we eager to give the latest in trendy a crazy try? The answer is yes. In the world of iOS emulation, there have been three basic categories: freeware, shareware, and commercial.
I've made it easier for you to know by listing them below as follows:
iPhone emulator used in deploying for Android apps (To know more click here)
Other one made for the Macintosh
Lastly, one made for windows
Although kinda some of you are uncertain as to what this fuzz is and what I am trying to say, please don't worry, I've got you :), while if you have an idea and want to skip this part click here.

This is how they look over a windows desktop
So, what are these iOS Emulators?
iOS simulators are technology tools that allow users to run programs on your laptop as just an iPhone, allowing you to get a host (and another application) operating on a PC. It would be to say that emulation is similar to a VM or a simulator.
They are often used to check for new programs, applications, and hardware. Finally, using the emulators installed on your PC, navigate to the Apple's App Store, and from there, you can discover and purchase your beloved applications. If your emulator is working properly and has sufficient power, all of your downloadable applications will run without the need for a hitch. As long as you have iOS simulators on your Microsoft Desktops and laptops, you may get all of the iOS games and play them flawlessly across both your PC and Mac.
Actually, that's really not all there is to it, it's just having a lot of other advantages to list and iPhone simulator apps were intended to run iOS applications and games, and they have the advantages of:
It helps in noticing the iOS apps using an emulator
You can easily sync your apps in many devices as well
They are completely free to use and you can choose your own SKD for each release of iOS
It helps in iOS development using the XCode development better which just is an amazing IDE created by Apple
It is so easy that doesn't require any high-tech processors for installing
Surely is the best as being so easy for the developers to use the iOS emulation
They allow the developers to validate the apps and work in other devices to verify and test
All in all, though, there are a lot of iOS emulators for a PC, but only some being the finest of all. If this is the case, you may choose which Windows apps you prefer on your iOS device based on your PC. In order to be on the safe side, though, you must consider the following scenario: 95% of the published iOS applications are exclusively available on iOS.
Talking about the top class – MobiOne Studios!!!

MobiOne, a popular mobile development emulator created by Genuitec, LLC, was reworked to provide Windows OS users with the ability to design and construct ready-made iOS applications for iPhone, iPad, and iPod Touch without a need for a Mac. Dev doesn't need an Apple device bought for an extra price or study Objective-C to develop applications that run naturally on iOS devices. As you can see, it has all of these benefits as though it's inexpensive, simpler to use, easy to set up, and requires no tech-savvy computers. People who own PCs are becoming even more enthusiastic about iPhone emulation. In order to utilise the item as if it were an iPhone, the objective would be to use it as if it was genuine. App makers, who mostly build iOS apps, seek such emulators since they are important for proper functioning and testing on both the development computer or an iOS device. To duplicate the iOS apps on another operating system, you also need a pc that really can run a software app. Once you've installed an iPhone emulation for the PC, you're all ready to start.
MobiOne Studios' is such an amazing emulator being in high demand among app and game makers worldwide. It is widely used to create applications and to test products prior to their distribution. The MobiOne Studio is indeed the one absolutely fantastic software, this emulation, that we've found on the internet for you all. In the world of iOS emulators, this one seems to be the most convenient.
The best part about MobiOne Studios is that it features some additional functions that make you feel like you are operating a real iOS device, you can download the latest version below
It might take about 5 mins to install.
Even if certain iOS applications have been emulated, the MobiOne emulator is still ahead because of its versatility. To that end, it permits you to make use of SDK for mobile app development instead of writing applications from scratch. However, for creating inter mobile applications for Android & Apple, the MobiOne Studio Emulator is indeed a helpful tool. This simulation is well worth the cost, and you must purchase for that though. You may use it to test applications you are creating without encountering any issues.
The new HTML 5 hybrids coding style created leverages Cordova, an open-source toolkit, which is applied to Windows-based MobiOne Studio applications. This MobiOne emulation is just so simple to just use if your technical expertise is a novice, you could still use it to create an iOS app and give your best without any hesitation. It is able to model an iPod touch emulator on the MobiOne test devices, and you may toggle across systems. MobiOne Studio is designed for programmers and is designed to provide a testing environment for the applications you've developed. Apps may be quickly and easily deployed straight to mobile apps. Another alternative is to create a mobile-optimized web app site. Most notable of all is the little alert icon that appears on the computer. Additionally, once you complete the application setup, you may share applications and also web pages through email.
MobiOne features the following:
Helps in coding and developing the iOS apps quick
Branding the app gets easy with their own designed icons
Surely easier to share the apps and webpages through web-links
Put alerts for status in PC
This software is great for beginners and novice users that appreciate simplicity and ease.  Despite the fact that the developer has forsaken the application, it still works as well when installed. This utility may be used to verify the security of iOS games and apps on your computer. One of the biggest pluses is that MobiOne doesn't have to undergo lengthy procedures that deplete resources. To put it another way, you are not restricted by hardware. A smartphone bridge application engineer will benefit significantly from utilising this bridge application emulator.