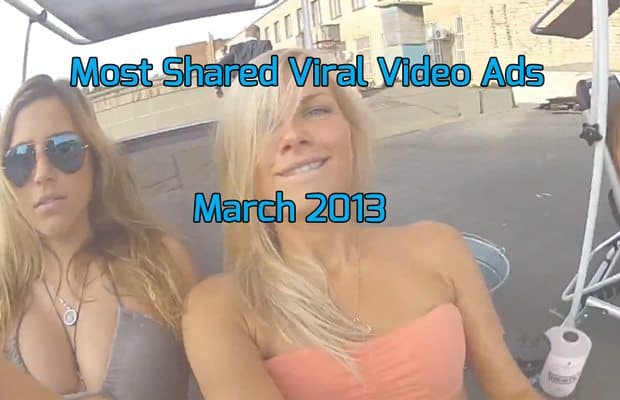 Most Shared Viral Video Ads Of The Month – March 2013
March is now officially over! Here's a recap of all the most shared viral video ads for last month. Looks like the Harlem Shake was pretty popular! Let's hope for it to be over in April!
Enjoy the top 15 most shared viral ads!
Most Shared Viral Ad Videos Of The Last 31 days:
#15 Age of Empires II HD Edition Announcement Trailer | 77,615 shares
#14 Cuenta conmigo. McDonald's. | 87,888 shares
#13 Battlefield 4: 60 Second TV Spot | 87,951 shares
#12 Dumb Ways to Die | 90,024 shares
#11 Elevator Murder Experiment | 94,126 shares
#10 What most schools don't teach | 114,639 shares
#9 Dove Men + Care Ad: One of BEST Shampoo Ad EVER | 180,184 shares
#8 Introducing Samsung GALAXY S4 | 267,802 shares
http://www.youtube.com/watch?v=2LHv1FPd1Ec
#7 The jacket – Inside CHANEL | 279,896 shares
#6 Carlsberg puts friends to the test | 332,870 shares
http://www.youtube.com/watch?v=vs1wMp84_BA
#5 "Homer Shake" | THE SIMPSONS | Animation on FOX | 585,671 shares
http://www.youtube.com/watch?v=YNrn-7zjmYw
#4 Three – The Pony #DancePonyDance | 946,221 shares
http://www.youtube.com/watch?v=Ekr05T9Iaio
#3 Biting Elbows – 'Bad Motherfucker' | 978,680 shares
#2 Harlem Shake Miami HEAT Edition | 1,016,738 shares
http://www.youtube.com/watch?v=Ir2TdfSwH8g
#1 Pepsi MAX & Jeff Gordon Present: "Test Drive" | 2,135,379 shares
http://www.youtube.com/watch?v=Q5mHPo2yDG8