Motorola edge+ with Snapdragon 8 Gen 1 SoC now down to $500
Motorola edge+ 2022. Codenamed Dubai+, Motorola is likely to release a new smartphone called Moto Edge 2022 in Q3 of this year, which has shown in leaked renders that showcase its appearance.
According to the source, the Motorola Moto Edge 2022 includes a punch hole display with a diagonal size of 6.5 inches. Punch hole in the centre of the 144Hz-refreshing pOLED display houses a 32MP front-facing camera.
There are three cameras on the back: a 50MP main, a 13MP ultrawide, and a 2MP depth sensor. Volume rocker and power button are on the right-side frame, while USB-C port, speaker, microphone, and SIM card slot are on the bottom. The MediaTek MT6879 chip will power the Motorola Moto Edge 2022, which will come in two RAM configurations (6GB and 8GB) and two storage capacities (128GB and 256GB). With a 5,000 mAh battery and stylus functionality, the phone will be 8.2mm thick (10.1mm with the camera hump).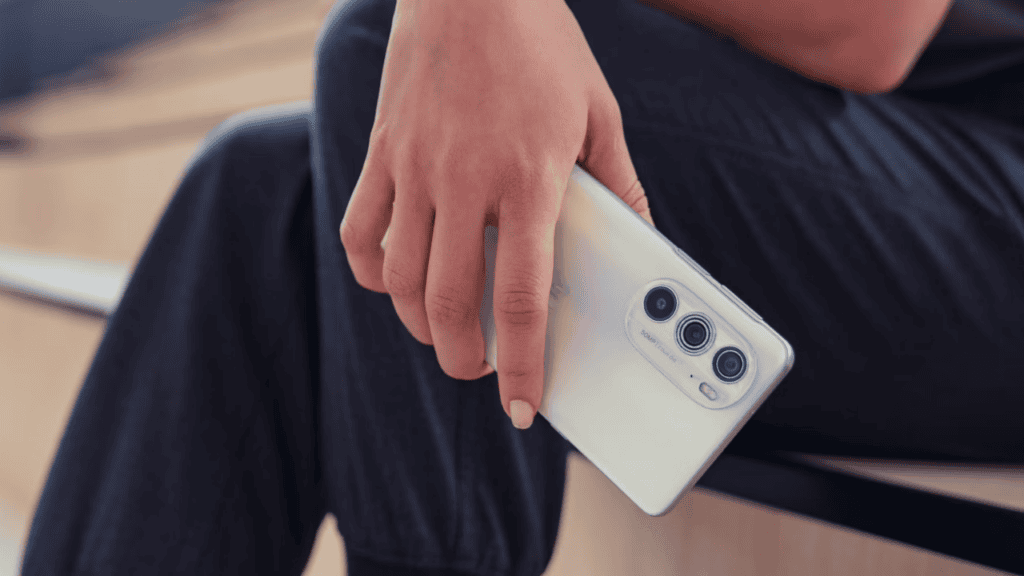 What's in the box: design, hardware, and software
In person, the Edge+ is very stunning. The Edge+ is a step up from the more affordable 2021 Edge in terms of materials, yet having a similar design. The frosted glass back is lovely to hold, but it provides little additional traction. However, the frame is made of plastic, which seems like a mistake when you're offering a premium product. I don't mean that in a compliment to its aesthetics. This phone is sleek. To put it another way, if you lay the item down on an angle, it will slide. I left it overnight on a wireless charging pad, but when I woke up, it had slid straight off and was barely 10% charged. If both phones were this slick, I can't fathom how difficult it would be to use the 5W power-sharing feature.
Fast Charging, Fingerprint Sensor and many more
The Edge+ supports 68W fast charging and comes with a 30W fast charger in the box if you don't like wireless charging and the slower charging speeds that come with it (yes, really). A 20-minute charge from 15 to 75 percent and an hour from 0 to 100 percent were routine using the provided charger.
The volume rocker is located above the power button on the right side of the phone. The fingerprint sensor is integrated into the power button, thus unlocking the device is lightning fast. It has never misread me, either, as far as I can recall. While I prefer under-screen sensors (and we've learned to expect them on flagship phones), I can't dispute that waiting for the screen to wake up before I can locate the sensor is often slower than Motorola's power button solution.
Although the screen has a somewhat larger bezel than a Galaxy S22 or a Pixel 6, it has a lot to recommend it. While the resolution is just 1080p, the OLED panel's deep blacks, high brightness, 144Hz refresh rate, and flat edges make it an excellent flagship display in its class. If you haven't upgraded in a few years, you'll notice an improvement. At low brightness, there is little banding or black crush, making it simple to see even in direct sunlight. The OLED's inky blacks make the bezels invisible, but as you get off-angle, you can see where they meet the display's edge.
Battery life, software performance
Motorola does an excellent job of letting Android be Android. If you choose a Verizon model, be prepared for bloatware despite the fact that Moto's software is simple and easy to operate. However, unlike Moto's current budget options, the Edge+ truly delivers with Android 12 and three years of security updates. Material You and easy granular customization of Android's design are also included as part of this release. App icon shapes can be changed, home screen grids can be replaced with 6×5 ones, text sizes can be increased and menu colours can be changed to lavender. You can do it all from the home screen in a matter of seconds. Those who are familiar with Moto's motions will still be able to access all the normal features. Opening the camera, putting on the flashlight, or launching split-screen takes only a few short movements. Do-not-disturb mode can be activated simply by flipping the phone over. The Moto app contains all of the gesture controls, customisation choices, and other quality of life settings. Finding them all in one place is much easier now than it was before.
Cameras
There are no surprises in the camera arrangement for anyone who's seen a recent Moto phone; all the characteristics are present. Two-megapixel depth sensors are housed within one of the three vertically aligned lenses of the camera bump, which is painted the same colour as its surroundings. The similarities end there, though. Like Moto G Power and G Stylus, it downgrades its main camera from 50MP to 12.5MP, yet the photos it takes are better than those taken by Motorola. They're sharp from top to bottom, and the colours are a good match for the real thing.
Differentiate 
It's easy to tell the difference between the wide-angle and telephoto lenses because of the uniformity of the colours. The main shooter's aperture is wider, thus the wide-angle lens may appear a little darker. If you're looking for a phone with a 50MP extreme wide-angle camera, you won't be disappointed. However, Motorola seems determined to put that 2mp depth sensor on as many phones as possible, so I would have preferred a telephoto lens with a similar resolution to take up the space.
Just getting a good shot is only half the battle. If you're going to use the Edge+ to record video, you're going to have a lot of great tools at your disposal. In order to smooth out camera shake, the primary lens is equipped with optical image stabilisation. The same lens can also shoot in 8K30, HDR10+ in 4K30, and up to 960fps in full HD with the same settings. In macro mode, you can even shoot 4K video. There are no fancy capabilities on the wide-angle camera, although it does get 4k video.
Is it worth your money?
No, I doubt it. I don't think the 2022 Edge+ is a good phone for anyone at the full $1000 price tag. In comparison to the Galaxy S22+ and Pixel 6 Pro, both of which cost about the same, this phone falls short in terms of features and overall quality. If you can get one for $900, it's more enticing, but there are more Snapdragon 8 Gen 1 phones on the way, and that's still a lot of money to ask. It's possible that the Edge+ may be a viable alternative if you don't trust Google's support and you despise Samsung's One UI, but there are a lot of "ifs" involved.
In spite of this, the high-refresh screen's quickness and vibrant colours make this a very appealing device. This could be Moto's best phone in a long time as long as Motorola sticks to its promise of support. But it's not quite up to speed.
If you're interested in…
As a Verizon customer, you're in a fantastic position to obtain a decent bargain on your old phone.
It's on sale for a few hundred dollars less from Moto.
If you are…
A top-of-the-line smartphone should have long-term software support.
You'll need a high-end camera setup for this task.
Also Read: 
Motorola Confirms Several Razr 2022 Specs, Launch Date Confirmed
Motorola Edge 30 Ultra Pro: First picture from world's first 200MP phone camera is out
Detailed Comparison of Motorola Edge 30 vs Edge 20
Motorola Moto Edge 30 Fusion Prices, Features, with great connectivity
FAQs:
Q1: Is the Motorola Edge Plus still in production?
Along with his work at CNET, he hosts the I'm Obsessed podcast with the other hosts. The new Motorola Edge Plus is an improvement over the previous 2020 model in practically every regards.
Q2: Will a new Motorola phone be released in 2022?
Motorola will release a slew of new smartphones in 2022, including the Moto G82, Motorola Razr 3, and the Moto G62.
Q3: What is the difference in RAM between the Moto EDGE+ 2022 and the Moto EDGE UW 2021?
8 GB of LPDDR5
Q4: Is the Motorola edge+ 2022 a good investment?
This year's Moto Edge 20 may be the middle kid in the company's 2021 lineup of smartphones. But it is the one to keep an eye on. It has a brilliant screen, a long battery life, a variety of camera options. And well-designed software that makes it a decent value for the money.
Q5: What country does Motorola hail from?
As a subsidiary of Chinese multinational technology corporation Lenovo. Motorola is an American consumer electronics and telecommunications company known for its Motorola brand. Motorola is the primary manufacturer of Android-powered smartphones and other mobile devices.