Here at trendblog.net, all 3 team members own a Nexus 4. And it's a brilliant phone. Especially for this price. I have bought the 8Gb option for 299$ (or 249£). This phone even made me change from my beloved iPhone to Android. 
And now, 4 months into the product life cycle, a new device is rumored to be released in May: Nexus 5!
Just a few days ago an image of the rumored Nexus 5 has been leaked.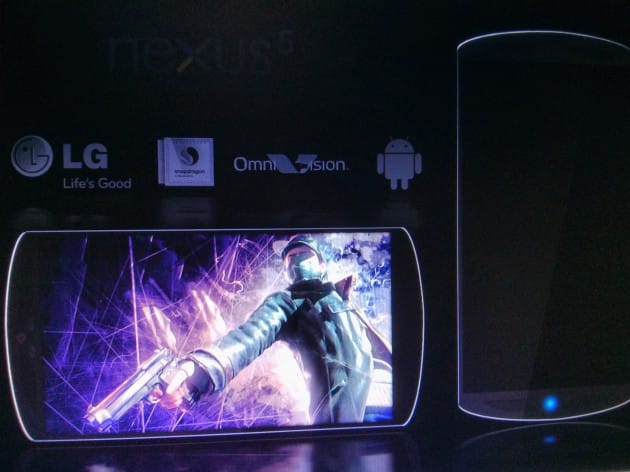 Nexus 5 Rumored Features
Display: 5.2″ OLED Display with 1920×1080 resolution
Processor: Qualcomm Snapdragon 800 @ 2.3 GHz OR Quad-core Tegra 4
Memory: 2GB OR 3GB LPDDR3 Ram
Storage: 8/16/32GB OR 16/32/64GB of internal storage
Camera: 16MP rear camera by OmniVision OR Nikon (4k video recording @30FPS, 1080p video recording @60FPS, Real Time HDR & HDR video recording, optical image stabilization, BSI 2.0)

2.1MP front camera (1080p video recording @30FPS)

Battery: 3140 OR 3300 mAh Lithium Polymer battery
Audio: Front positioned stereo speakers
Radio: Qualcomm RF360 (LTE 150 Mbps & HSPA+)

Integrated DVB-T / ATSC-antenna [Do you really need this?]

Gesture like controls (navigation, zoom, etc)
As you can see from the above mentioned tech specs, Google is putting a lot of emphasis on the camera. The camera in the Nexus 4 is really something that must be improved. It is also rumored that Google will partner up with Nikon, as they have already worked together in the past.
One important selling factor for the Nexus line is the excellent price. Despite the rumored hardware, I can hardly believe that Google will manage to keep the price so low while still putting impressive guts into the next-gen Nexus smartphone… Unless they rely on the Play Store to generate enough revenue to make up for the low price (like Amazon does with the Kindle).
Nexus "5"?
The current Nexus line includes the Nexus 4, Nexus 7 and Nexus 10. The numbers in the end of "Nexus" are more or less the device's screen size indicator. 4 – smartphone, 7 – small tablet, 10 – big tablet. If Google wants to expand the Nexus line the naming will definitely be an issue. If the new Nexus smartphone will be named "Nexus 5" than the next generations should be called "Nexus 6" and "Nexus 7". But wait! Nexus 7 is already a name for a tablet!
Google will more likely choose a different naming to avoid a situation like this. I am expecting to see a "Nexus 4.1" or "the new Nexus 4" instead of a "Nexus 5".
[yop_poll id="2″]
Will you buy the Nexus 5? What else are you expecting from the next-gen Nexus smartphone? Share your thoughts in the comments!
Cover image courtesy of Milanno Artworks