$143,000,000,000 – that's $143 billion if you get confused while counting the zeros. That is what the global online advertising revenues will reach by 2017. The Online Advertising Forecasts report, made by Digital TV Research, estimates the revenues will more than double the 2010's revenue (~$66 billion). For 2012, the predicted online ad revenue is $92 billion.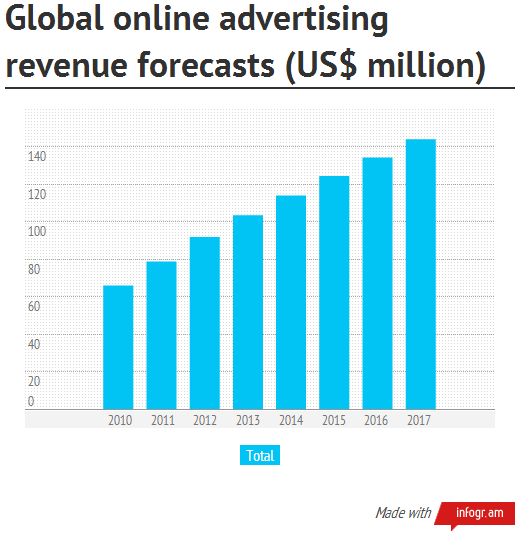 Splitting 2017's prediction down to countries, the report says:
The US will remain the dominant territory for online advertising expenditure. Its share of online advertising revenues stay at 40% of the global total, although its online ad spend will grow from $26,040 million in 2010 to $58,133 million in 2017. The UK will retain second place, recording $11,724 million in 2017. China will overtake Japan to take third place in 2014. China's online advertising revenues will grow from $2,600 million in 2010 to $10,808 million in 2017.
If you are interested in reading the full report (if you have the cash), you can find it here.
Images created with infogr.am
Cover image courtesy of Sy Clark