This post is part of a 2 series blog post about the Basics of Pay Per Click Marketing. Part 1 of the PPC 101 series was focused on the basics of PPC and how to prepare for your first campaign. In this post I will tell you about practical aspects and touch some slightly more advanced topics.
In Part 1 of this post we have already discussed the basics of PPC and what to do before starting your first campaign. We have addressed topics like Ad Rank, keyword research, match types, quality score and the basic account structure. And now it's time to move on to the slightly more advanced things.
Ad Copy
The next logical step after adding keywords to your campaign(s) is writing your ad copy. Text ads on Google AdWords consist of 5 different elements:
Headline

– 25 characters max.

Description Line 1

– 35 characters max.

Description Line 2

– 35 characters max.

Display URL

– 35 characters max.

Landing Page URL

– 1024 characters max.

The headline is the place where you want to put in as many relevant keywords as possible. This is the line that will be the first thing a person will see. In the next 2 lines you can describe the product/service you are selling to your potential customers. Usually you start with a product benefit in Description Line 1 and finish with the price point in description line 2 if you are advertising products. This will make sure that you stand out of your competition. Try to fit as many keywords in the ad. Just make sure that the ad reads natural.
Display URL vs. Landing Page URL
This might be a bit confusing at first, but it's actually very simple. The Display URL is only there to DISPLAY something. This URL is neither "clickable", nor should it be a real URL. Let's assume that your website is www.example.com and the TV you are trying to sell is on the page "www.example.com/products/TVs/Samsung/whatever". Your Display URL could then be "www.example.com/SamsungTV" and the Landing Page URL will be the actual URL of the product page. The Display URL could be divided in 2 parts: your domain (www.example.com) and the category after the "/". In the first part you must stick to your real domain. If your domain is http://www.example.com the possible variations would be:
www.example.com
example.com
The second part of the Display URL (after "/") can contain anything you want. Make sure that your "category" is relevant to your ad and keyword-rich. There are certain regulations when it comes to ad text. For example, you can not use ALL CAPS in your text, neither can you say about your product that it's "the best" without a having a few credible sources, which can prove it. Check out Google's Ad Guidelines.
Extensions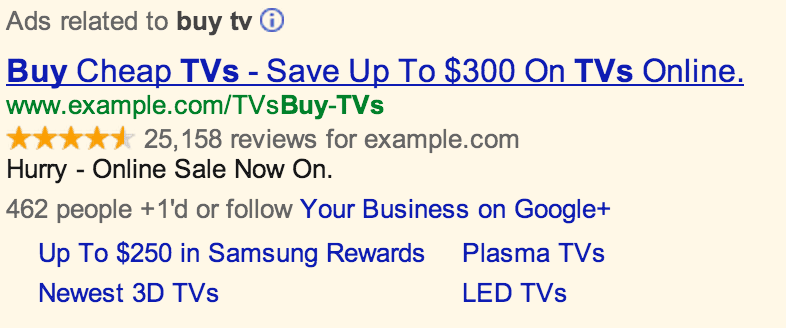 There are more things, which would help your ad to stand out. Google AdWords allows advertisers to use so-called "Ad Extensions". There are 8 extensions you can currently choose from:
Location Extension – Shows the address/location of your business
Call Extension – Shows your phone number on desktops. For mobile devices: gives the option to call you by pressing a button
Social Extension – Displays the number of people who have "+1'd" your page on Google+
Product Extension – Shows a range of products you are selling (if connected to Google Merchant Feed)
Seller Rating Extension – Displays your "seller rating" in stars
Sitelink Extension – Shows up to 6 links to various categories of your site
Offer Extension – Displays a redeemable coupon
Newsletter Opt-In Extension – Gives the opportunity to subscribe to your email newsletter
Read the full guide on hot to use Adwords Extensions
Targeting
To make sure that your ad is shown to your target audience, you have to make use of several targeting options. For text ads you have 3 targeting options:
Device – choose the devices you want to target: desktop, tablet, mobile. Also possible to target mobile network types (Wi-Fi or carrier).
Location – set the geographical location for your ad to be shown
Language – target certain languages
For display advertising campaigns (banner ads, video ads) you have the option to add demographic targeting, including age, gender and interests and more.
Tracking
Once you have created all your campaigns and entered your billing information you need to make sure that you have done everything to track all your PPC activities. There are numerous ways to do this. There are a lot of 3-rd party services on the market, which could help you to do so. But let's take a look at some free and native ways:
1. Google Analytics
If you have Google Analytics tags already installed on your website you can easily link your AdWords Account to Analytics. This will allow you to share data across accounts and even share some of the setting. For example: conversion goals from Analytics can be shared with AdWords. These conversions will be than tracked on keyword-level. You can also choose to use the "auto-tagging" option, which is strongly recommended by Google.
2. Conversion tags
Every time a user buys something from you or subscribes to a newsletter he/she will come to a "confirmation page". To track your sales/conversions from your PPC activity you need to place "conversion tags" in the HTML code of this page. Then, every time a user lands on this page, the conversion will be accounted to the PPC channel. If you already have lots of tags from different services on your website, check out Google Tag Manager.
3. URL Parameters
When assigning a URL to a keyword, you can manually enter so-called UTM-parameters, which include parameters like "campaign", "keyword", "content" and some others. Having these URL's will allow you to track your PPC activities on keyword level with Google Analytics. If you have an ecommerce shop that runs on one of the popular ecommerce CMS' (like Magento) you will be able to enter the conversion codes pretty fast using a plugin or the CMS' native settings.
Reporting
With everything done and your campaigns running, how can you say if your campaign is performing good or bad? From my experience: Your campaign is performing good if you meet your targets. With all tracking codes in place you will be able to track every cent coming in and out. With that you will also be able to set targets or KPIs (Key Performance Indicators), which would match your business needs.
KPIs can be ROI (most common), ad exposure, generated revenue, clicks, number of conversions and, basically, everything you could track. After defining your KPIs compare them to PPC numbers.
PPC down side
If, after reading of all this, you think that PPC is the ultimate way to increase your sales and drive traffic to your site – you are wrong. PPC is not the silver bullet. Along with PPC, make sure to also use other online channels to drive traffic and sales. Make use of Search Engine Optimization (SEO) and Social Media as well. It is very important to have a sustainable online strategy. Don't just rely on one channel. Use different channels to diversify risk.
Also, please don't think that PPC is easy. You might lose money if you do it the wrong way. And having the "perfect" campaign doesn't mean that money streams will just flow towards you if you have a badly-designed website. If you are planning to target mobile users, make sure to make your website mobile-friendly.
If you want to learn more about PPC check out the book that helped me getting into Pay Per Click Marketing – Advanced Google AdWords by Brad Geddes (Kindle Edition). In case you have missed the 1st part of this post, make sure to look at the basics of PPC you should know about before starting your campaign.