Just when we thought Pokémon Go is the app of the year for making people crazy with its GPS-based gaming idea, here comes another app. We are talking about "Prisma", which has taken the app world by storm. Prisma is a photo editing app loaded with artsy filters. The app debuted recently, but it is topping the charts under its segment.
Prisma is not an ordinary photo editing app that is used to enhance background, skin tone, add emoticons, but it transforms your ordinary picture into an art masterpiece. Famous artists like Munk and Picasso are the inspiration behind the filters given in Prisma. Sadly, for now, Prisma is only available for the iOS users. However, with its raging demand, makers will launch its Android version by the end of this month.
What is the story behind Prisma?
Prisma is the brainchild of a Russian programmer, Alexey Moiseenkov. Ever since its launch, the app is driving users crazy with its vivid filters. It's rising fan following is the reason behind its top rank on Apple's App Store. In a report by an app-research website – AppAnnie, Prisma has beaten apps like WhatsApp and Instagram in popularity, especially in countries such as Russia, Estonia, Ukraine, Uzbekistan, Kazakhstan, Latvia, and Moldova.
The app features a total of 33 image filters that can make your photos cooler. According to a report by Venture Beat, Prisma's filter algorithm utilizes a compound of convolutional neural networks and artificial intelligence, and it doesn't just apply a filter but also examines the data to implement a style to an image in a way that both works and impresses. It all seems rather complex – but hey, the result is fantastic.
How does it work?
Like Instagram, you just need to select a photo from the gallery or click a new one within the app. After selecting/clicking a photo, the app presents different filters. The user can just choose his/her preferred filter and share it on platforms such as Instagram or Facebook by clicking on the icons given above the filters. To share the image via e-mail, messaging, WhatsApp by selecting the share menu.
Erm, What about Watermarks?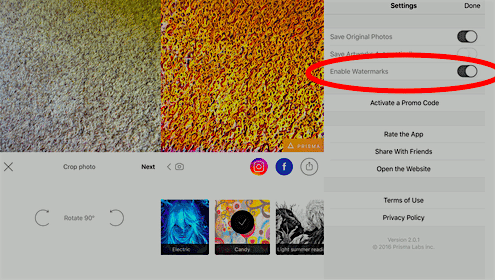 Well, you can get rid of Prisma's watermark by going to the settings (as seen in the image above) in the app and disabling the watermark option.
Cool, What about its availability?
For now, Prisma is available on Apple's App Store. It will launch on Android within this month. Stay tuned with us to know about its launch timeline for Android and Windows.