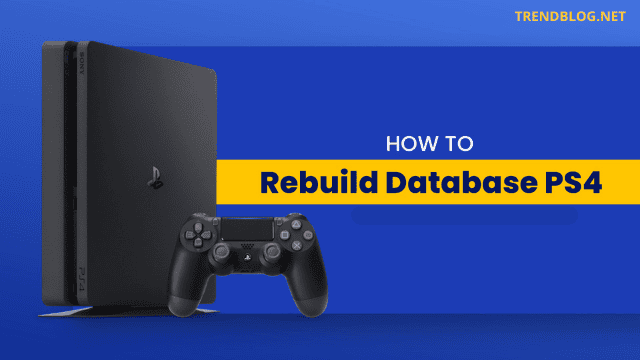 There is a secret that lies in everything we see in this world. When it comes to PlayStation, I want to tell you that, it can work faster than it is doing now. PS4 Rebuild Database is the secret that transforms your game into a faster mode. 
If you are new to knowing what PlayStation rebuild database is, I am here to help you clear the uncomplicated process. Database rebuilding improves your PS4's performance and removes the corrupted data.
How to Rebuild the Database of PS4?
Sit calmly and read every step to rebuild the PS4 database successfully.
Follow the step-by-step procedure:
First, I want to tell you that, do not use rest mode on your PS4. To rebuild the database, turn your PS4 off.
After that, you need to press the power button down until you hear two quick beeps. 
These two beeps are the alert of entering into safe mode.
Do you see the USB-A slot in the front of the PS4?
Okay then, connect your DualShock 4 controller to it. 
Go to the menu and scroll down to reach the fifth option. This fifth option is to Rebuild Database.
Now, simply hit the X button to start rebuilding PS4 database.
The duration of rebuilding the ps4 database completely depends on your console's storage. If it is full, the process may take hours. In addition, if you frequently install and delete games, it might only take a few minutes for a PS4 database rebuild.
"We all make choices in life, but in the end our choices make us." Andrew Ryan, Bioshock
What does Rebuilding your PS4's Database do?
The Playstation rebuild database process reorganizes your hard drive. That means your system can easily and quickly access the files. Once the rebuilding database procedure is completed, it improves boot time and offers a more responsive console.
Therefore, you will not face frame rate drops in your games. 
Are there any unfavorable points to rebuilding PS4's database?
PlayStation rebuild database is a process of cleaning things but it doesn't mean deleting your data. The process deletes the corrupted files that no longer serve you. Apart from this, PS4 database rebuilding does not delete anything instead it only boosts the performance of your console.
Summing Up
As I have shared in this article, PS4 database rebuild is an easy process that you should do every couple of months or at least once in a quarter. This will not only make your PS4 work smoothly but also you will not have to follow the long process every time you rebuild the PS4 database.
If I have missed something, or you know any other tricks, you can share them in the comment section!
FAQs
How Long Does It Take to Rebuild a Ps4 Hard Drive?
More storage takes more time to rebuild a PS4 hard drive. If you are not new to this game and have been rebuilding from time to time, then, the process will be completed in a few minutes. However, if you are using PS4 for a long time and have never rebuilt the PS4 hard drive, you should know that it will take hours to complete the process. 
How do I Reset my PS4 to factory settings?
If you want to factory reset your PS4, you first need to boot your console in safe mode. You can do this by waking your console from sleep mode. After this, you can press and hold the PS button on your controller. To factory reset your PS4, select power and then, turn it off. With the use of a USB cable, connect your controller and PS4 
How to Reinstall System Software on Ps4?
This is the process of initializing PS4 that erases everything in the hard drive including the system software. If you choose this option you will have to manually download and install again. So, unless it is a high emergency, do not opt for this option.