During the last weeks rumours regarding Samsung's new flagship phone have been popping up around the web. Samsung will most likely reveal the Galaxy S5 at the Mobile World Congress in Barcelona, Spain at the end of the month. Here's what we can expect:
Earlier today, a Dutch Galaxy S5 website leaked a picture of a Samsung Galaxy S5 rear box. According to the picture, the Galaxy S5 has following features:
5.25 inch qHD Super AMOLED screen
2,560 x 1,440 pixels / 560 ppi
2.5GHz quad-core Qualcom Snapdragon 805 processor
3 GB RAM
3000 mAh battery
20 megapixel camera
2 megapixel front camera
Android 4.4 KitKat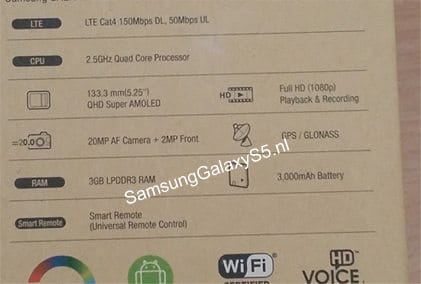 Unfortunately only a part of the box is visible which might imply that it's a fake. But let's talk about the specs and what other sources speculate.
Display
Although the screen is quite big and comes really close to being a phablet, I quite like the idea of having a 1440p 5.25-inch display. Rumours from the end of December 2013 already implied this.
Processor
Latest rumours suggest that we'll see two Galaxy S5 versions, one with a Qualcomm Snapdragon 805 and a second one running a 64-bit eight-core Exynos processor. With the iPhone 5S already running on a 64-bit system I believe that one of the Android flagship phones will follow this path as well.
Camera
Although a 20 megapixel camera sounds awesome, we'll have to see how the camera performs in different situations. Samsung also announced a 16 megapixel ISOCELL camera sensor for its flagships last November, so it would be strange to see a 20 MP camera in the Galaxy S5.
Battery
Having a 3,000 mAh battery sounds reasonable and I really hope that the phone will last longer than a day of active use. Coming from a Nexus 4, battery life is one of the most important features for me.
Android 4.4 & TouchWiz
The phone will most likely be running Android 4.4 KitKat and come with a newly designed TouchWiz as a recently published image suggests. With Samsung highlighting privacy, it'll be interesting to see which privacy features will be implemented in the Galaxy S5.
Case
The phone is expected to come in either a plastic or a metal body. It is very likely that the quad-core edition will come in the plastic case and the 64-bit version in a more premium metal one.
Final Words
Samsung's new flagship phone sounds promising and it'll be interesting if Samsung will finally offer a more premium, none-plastic version. We'll keep you updated!