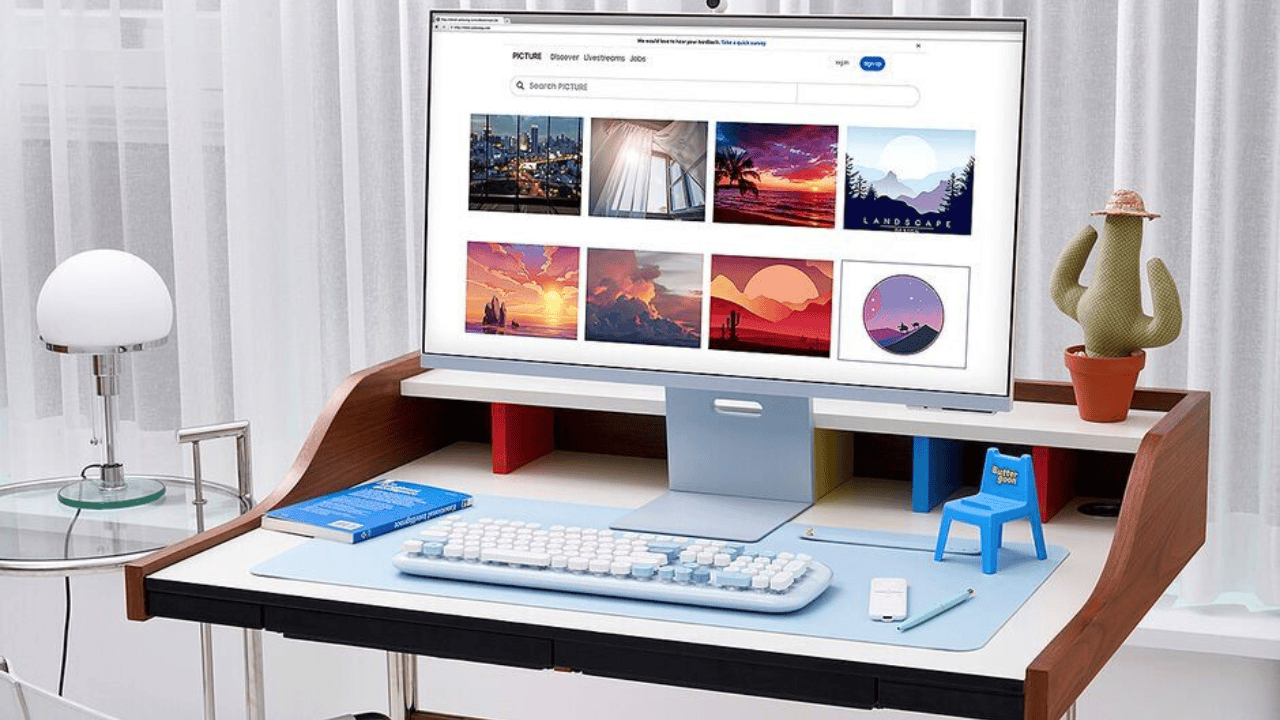 Samsung M8 monitor Review with Intuitive features and Predictions
Samsung m8 review. the Samsung Smart Monitor M8 is a 32-inch, 4K display with a built-in webcam, speakers, and other conveniences. This screen has Wi-Fi and Bluetooth built right in, so it can run its own apps, hence the name "Smart Monitor." It's capable of communicating with your smartphone and other connected home gadgets.
Samsung m8 review
The Smart Monitor M8's tiny profile (11.4mm) and thin bezels around the display are strikingly similar to those of the Apple Studio Display, and the two might easily be mistaken for one another at first glance. Both screens have a camera and speakers powered by an internal processor, making them functionally identical. Samsung's Smart Monitor M8 has HDR compatibility and four colour options, whereas Apple's Studio Display only offers one. The price is also significantly lower, at around 50% less.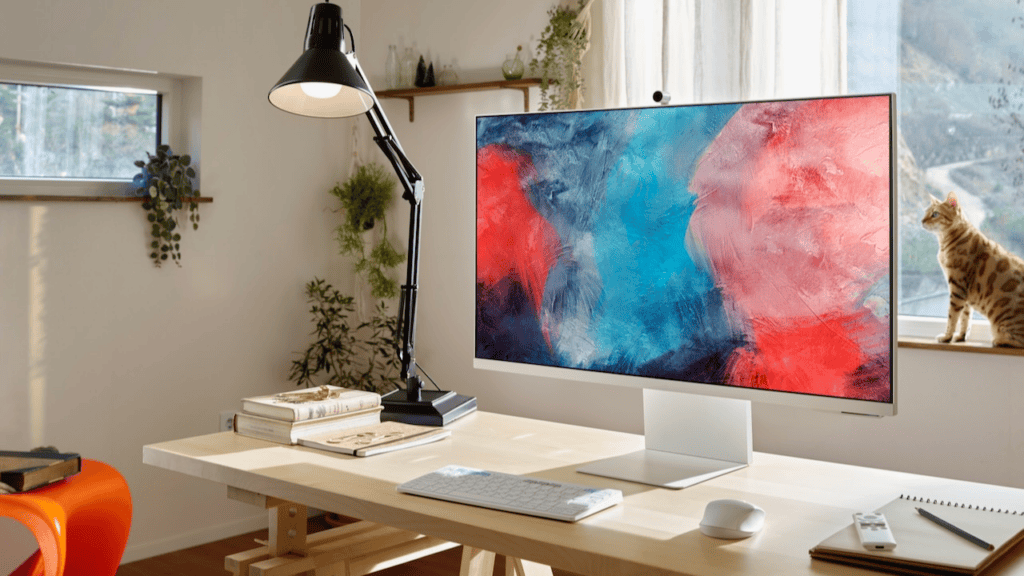 Pricing and Availability 
Pre-orders for the Samsung Smart Monitor M8 can be placed on the company's website as of right now. A Smart Monitor M8 can be purchased for a starting price of $699; however, this price only applies to the white base model. Blue, Green, and Pink M8s all cost $729, $30 more than the standard black model.
Significant Look
Whether on purpose or not, Samsung's Smart Monitor M8 is reminiscent of Apple's Studio Display, but much larger and more powerful. The M8's 32-inch 4K display is contained in a sleek chassis with a flat back and a stand that appears to be a single piece of metal protruding down from underneath the screen.
An important feature of the Smart Monitor M8 is its height-adjustable stand, which allows for a range of motion of more than 4 inches. This may not seem like a big concern, but it is for someone of my height (or for anyone who values a comfortable working environment). Considering that Apple's $1,599 Studio Display doesn't have a height-adjustable stand unless you pay an extra $400, this is a much-appreciated addition. The M8's expected dimensions with the stand are 28.1 by 22.6 by 8 inches, and its weight is 14.8 pounds. In addition to its high-sensitivity microphone and 2.2Ch speakers, the monitor also boasts Wi-Fi 5.1 and Bluetooth 4.2 connectivity.
The SlimFit camera is included but is not an integrated part of the device. Instead, it's a detachable webcam that can be magnetically attached to the screen. It may seem odd that the monitor comes with a remote control when it can also be used as a smart display to stream content from Netflix, Disney+, and other services without the need for a PC.
Display Features
The Smart Monitor M8 features a 32-inch, 4K (3,840 x 2,160-pixel), 60Hz LCD display with claimed peak brightness of 400 nits and coverage of 99 percent of the sRGB colour space. HDR10+, which is essentially Samsung's take on HDR, is also supported by the Smart Monitor M8 (high dynamic range). HDR content may be viewed on this screen, however the Apple Studio Display does not.
Samsung M8 Smart Monitor Connectivity Options
The Smart Monitor M8 doesn't have a lot of connectors, but its USB-C capabilities make up for it. The M8 has one micro-HDMI port and two USB-C connections on the back; one of the USB-C ports allows passthrough charging at up to 65W, so you may charge a laptop at the same time it is driving the display.
The M8 Speakers of Samsung's Smart Monitor
Samsung claims that the Smart Monitor M8's display houses a tweeter and two 5W speakers for a total 2.2-channel sound system.
The Apple Studio Display's built-in speakers have re-set my standards for monitor audio quality, despite the fact that I would normally advise against getting too excited about the sound quality of a monitor's built-in speakers. Once we have a Smart Monitor M8 in for testing and review, perhaps it will perform just as well.
Camera
There is a 1080p SlimFit camera included with the Smart Monitor M8, however it is not embedded in the screen itself. A separate camera that can be magnetically attached to the screen as needed.
The camera has a physical privacy shutter and supports Face Tracking and Auto Zoom capabilities, so it can theoretically detect and follow speakers (a la Apple's Center Stage).
Intuitive Functions on the Samsung M8 Smart Monitor
Tizen, Samsung's OS for smart TVs, home appliances, and more, is preinstalled on the onboard processor of the Smart Monitor M8. Because of this, you don't need to connect it to a computer in order for it to function as a smart display; you can just use it like you would a Smart TV by downloading apps wirelessly and interacting with them through the display's microphone and speakers.
To further facilitate game streaming to your 2022 Samsung Smart TV or Smart Monitor, Samsung has now released an app called Samsung Gaming Hub. With this programme, users may stream games from a variety of services to their TV or computer screen, including Xbox Game Pass, Amazon Luna, Google Stadia, and Nvidia GeForce Now. The Samsung M8 is unique among monitors since it has this capability.Since this is a Samsung product, the monitor also functions as a SmartThings Hub, allowing you to manage ZigBee, Z-Wave, and IP-connected devices.
Predictions for the Samsung M8 Smart Monitor
Samsung's Smart Monitor M8 has been delayed from its initial reveal at CES 2022, but its release now couldn't be better timed. The M8 seems to offer more functionality than Apple's latest monitor but costing significantly less, turning it from a potentially interesting smart monitor to a rather serious Apple Studio Display challenger.And of course. We won't know if Samsung has outdone Apple in the smart monitor market while keeping prices down by 50 percent until we put one through its paces ourselves.
Also Read: 
Samsung's Gigantic Odyssey ark 55 release date With $3500 Price Tag
Samsung m8 monitor specializations with Smart TV Experience
Alienware new monitor 2022 Have A Built-In Headphone Hanger
Samsung Galaxy S23 Ultra Leaker: Leaked Features, Specs, Release Date
FAQs:
Q1: Is Samsung M8 good for gaming? 
With the $699.99 M8, you can connect a laptop with a single connection and use that massive screen for work thanks to its USB-C port with DisplayPort and 65W charging. The built-in Tizen Smart TV interface gives you access to a wide variety of streaming services, including Apple TV Plus, HBO Max, Amazon Prime, Netflix, and many more.
Q2: When was the Samsung M8 released?
Samsung's Smart Monitor line, which debuted that same year in November, is a collection of multitasking displays catering to the needs of today's consumers who want something that can serve as a source of both work and play.
Q3: What exactly is the Samsung M8?
The Smart Monitor M8 features a 32-inch, 4K (3,840 x 2,160-pixel), 60Hz LCD display with claimed peak brightness of 400 nits and coverage of 99 percent of the sRGB colour space.
Q4: Why do we need a smart monitor?
Unlike traditional monitors, a smart monitor really has an operating system, much like a smart TV. All of your favourite streaming apps are conveniently grouped together on the home screen, and you can access other features, like AirPlay and your inputs, with a click..