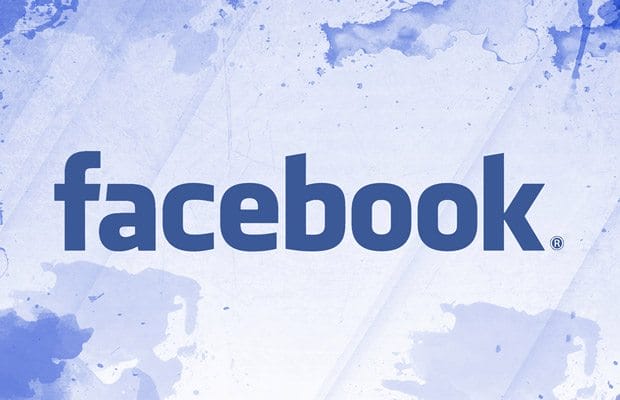 How to see if other people log into and use your Facebook account
Nowadays, many people not only use their computer to access their Facebook profiles, but also their smartphone and tablet. Sometimes you even use devices you don't own such as your friend's laptop or public computers in libraries, hostels and whatnot. That means that your profile is accessed from a lot of different devices and places, which puts your privacy at a risk. You just have to forget to log out on another computer and someone else can check out all your posts, images and messages. And of course, another way to give another person access to your Facebook account is letting that person watch you typing your password.
The troubling thing here is, that you're mostly not aware of the fact that someone else uses your account (except some weird status appear on your profile). If you get the feeling that someone else might be messing around with your account or you suddenly realize that you forgot to log out on another computer, there's an easy way to check if other people are using your account from an unknown device. You don't even have to change your password, although it might still be a good thing to do.
Check all active sessions
If you go to Settings > Security > "When You're Logged In", you can see all active sessions from different devices and apps together with the date it was last accessed, from where and which device type. In most cases, that should be enough information to find any suspicious activity. Should you see a number of different browsers that accessed your profile, don't freak out just yet. It could be the browser you use at work. If it's not, simply click "End Activity" to end a session. This means that the particular device or app cannot access your account anymore without your password.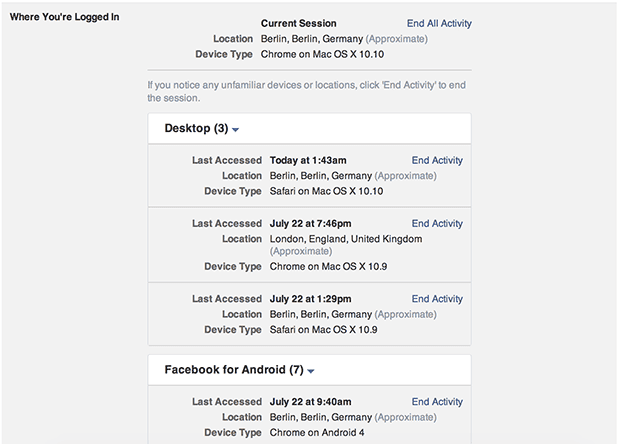 Get a list with all logins and IP addresses
If you want to be completely sure that your account is safe, you can get an extensive list of your whole account activity. To download the data, go to Settings > General and click on "Download a copy of your Facebook data." After entering your password, you will receive an email with a link to your download. Extract the ZIP file and open up index.htm in your browser. Basically, what you see is a collection of all your available Facebook data such as your posts, chat conversations and your session history. Click on Security to see a list with all sessions of your account. The difference here is that you not only see all active sessions but also all expired ones, plus you get all used IP addresses.
Although it isn't necessary, I recommend to change your password if you find any suspicious activities. Instead of a computer you forgot to log out on, it could be someone who actually knows your password. Even if you think you're the only one using your Facebook account, checking all active sessions once in a while is a good way to keep it that way.
One thought on "
How to see if other people log into and use your Facebook account

"