How To Set Up An iCloud Backup On Your iPhone & iPad
Devices fail, so you should constantly be backing them up. Think about it, your smartphone or tablet has your photos, your videos, your contacts, your emails, your browser history, your schedule, and more. Now imagine all of that gone. Yes, I know. Gruesome. That's why you need to backup all of your data every day. Losing it would be a disaster.
There are many cloud storage solutions, but for iOS devices, the easiest by far is iCloud. You can also use Dropbox to automatically backup all of your media (which I do), but iCloud covers a far wider range of data, which Dropbox can't touch. If you automate that daily iCloud backup, you never really have to think about it ever again.
Setting Up An Automated Daily iCloud Backup On Your iOS Device
Setting this up is very straightforward, so you can't use the excuse of "this is too difficult" to avoid doing it.
One thing I should point out though before we start is that the standard free 5GB that Apple gives you for iCloud backup is almost never enough. If you are a snap-happy photographer, a wannabe Spielberg with your videos, or a contact list the size of a Yellow Pages, then you will need more storage space. More on that later.
Before You Start, Do Some Cleaning…
A lot of apps back up to iCloud, a lot more than you may think. If you are low on storage space, then you need to take a good long hard look at what is taking up that space. Some of it can probably be deleted and switched off for the future.
First, let's find out where on your phone or iPad you need to go to get started.
Go to your Settings. Then tap on the top bar next to your picture.
On the next screen, tap the iCloud option.
So we are first going to see if we need to delete any unneeded iCloud baggage. So click on "Manage Storage".
You will then see (if you scroll down) the apps that are taking up space on both your phone and iCloud. The two biggest space hogs are the photos and the eBooks.
With the photos and the videos, you can use the Dropbox app, turn on "Camera Uploads", back up the photos, then delete them from your iOS device.
With iBooks, assuming you bought the book from iTunes, you can simply delete it when you are finished with it. If you ever want it again in the future, you can just re-download it.
An alternative (the nuclear option) is to wipe the app and all of its data from your device in one go. So if we wanted to get rid of iBooks and all of the books installed on your device, tap iBooks.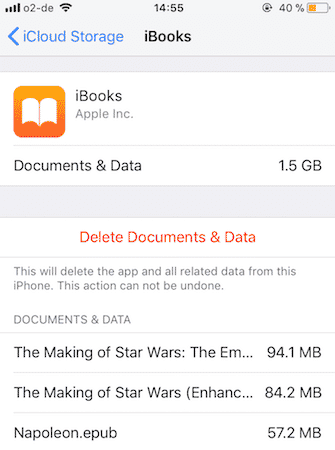 Tap "Delete Documents & Data" to wipe the lot. As it says underneath, it cannot be undone, so make sure you are sure.
Get More Space!
What if you need more iCloud space? That's very easy to do. Go back to the previous screen and tap on "Change" in the "iCloud Storage" section.
The plan you're currently on will be at the top, and the other available ones are below. As you can see, I am on the highest plan (2TB), so upgrading is not possible for me. But if you are on one of the lower plans, you can choose between 50GB, 200GB, and 2TB. All at extremely good prices. My only complaint is that they should have a 500GB and 1TB option as well.
If you upgrade a bigger plan, you will be charged the extra amount for the remainder of that month.
Now, Let's Do An iCloud Backup
OK, you've cleaned out all the unnecessary gunk from your device, and you've bought some more space. Now it's time to fill that space up with your data.
There are two ways to do an iCloud backup. Manually and automatically.
The Manual Way
Apple provides you with two methods to do an iCloud backup manually – through the device itself or through iTunes.
The Device Method
In case you've forgotten, go to Settings–>iCloud. Scroll down until you see iCloud Backup.
On the next screen, the backup function will either be on or off (depending on whether you've used it before or not). If it is off, flick the iCloud Backup switch to green. Then tap "Back Up Now" to start the process.
How long it takes depends on three factors – how fast your Internet is, how fast the Apple servers are currently going (never normally an issue), and how much data needs to be uploaded. For me, it runs between 10-15 minutes.
But you can start it, come out of it and lock the phone. You don't need to keep staring at it all the time until the backup is finished.
The iTunes Method
If you are the sort of person who has iTunes open all the time, you may want to use iCloud Backup through the desktop app. Again, that is easy to do.
Open iTunes and wait for your iOS device to sync with it (or attach the device to your computer with a cable). At the top of iTunes, you will then see an icon for your device. Click that.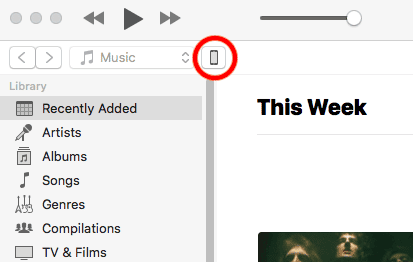 If you don't see the icon, it may be one of the following :
Your device screen may ask you to click an "allow" or "trust" button.
Unlock the device.
Pull the device from the cable then reattach it. Maybe also use another USB port.
Authorize the computer (Account–>Authorizations–>Authorize This Computer)
Restart your computer and/or your iOS device.
Assuming you have got the icon appearing, click on it to see this screen :
Choose the iCloud option on the left. The "Encrypt iPhone backup" is only if you are backing up to the computer. So for iCloud, ticking the Encrypt box is not needed. The iOS device is encrypted by default. Now click "Back Up Now" on the right-hand side.
You will now see at the top that it is backing up.
I should also point out here that if you choose to back up to your computer, the iCloud feature on your iOS device will switch off.
The Automated Way
The second way to back up your phone, other than manually pressing the button, is to automate the process.
First make sure that iCloud is switched on.
Make sure your iOS device is plugged into the charging cable.
Ensure the device is locked.
Check to make sure the wifi connection is working fine.
If you do these four things, Apple will automatically backup your phone to your iCloud account. For me, the backup happens during the night, because that's when it's locked and charging.
Conclusion
A lot of people like to talk smack about iCloud, saying it's the worst cloud service ever. Well it may not be the best when you stack it up against the likes of Dropbox and Google Drive. But for the purposes of backing up your iOS devices, it works like a charm.