Sniper Elite 5 Review with 4 Important Characteristics
For Xbox One, Xbox X|S, and Xbox Game Pass, PlayStation 4|5, and PC on Steam and the Windows Store, sniper elite 5 is now available. Unrivaled sniping, tactical third-person warfare and an improved killcam are all included in the latest Sniper Elite 5 instalment. A new traversal mechanism and several real-world places have been captured in breathtaking detail, allowing you to explore the maps like never before.
Sniper Elite 5
1944 in France – Elite marksman Karl Fairburne contacts the French Resistance. As part of a secret US Rangers effort to damage the Atlantikwall fortifications along the Brittany coast. Operation Kraken, a Nazi covert initiative that could put an end to the war before the Allies can even reach Europe. It is soon discovered by the team.
Important Characteristics
1.Photogrammetry 
It has been used to record several real-world sites to create a living, immersive environment, and numerous infiltration and extraction points and kill list targets give each mission a new viewpoint. With updated co-op mechanics that let you exchange ammo and supplies, give orders, and heal each other, you may take on the Nazi plan on your own or with a friend!
2. You can use ziplines, slide down slopes, or wiggle your way past an unsuspecting lookout in this game's advanced gunplay physics and traversal mechanics. 
Make sure to take into account your rifle's stock and barrel, as well as gravity, wind, and heart rate, when aiming at your target.
The ability to fine-tune and modify nearly every component of your weapon is available through the use of workbenches. Options for rifles, handguns, and secondary weapons are nearly limitless. Additional options include armour-piercing and non-lethal ammo that can be used in conjunction with each other.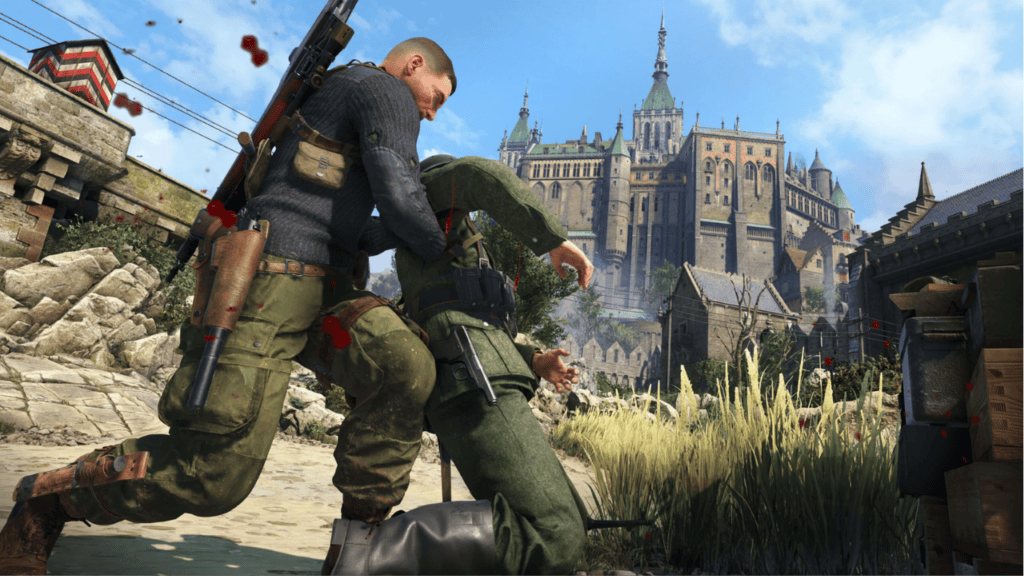 3. As an Axis sniper, you can infiltrate another player's campaign and engage in a deadly game of cat and mouse, adding a new level to the difficulty as you stalk your prey. 
Another option is to ask for aid from Karl, who will send in an assistant to help you out of a tight spot. 16-player tight adversarial multiplayer battles will put you to the test as you customise your character and loadout while earning experience points, medals, and ribbons. With up to three other players, you can take on hordes of foes in Survival mode.
4. The famous X-ray kill cam returns. 
Showing you the true destructive power of each shot in a more realistic and horrific manner than ever before. Also, bullets are deflected in an unpredictable manner by bones, allowing you to cut a fresh path through the corpses of your opponents. Shooting numerous shots in slow motion is possible with SMGs and pistols as well.
Also Read: 
Modern Warfare 2 Art Suggests a Return to Steam for Call of Duty
Iphone 14 Always on Display Has Been Rumored: Here's All You Need to Know
Pixel 7/7 Pro Wishlist: Functions and features we really hope to see
iPhone 14 New Look Leaked Pill-shaped Notch, Golden Tint, Pricing, and More
FAQs: 
Q1: How many missions are there in Snioer Elite? 
There are a total of 10 missions in Sniper Elite. Nine main campaign included the missions and one DLC mission are included in this set.
Q2: Is the campaign in Sniper Elite 5 co-operative?
You can play Sniper Elite 5 as a co-op campaign or survival mode. To put it another way, the Co-Op Campaign lets two players work together to complete Karl Fairburne's story by calling out adversaries and coordinating attacks.
Q3: Sniper Elite 5 runs for how long?
If you're only interested in the main story, Sniper Elite 5's runtime is around 12 hours. Also, the game can take up to 30 hours to complete if you complete all of the side quests and gather all of the treasures.
Q4: When Sniper Elite 5 will be released?
On March 26th, 2022, Sniper Elite 5 will be released for PC, PS4, PS5, Xbox One, and Xbox Series X. The game will be included in the Xbox Game Pass when it launches. Service
The game Sniper Elite 5 has a total of four missions
Q5: Where is the headquarters of Sniper Elite 5?
This is the Steam version of Sniper Elite 5. Also, karl Fairburne returns to France in 1944 to investigate Project Kraken. Rather, shooting Nazis across immersive battlefields has never looked or felt better thanks to the genre-defining genuine sniper and upgraded killcam.
Q6: Where does Sniper Elite 5 take place?
Players assume the position of an elite member of a US Rangers unit in Sniper Elite 5. Which takes place in France during World War II. A secret Nazi plan that could bring the war. To an end before the Allies can intervene is foiled by gamers as Karl Fairburne.
Q7: Which sniper elite have you seen recently?
The Sniper Elite 5