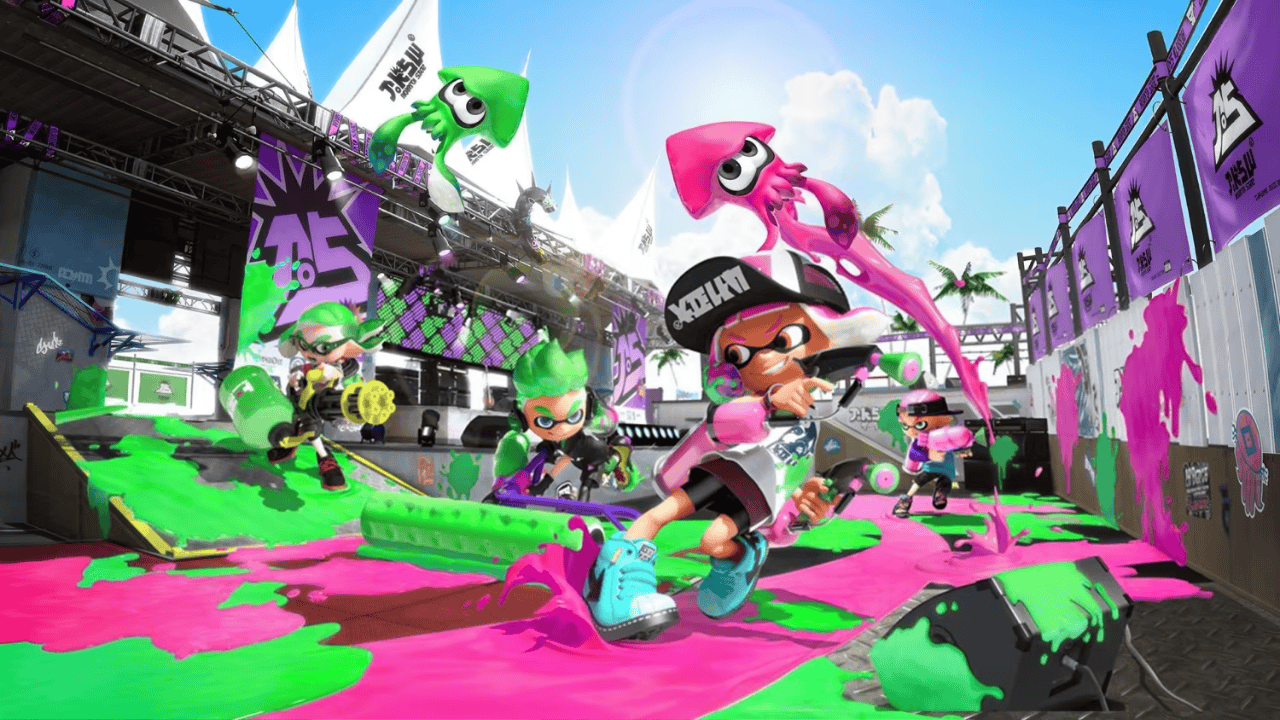 Spaltoon 2 for Nintendo Switch- Is it available Offline
Spaltoon 2. Published and developed by Nintendo for the Nintendo Switch console, Splatoon 2 is a third-person shooter video game released in 2017. A direct successor to Splatoon, it was launched on July 21, 2017, and features a new story-driven single player game as well as a variety of online multiplayer modes. Following this, on June 13th, 2018, a single-player DLC expansion pack titled Octo Expansion was made available.
In general, the game was well-received when it was released. More than twice as many copies as its predecessor, Splatoon 2 had sold over 13.3 million copies by March 2022, making it one of the Switch's best-selling titles. This game will be followed up by Splatoon 3, which is scheduled for release on the Nintendo Switch in 2022.
Gameplay
Splatoon 2, like its predecessor, is a third-person shooter in which players control Inklings and Octolings and use coloured ink as ammo. For swimming or recharging their ink tanks, ink is also utilised to coat the earth, or any other paintable surface. It is possible to transform from a humanoid, or child, form, where they can walk and shoot at the same time, into a squid shape where they can fast swim through their own colour of ink, replenish their ink supply, and return to full health.
There are a number of new weaponry in the sequel including dual-wielding pistols known as Dualies, shotgun-like weapons known as Brellas that can be used as defensive weapons, and jetpacks dubbed Inkjets. For Regular Battles, it has the basic Turf War mode, where two four-player teams have three minutes to cover the most turf with their respective colours of ink. Also, Ranked Battles in Splatoon 2 retains the cycle of Splat Zones, Tower Control, and Rainmaker, which is unlocked when you reach level ten, but adds a new Clam Blitz mode. Teams of two or four can be formed in League Battles, although tri-squad is no longer an option, limiting players to playing in teams of two or four in the same modes as in Ranked Battles. In Salmon Run, up to four players can work together cooperatively to take on waves of Salmonid enemies and collect the eggs of Boss Salmonids. From July 2019 to now, a monthly "Splatfest" event was held where players could choose between two teams, usually based on common debates such as heroes versus villains and pancakes versus waffle. Additionally, during these Splatfests, two partnerships took place: For Splatfests, participants could select their squad in the game's lobby two weeks before to the event's start date. Themes were often localised and occurred at different times of the month, depending on the locality. Normal and pro modes were offered for Turf War in a Splatfest's only game mode. To determine the winning squad, the popularity and clout achieved in both fight styles were taken into account, and this was done at the end of the Splatfest. Players on the winning team receive a slightly larger share of the unusual goodies. Nintendo revealed that the final regular Splatfest would take place in July 2019 when the announcement was made. There were further Splatfest rematches in May 2020, which were held as a bonus. In August 2020 and in October 2020. Celebrations for the 35th anniversary of Super Mario Bros. were held in January of 2021.
Plot
Approximately two years have passed since the final Splatfest of Splatoon, in which pop star Marie vanquished her cousin and fellow Squid Sister Callie. Marie is concerned that the outcome has harmed Callie, given their growing distance in the months that have followed the incident. When Marie returns to Inkopolis from her trip to meet her parents, she finds that the city's great Zapfish, as well as Callie, have vanished. Fearing that the evil Octarians are once more involved, Marie again takes up her role as Agent 2 of the New Squidbeak Splatoon and recruits an Inkling from Inkopolis Square, the player character, to become Agent 4 and investigate. While battling Octarians, Agent 4 is assisted by Marie and weapons specialist Sheldon as they make their way through Octo Canyon in search of stolen Zapfish, including those powering the Octarians' war machines such as the Octo Oven, the Octo Samurai, and the Octo Shower. DJ Octavio has escaped his prison and is using the Great Zapfish to power the Octobot King II, a DJ stage that Callie has sided with after being indoctrinated (with the use of special glasses, termed "Hypnoshades") by its commander, DJ Octavio. On top of a flying Squid Sisters stage, Marie and Sheldon arrive, and using a Hero Charger and their Hypnoshades, they liberate Callie from her mind control. Finally, Agent 4 and Rainmaker help Agent 4 defeat Octavio once and for all. The Squid Sisters gladly rejoin and resume their musical career with the song "Fresh Start" after the return of the Great Zapfish to Inkopolis.
Release
The "Splatoon 2 Global Testfire," a limited-time global multiplayer demo for the game, was released in March 2017.
During the first session of Nintendo Treehouse Live, members of the Nintendo Treehouse took part in a demo.
Once again, it was limited to six one-hour play sessions spread over one weekend, like the first game's demo. During a demo session on July 15, 2017, the game's Splatfest events were shown off again.
On July 21, 2017, the game was launched worldwide. Splatoon-themed Pro Controllers and neon-green and neon-pink Joy-Cons were released alongside the game in Japan and Europe. Also available in Japan were a game card-free variant and a Switch hardware bundle that included a download code for the game in lieu of a physical game card. A Walmart-exclusive version of this bundle was made available in the United States.
While balancing patches and Splatfest events were expected to continue through Summer 2019, it was eventually confirmed that the game's content update in December 2018 was the final one, despite the fact that more smaller updates would be released until July 2019.
Promotion
The Nintendo Switch's launch video showed clips of Splatoon 2 prior to the game's official release. Rumors circulated that the footage presented was either from a port of Splatoon, a sequel, or something else entirely. The game was also advertised as an eSport in the teaser, after Nintendo's late-2016 expenditures in Splatoon eSport competitions.
At the Nintendo Switch reveal ceremony in Tokyo on January 13, 2017, Splatoon 2 was formally presented to the public and scheduled for release in Q2/Q3 2017. On stage, producer Hisashi Nogami appeared in character as a scientist from the Squid Research Lab, a fictional scientific group from the original Splatoon, which appeared in numerous promotional material for the original Splatoon.
Other forms of media
In Japan, Enterbrain released Splatune 2 on November 29, 2017, and it debuted at number eight on Billboard Japan's Hot Albums chart with two discs of music from the game by Toru Minegishi, Ryo Nagamatsu, and Shiho Fujii. Octotune, the follow-up to the first soundtrack album, was released in Japan on July 18th, 2018. Octo Expansion DLC and other post-release upgrades are included in this album, along with a recording of the game's first live concert. There was a five-week run at the top of the Hot Albums list.
As with the first game, Off the Hook, the game's flagship band, presented a series of real-life virtual performances in various places. Splatoon 2: The Octo Expansion's "Nasty Majesty" was performed at NicoNico Chokaigi on April 28, 2018, and the band's fourth concert was held at Tokaigi Game Party 2019 on January 26, 2019, with more songs from the Octo Expansion.
Reception
According to review aggregator Metacritic, "generally good" reviews were garnered by Splatoon 2. Splatoon 2 was praised by critics for preserving the best aspects of the first game while also introducing new ones. The revamped single-player campaign was lauded by Nintendo Life. There is no split-screen play, and the Salmon Run mode can only be played online at specific times, however Destructoid and Game Informer appreciated the new weapons and gameplay but criticised the game's multiplayer feature's accessibility. As The Verge pointed out, the lack of an integrated voice chat function and difficulty in viewing the map hurt multiplayer fun, but they still thought the game was an improvement over its predecessor. Using a smartphone app for voice communication made multiplayer more difficult than it needed to be, according to GameSpot, who called Splatoon 2 a "new spin on the already unique shooter." Graphics, gameplay, and multiplayer all received high marks from both Game Revolution and GamesRadar. Salmon Run mode and enhanced graphics were lauded by IGN, who rated the game an 8.3/10, which was higher than the original game's score but lower than the re- review's. However, the matchmaking system was criticised in a similar way. Despite the fact that both EGM and Nintendo World Report said the game seemed "more like Splatoon 1.5" than a true successor to the original, they both praised the additional elements.
The game came in at number 17 on Eurogamer's "Top 50 Games of 2017" list and at number 43 on Polygon's "50 Best Games of 2017" list. Splatoon 2 was selected by The Verge as one of the top 15 games of 2017. For "Best Switch Game," as well as for "Best Shooter" and "Best Multiplayer," Destructoid's 2017 Game of the Year Awards and IGN's Best of 2017 Awards, the game has been nominated.
Sales
In its first week of sales, Splatoon 2 came in second place in the UK, just behind Crash Bandicoot N. Sane Trilogy. It outsold Splatoon in its first week of release by 59 percent, making it the third-largest launch of a Nintendo Switch game in Japan. The retail sales of Splatoon 2 in Japan's first few days after release totaled 648,000 copies. This was the first home console hit for Nintendo since Wii Party (2010) when the game sold over two million copies in Japan, including download copies, by the beginning of 2018. In its first fiscal quarter of sales, the game sold 1.56 million copies in Japan and 3.61 million copies globally. 10.71 million copies globally were sold by June 2020, making it the eighth best-selling Switch game. "Splatoon 2" sold over 13.30 million copies globally by March 2022, more than doubling the sales of its predecessor and cementing its place as one of the Switch's most popular titles.
Also Read: 
AMD RDNA 3 Navi 31 GPUs Includes Navi 31, Navi 32, APU portion
'Destiny 2' Solstice 2022 New Armor And Weapon Leaks
Resident Evil's Lady Dimitrescu Statue Costs, Height
AirPods Pro 2 Release Date: When Are They Expected To Come Out?
FAQs:
Q1: Will Splatoon 2 be discontinued?
On the 28th of July, 2021, Nintendo intends to shut down the Splatoon 2 Online Lounge. Players can utilise the Nintendo Switch Online app to organise online battles by giving a URL link that allows other gamers to join a room.
Q2: Is Splatoon 2 available for free on the Nintendo Switch?
In addition to Ranked Battles and Salmon Run co-op, you can also play the game online. To be able to take part, you'll need a Nintendo Switch Online account and a good internet connection. Even if you don't have a membership, you can still take a free look around!
Q3: Is it possible to play Splatoon 2 on your own time?
Splatoon 2 has a variety of modes, including an offline single-player option, and the Nintendo Switch's three play modes allow you to take the game with you wherever you go.
Q4: Will there be a third instalment of Splatoon?
Inklings, rejoice! A release date for Splatoon 3 has been announced! a release date of September 9th, 2022, for Splatoon 3 was confirmed on April 22nd.
Q5: Is Nintendo Switch worth it in 2022?
Even in 2022, the Nintendo Switch will still be a good investment despite its flaws. Despite the arrival of the OLED model in 2021, it still lacked internal hardware advancements, which indicates that Nintendo is not aiming to upgrade the hardware any time soon.