Gaming is fun. I remember playing with a radio-controlled monster truck when I was younger and it was great fun. When I received a Sphero 2.0 last week, these memories came back and I had a blast playing with the smart ball. With SDKs available for Android and iOS, developers are able to create own apps for the smart toy, creating a huge potential for Sphero's future.
So what is Sphero anyway?
Sphero is a robot, smart toy and game system in one small ball. Simply connect your mobile device with Sphero via bluetooth, download one of the 30 apps available and start playing. The amount of ways to play with Sphero seems sheer endless!
With the ball reaching up to 6 feet per second (that's 1.8 m /s or 6.5 km /h for our metric readers out there!), you can, for instance, use it like a RC car. Some apps like "The Rolling Dead" make use of augmented-reality and offer a new approach to mobile gaming.
What's in the box?
We've tested a standard retail Sphero 2.0 which came with a charging station and two ramps and is available for $129.99. Setting up the smart toy with my Nexus 7 was quite easy. Simply double-tap the ball and connect to it via bluetooth. After downloading the official Sphero app I was able to drive around and adjust speed and color of the small smart toy. It takes some time to get used to the controls but then it's kinda easy and fun to do.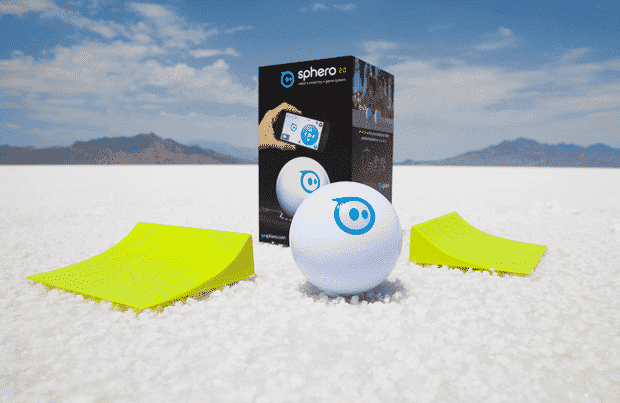 Charging the Sphero is really easy and convenient. Just place the ball in the designated station and it will be fully charged within three hours using induction charging. The battery of a fully charged Sphero will last for about an hour which is plenty of time to play around with it.
Playing with Sphero
You have a 50 feet range (that's roughly 15 meters) when playing with Sphero which is more than enough in most cases. I used Sphero to drive around my living room and had no issues controlling it. Although it sometimes takes a few seconds before Sphero was connected to my Nexus 4, controls seemed very smooth.
Having parquet flooring, Sphero sometimes spins too fast, which leads to somehow losing control of it. I'm not sure if this is a bug or feature, but using a Nubby Cover should solve this problem when using Sphero on slick surfaces. Using the ramps on my parquet flooring also turned out to be kinda tricky, because the ramps tend to slide on my floor rather than sticking to it. Using the ramps on a carpet solved this issue.
It's great fun to create race tracks with everyday items as obstacles trying to get the Sphero as fast through them as possible.
30 Sphero apps bring tons of fun to the smart toy
With Sphero being a smart toy, the amount of possible uses is sheer endless. The Sphero website currently lists 30 different Sphero apps for iOS and Android. With a SDK being available for iOS and Android, we can expect more apps to come in the future. App categories include:
Driving
Augmented Reality
Using Sphero as a controller
Party
Tabletop
Programming
Multiplayer
Sport
Arcade
Talking about all of these apps is beyond the scope of this review, so here's a short video showing examples of how you can use Sphero.
Sphero – An opportunity for kids to get started with programming?
Besides playing games with Sphero, I really see this smart toy as a stepping stone for people, especially kids, to get started with programming. Do you remember Code.org's video from earlier this year? Starring Bill Gates, Mark Zuckerberg and many more, this video explains the importance of programming and computer science today and in the future.
With software development kits available for Android and iOS, Sphero could be great way to teach aspiring coders the basics of programming in a playful way. At the moment three programming related apps are available. I guess that's a good start for young programmers, right? Being open for developers is also important to grow as fast as possible.
Conclusion
I really enjoyed playing with Sphero and it reminded me of being a kid again. Especially the possibility to develop apps seems like a great way of getting kids to start programming. I personally think that it's quite awesome to be able to program your own toys!
[Button_Blue_Affiliate cloaking="https://trendblog.net/go/sphero" product="sphero" pagename="amazon"]Check out Sphero 2.0![/Button_Blue_Affiliate]
Although the price of $129.99 seems quite high, you have to understand that you're really buying a smart, programmable toy. There's a lot a complex technology in the small ball and it really offers tons of possibilities to use it. If you (or your kid) are interested in computer science or coding, the Sphero 2.0 might be the perfect gift for your next Bill Gates!
[taq_review]