Since our phone became a valuable asset for work, keeping in touch with family and friends, reading the news, social media interaction, obviously, we'd like to keep it safe. Thanks to GPS and several other location tools, you can quickly locate your iPhone or iPhone of someone you want to watch out for.
There is a whole number of reasons why you would like to have iPhone tracking apps. First, it can be a precaution measure, in case your phone gets lost. Also, you can use it to keep your family members safe, locate your friends, or simply see what the offer is on the app market.
Regardless of the reason, I will show you some of the best iPhone tracking apps and other features. Based on that, you can make your decision and try out some of the apps recommended.
iPhone tracking apps
As mentioned, thanks to location tools every new phone has, it's not hard to locate your device. However, you do need to have some of the apps installed to make finding your phone easier. Here are a couple of suggestions for you.
FollowMee GPS Location Tracker  
  Phone tracker for iPhone
  iTrack
 GPS Tracker
 Simple Location Tracker
 CocoSpy Cell Phone Tracker
 LocaToWeb
 Family Locator
 Map My Run by Under Armour
 Glympse
 I will go through these apps with you to figure out which one is the most suitable for you.
FollowMee is a free app that can be installed on a PC or any mobile device. The app uses different tools such as WiFi or mobile data to locate the device and store the location on the server. You can log in to http://www.FollowMee.com and check the location of your device at any time. The accuracy will depend on the time when the location was last updated. The default time for the update is 10 minutes and can be extended up to 12 hours.
The app is terrific since it works in the background, does not bother your phone's processes, and doesn't consume too much of your battery. And that's extremely important with the iOS 14 battery drain issue.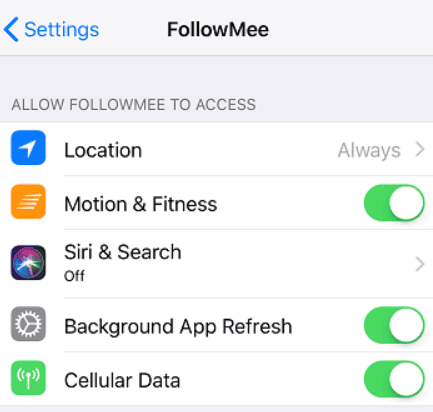 If you wish to locate another phone, for example, someone from your family or friends, you can use a Phone tracker for your iPhone. The app allows you to track two iPhones for free. In addition, you can follow the device itself and the movement of the person within the last 24 hours. This app is good if you want to track your kid, for example, or have a business where your employee's movement is essential. Again, the app can use GPS to follow the iPhone, which means it doesn't consume too much battery.
iTrack is another excellent option to use to follow someone's movement. Unlike the previous app, you can zoom in and out, follow the speed and direction a person is going to, and get a street view of the location. Also, you can use the app to share photos of the location, and there is an option to integrate the app with Facebook. It can follow a person's movements within 6 hours. 
This app uses iPhone's GPS to track another person's phone. The app is using a combination of GPS and internet mapping. The app can be helpful to locate stolen or a lost phone, as well as family members and friends. It can show you movements within the last 12 hours. The application is permission-based and has an option for low battery usage. It's important to mention that it's free.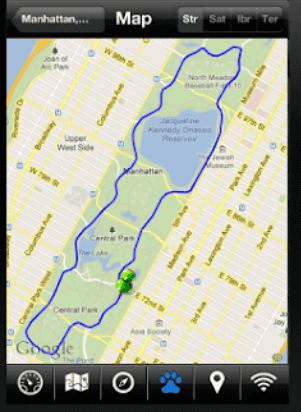 This app is interesting since it can map cars, hotels, and similar locations. So, for example, if you are in an area of the city that you don't know quite well, you can use the app to mark where you left your car or where your hotel is. The app can be used on iPhones and iPad. The app is free and user-friendly. 
In case you are meeting your friends in a crowded place such as a concert or a festival, this app is excellent to locate them. Also, you can use it to share your location to help someone find you easier. For example, if you have a group family meeting, you can share your location easily with the group so that everyone can reach the destination. The app requires no signup, it shows real time location, and you can share your route via Facebook and Twitter too. Yet, there is a fee of $8.49 to pay.
In case you want to enable your friends or family to follow your movement, they can do it via www.locatoweb.com – they can see your speed, distance from their location, and more. The app is good since it enables following several people simultaneously, and there is a countdown to set. But, again, there is a small fee of $2.49 to be paid.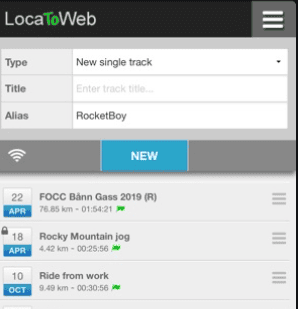 As the name itself says, this app is used to track your family members, mostly your children. The app allows you to send messages to your family members or send alert signs if you are not safe. The good thing is that parents can be set as administrators and follow their children's movement in the invisible mode at any given time. And the best thing, it's completely free!
If you're looking for an app to track your activities such as running, cycling, gym, workouts, yoga, etc., Map My Run is your pal. The app is not GPS-based, but it has the social following option, meaning your friends can track you down quickly. Of course, you can use Apple Watch and track down your workout progress as well. The app is free, yet it comes with some in-app purchases.
If you're looking for a simple design that allows you to track your device or share your location easily, Glympse is a convenient tool. Having your privacy in mind, the app developers designed the app to erase your location after a while, which is definitely a good thing. You won't like just anyone to know where you are. In order to use the app, you need to activate GPS and have an Internet connection. The app can be used to send ETA from your location to the meeting point, which will give your friends and colleagues a good insight into the time they will need to wait.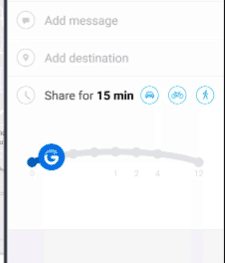 Now you have some of the best iPhone tracking apps in front of you, along with their built-in features. Find what suits you the most, and let me know in the comment below how your experience was. If you have any other suggestions, I'd love to hear from you!
Editors' Recommendatin