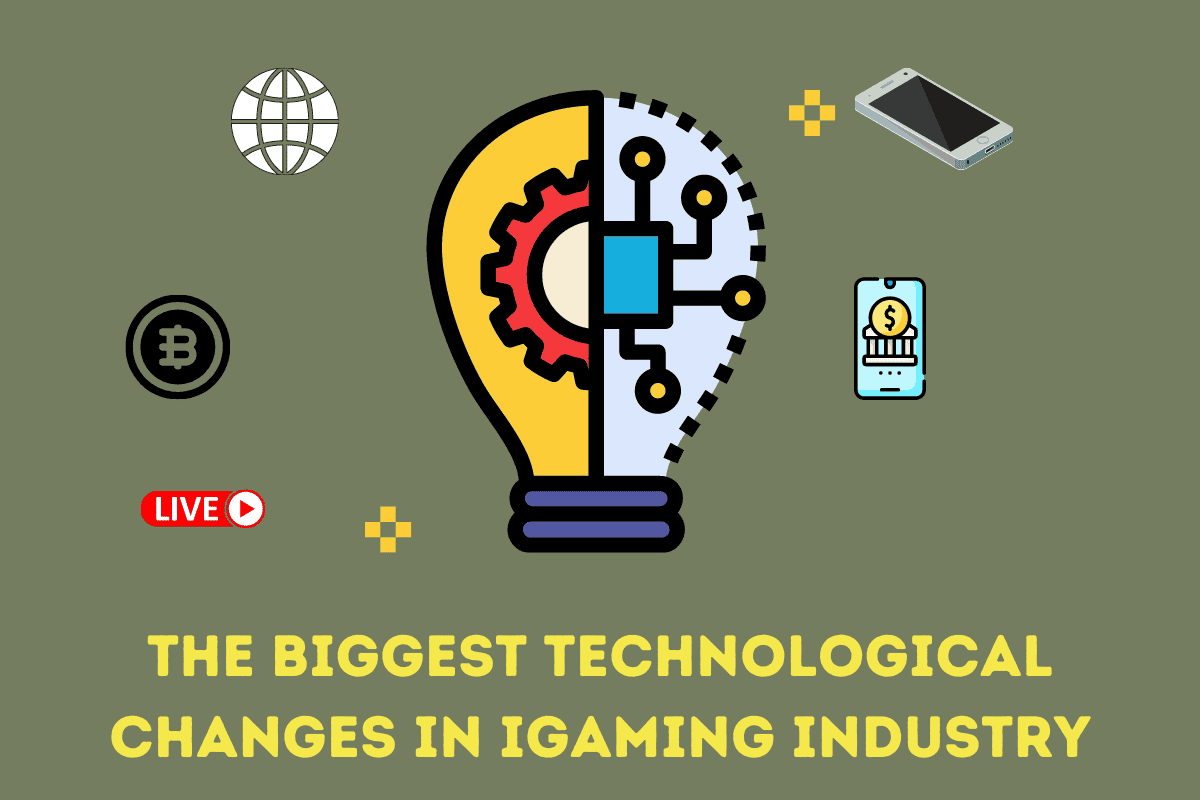 The iGaming industry is thriving and evolving at a tremendous rate. However, things were much different just a couple of days ago. Before the internet, punters could only bet on land-based casinos and gambling halls. Even when the internet took off in the early 1990s, the online gambling scene was at its infancy at best.
Fast-forward two decades later, and players have all kinds of options. Thousands of online gambling websites offer classic and contemporary games, such as slots, blackjacks, roulettes, poker, bingo, live dealer, sports betting, and more. Of course, these developments are all credited to various vital technological advancements that we describe below.
Internet
The "i" in iGaming has to do with the internet, which significantly changed the gambling scene. When the internet emerged, offline casinos suddenly faced competition from new operators from everywhere. However, the real competition wasn't apparent until advancements in gaming technologies.
Back then, pixelated cards and a few slot games were all punters needed to gamble online. Many countries, including the USA, were against online gambling, but their efforts didn't yield, and the iGaming industry has continued to grow. Players have much better gambling products and experiences, thanks to other vital technological changes that build on the web. However, it is all credited to the internet change, and as it stands, there's no going back.
Online Banking
There are several other digital payment options, including eWallets, prepaid cards, and online banks. While cryptos offer the ultimate experience and are poised to become the leading casino payment solution, it wasn't always the case. For a long time, eWallets like Skrill and Neteller have dominated the casino industry and are still popular options among players. All these digital banking solutions can be grouped under online banking and they compete with traditional credit/debit cards payments.
Although the majority of people still use different credit card online casinos via NonGamStopSlots, the percentage of online payment systems is growing. They offer international money transfers, allowing players to explore games hosted thousands of miles away. Online banking has revolutionized how punters play since they transcend geographic barriers. Players can send money over the internet, and most casinos accept a broad range of banking options, all of which are completed over the internet.
Streaming
Video streaming technologies, such as video conferencing, were founded on the internet and have impacted the iGaming industry in many ways. Online casinos and sportsbooks have leveraged the technology to provide new experiences that make all the difference. Without video streaming, live dealer games wouldn't be possible to deliver. The technology makes it possible for players to enjoy an immersive gambling experience complete with real human croupiers.
Live casinos have gone from being a standout feature in casinos to a standard requirement that most players review before signing up. They eliminate the need for random number generators used in virtual screens by bringing the actual machines to player devices through HD quality live streams. Sportsbooks also use video streaming to allow their players to watch live games on the betting site.
Smartphone
Mobile phones have evolved from oversized handheld devices that handle calls and messages to sophisticated smartphones with new PC powers. Modern phones feature advanced processing and handle almost everything your desktop computer can perform. The casino industry has hugely benefited from smartphones, and virtually all online gambling websites are fully optimized for smartphones, tablets, and other devices.
Players can explore casino websites and sportsbooks directly on their iOS system and Android smartphones through mobile browsers and dedicated apps. Game providers have also consistently released mobile-friendly games for several years now. As a result, mobile phones are revolutionizing the gambling industry and offer punters 24/7 access to real money games. You can sign up for an account, complete deposits, claim bonuses, bet and withdraw funds, or contact customer support, all using your smartphone.
Cryptocurrencies
Bitcoin was the first successful cryptocurrency, developed back in 2009, and has become a phenomenon in the banking industry. Cryptocurrencies offer players a decentralized peer-to-peer payment method to send cash anonymously without middle parties prying on their transactions.
This, of course, attracts the majority of online punters since everyone seeks privacy, anonymity, and security when gambling online. Unlike bank transfers and credit/debit cards, cryptos like Bitcoin don't require ID information. Transactions are also instant, and most casinos disburse Bitcoin payouts in less than an hour. Players also have access to many cryptos, including Ethereum, Litecoin, Dogecoin, Tether, and a hundred more. Thanks to cryptos, players can explore online casinos and sportsbooks anonymously.
Other Notable Tech Changes in the iGaming Industry
Various other technological changes have impacted online gambling. One notable tech is geolocation tracking, which has made it possible for casinos to identify where players are logged in. It allows operators to relay relevant websites complete with local currencies and bonuses. However, it is pretty easy to use VPN to access online casinos. Another technological change is cyber security, which has gotten better over time. Casino operators have access to more robust security measures, automatically updated SSL encryptions, and 24/7 virus scanners that keep hackers, frauds, and malware at bay. Artificial intelligence and robotics are other techs that have changed how casinos offer customer service using chatbots. More tech changes include virtual reality, augmented reality, data modeling.
Summary
Technology has played a significant role in shaping today's iGaming industry and continues to change various aspects of the experience. Casino operators, game developers, and regulators all rely on current technology to sustain the industry. Some advancements, such as web-hosting and how far pictures and pixels have evolved, might go unnoticed. However, the existing scene couldn't be possible without advances in virtually all areas of online gambling. Today, players can explore real money games with premium graphics, audited random number generators, and captivating storylines and soundtracks. All these areas have been shaped by technological changes and breakthroughs over the years.