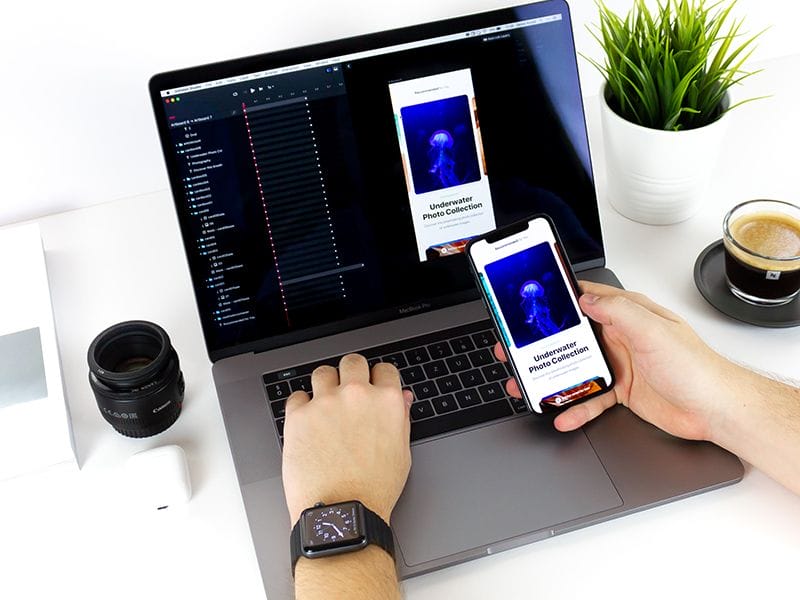 The Risks Behind Mobile App Development in 2022
Do you know a single person who doesn't have a smartphone device? Chances are that everyone who's in your close circle uses one due to the convenience that it offers. Cutting-edge technology and leading innovative solutions shaped the mobile app development industry, leading it to major success in the past decade. You can safely say that apps build trusted relationships between businesses and their customers, creating a vital competitive advantage in various sectors.
From healthcare to education, app development is booming. The faster and easier to get to your services, the more customers want to engage with your brand. But the ultimate question remains – what about applications and their security? Stick with us and read the whole article to find out the main risks related to mobile application development.
Potential Security Violations
While many app developers aim to protect their applications, some lack proper security measures that can potentially end in damaging consequences, such as loss of reputation and financial losses. Not performing security testing or accidentally picking up a hacker's code are big mistakes that could affect your business growth. For this reason, it's absolutely essential to have a detailed plan regarding security to prevent data breaches and fines for non-compliance.
Ineffective Data Storing
Hackers can easily evade an app if its protective measures aren't executed effectively. Poor encryption algorithms are a big no because they can be used to jailbreak the app or root any device. For instance, if the criminal accesses the app or the used devices, they can then easily alter the app to gain further access to important data. This risk is usually linked to bad security measures that deal with photos or keypresses. That's why it's essential to store and keep the data safe throughout all databases that are related to your app.
Designing Multiple Apps All at Once
Everyone knows the main two marketplaces where you can upload and store your app. You've guessed it: it's Google Play and the App Store. Both of them have millions of apps published there. Naturally, if you are a part of a bigger company, you might consider using both of these platforms to store your apps. Nevertheless, if you're just starting your business, having your app published on two platforms at once is a risk regarding funds. Two mobile apps are significantly costlier, not to mention the development expenses and the additional costs, such as advertising.
Uncontrollable User Growth
While the general popularity of apps is rising, some statistics show unpleasant patterns. Specialists claim that approximately 25% of users today open an app once just to abandon it completely afterward. That's why mobile app development specialists stress the importance of the app onboarding process. On top of that, it's safe to say that you need to invest more during the first stage of your app development.
The first impression is one of the key aspects that might lead your app to success. Remember, there's another side to each story, and the principle's the same here as well. If there are too many users on your app, it'll be challenging to manage the servers and the app's hardware setup. To avoid further issues, don't ignore scalability, especially during the design phase.
Unreliable Development Partners
Small businesses or new organizations that are just starting to grow their client base sometimes can't afford to develop their mobile applications in-house. In consequence, such businesses turn to third-party developers. It's important to stress that not all low-cost outsourcing solutions are the best options for great app development partners.
When choosing the right service provider, ask yourself these questions:
Has the potential app development provider completed other successful projects in your field?
Has the team of developers assisted other businesses at the same stage as your organization? For instance, if you're a small business, you must ensure that the potential partner has experience working with smaller organizations.
Has the potential partner launched products on various platforms? They need to help you decide if your business needs iOs, Android, or native, in case you're unsure what's the best fit for your organization.
Nobody wants to bump into an old-fashioned app interface. Let's face it, bad UI designs are off-putting to your users. Not only that, but you also don't want to bump into a shady shell company and partner with a team of money launderers. You can avoid that by running a quick company background check on any of your potential partners.
Thanks to automatic Business Verification tools, you save time and protect your business from fraud. All in all, we've established that it's important to invest and take your time when choosing the right app development partner. This way, you'll avoid clumsy text, enormous images, and slow auto-play videos that cause people to exit the app.
Final Thoughts
The mobile development field is in high demand. Despite the major competition, businesses turn to their customers who expect simple, efficient, and convenient services. When done right, mobile apps are incredibly handy. No wonder so many great ideas are nowadays turned into amazing mobile app designs.