This post is part of a multiple-series guide about Online Marketing For Small Businesses. In this post I will discuss the basics building up an optimized web presence.
Most big businesses and corporations spend millions on marketing these days. Online marketing and web design gains more and more importance and businesses shift more budget to their online marketing activities. The reason for this is obvious: The world has become a digital globe. Smartphones and tablets are about to take over desktop computers and people are digitally connected wherever and whenever they go.
However, small and medium sized businesses (from now on called SMBs) can have a hard time finding enough money and time to jump on the bandwagon and invest in their online presence and marketing. Other reasons why SMB owners don't invest in online marketing might be the lack of knowledge, time or human resources. It is quite hard to learn online marketing next to running a business, so many business owners just forget about it. This can result in many missed potential customers who search for a product or service online, which you are offering.
If you own a local business you should think about this: how can people who are close to you be converted into customers? The solution is mobile advertising and location based marketing. Get found by consumers who are close to your store or who are performing a local search on their mobile phone, and get them into your store to convert into customers.
With the power of a good online marketing strategy and an optimized web presence you can significantly increase your revenue.
In this part of the guide, I will show you how to build up a well optimized online presence.
In the following parts, I will talk about…
how to get found by your target group online

how to analyze your website traffic and visitor behavior

how to optimize your online presence based on your analysis data

how to use online tools to make your online marketing work more efficient
Okay, enough with the talk. Let's start!
Part 1 – Building Up Your Online Presence
Website
Having a website is an obvious foundation to any online activity of your business. Many SMBs already have a website but a lot of them are outdated, offer a bad user experience and/or are not optimized for mobile devices or search engines. In fact 1 in 4 SMB websites won't turn up in online searches because they are badly built for search engines. According to a study by vSplash, 94.5% of SMB websites are not mobile optimized, 93.7% do not display a contact email address and 49.4% lack a phone number on the home page.
These are horrible numbers to be honest. But this means that SMB owners can get a significant competitive advantage over their competitors by investing in a website and proper online marketing. 
If you already have a website, I would recommend that you visit it using a smartphone and a tablet. Alternatively, you could use Responsinator. It's an online tool, which displays an overview of your website on different smartphones and tablets. If you're website isn't mobile optimized, the browsing experience could be bad. Keep in mind, people are impatient while using their smartphones. If your website doesn't load fast enough or if it isn't optimized for mobile devices, many potential customers will leave the website and might be disappointed in your business.
Developing A Website Using A CMS
If your website isn't optimized for mobile devices, I urge you to invest time or money to get a responsive website or to develop a mobile version of your site. "Responsive" basically means that your site elements adjust and rearrange themselves automatically to fit different screen sizes. Another option is to get rid of your current site completely for a completely new and optimized website.
If you don't have a website yet, I recommend that you look into different content management systems (CMS), which make developing a website a lot cheaper and easier compared to coding one from scratch. A CMS provides a sophisticated framework to create and manage content on a website. Together with a design template, you can have a running website in less than an hour. Once your site is set up, inserting your own content and installing plugins doesn't take much time either. Lets look at the most used content management systems.
WordPress
WordPress is the most popular CMS out there. Over a hundred thousand WordPress websites are created every day! It is also considered to be the easiest CMS to set up. In fact, WordPress advertises that it can be set up within 5 minutes. After getting a paid or free wordpress theme, you only need to install WordPress and the theme on your webserver. Here are the instructions for the installation and themeforest.net has countless high-class WordPress themes you can choose from.
WordPress is the best CMS for blogging purposes. However, there are countless business page templates out there. But always keep in mind to get a mobile optimized template, if possible.
Joomla
Being more complicated than WordPress, Joomla offers the possibility to create fairly complex websites. The installation of the Joomla system is pretty easy and shouldn't be a challenging. With Joomla you have more flexibility in terms of content and structure. The administrator backend is more complex than WordPress but once you get familiar with the navigation and terminology, it is easy to manage your site.
Drupal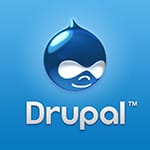 Drupal is the third most popular CMS and the most developer-friendly tool to build websites. Since it is very sophisticated, it requires good programming skills. Drupal is basically capable to of producing very complex sites that, for example, require complex data organization, for example. Only choose Drupal if you have the needed knowledge or an experienced web developer.
Magento
Many online shops make use of the popular e-commerce script Magento. This CMS is ideal for creating e-commerce sites. The functionality of Magento is ideal for both, small web-shops or big ecommerce sites with lots of customers and sales. Its admin backend is user-friendly and offers many features, which cover everything an online shop owner could want. Here is a guide to help you install magento on your webserver.
Typo3
Typo3 is a very powerful and expanded CMS with huge possibilities. It is very diverse and makes it possible to create layouts without predefined orders of blocks, for example. Like with Drupal, Typo3 can be used to develop very complex websites. However, it is only suited for experienced website developers because it can take a lot of time to master this CMS.
Social Presence
Having a presence on various social networks is almost obligatory by now. It is not longer a question of if you should implement a social media strategy, but how. Social networks can be used to get visitors to your website, create and maintain a community and to stay in the minds of your fans and follower. Furthermore, it is easy to see how people think about your business, since they use social networks generally to express what's going on in their head. You shouldn't focus on only one network, but try out several to see which ones work well for you and focus more on them.
Facebook
Facebook is the most common social network businesses use to build a closer relationship with their target audience and it is very easy to create a Facebook page. After providing Facebook with some details of your business you are good to go. If you have a physical address, people are able to see your location on a map which helps people finding your store.
With the help of apps, such as Post Planner or YouTube Tab you can enhance the experience you offer to your fans. Just make sure that the apps make sense and increase the value of your page. Don't forget to include a proper description of your business to increase your credibility and to clarify who you are and what you are doing.
Twitter
Twitter is a great network to get in contact with your customers. It is easier to develop a big follower base because the obstacle of following someone on Twitter is smaller than liking a page on Facebook. Once you have many followers, it's possible to communicate easily messages to a large audience. By using the Twitter Search function, you see what people are saying about your industry or product types. This way, you can easily stay on top of your market segment.
Google Plus
Just like Facebook and Twitter, Google+ is a good place to get in contact with your target market. It has over 500 million users now, of which 135 million are active daily. However, Google+ offers a lot more than that. It integrates with all the other Google services, such as Google Search, Google Places and Google Maps.
Besides that, Google+ profiles rank pretty good in Google search results and your website is likely to get a ranking boost if you have an active account. If you have a brick-and-mortar business, such as a bar, restaurant or hair salon, you can integrate your Google+ data into Google's map listing service Google+ Local (more about that in part 2).
If you have a business blog, being in a lot of Google+ circles can have significant ranking benefits for your blog posts. By using Google Authorship Markup, your Google+ profile picture will show up next to your articles in search results, which will receive a ranking boost if you have a lot of Google+ followers. Furthermore, having an author picture appearing next to your results improves the click-through rate up to 150%.
Google+ lost its status of a dead wasteland a long time ago. Google did a good job integrating its social network into its other services and, therefore, adding much more value to it.
LinkedIn
The social networks mentioned above are mainly to connect with consumers. LinkedIn is the place to get in contact with business to business customers and professionals. If you have a B2B business, you should especially focus on LinkedIn.
LinkedIn profiles offer a lot more information than Facebook or Twitter. It is pretty easy to determine if a person on LinkedIn might be a suitable business partner, B2B customer or a good catch for an open position at your business.
Besides that, LinkedIn has countless groups about any professional topic or industry you can think of. In those groups, you can find potential business partners, customers and other useful contacts. Search for groups which fit to your business and be an active member. This way you will get new connections to interesting people from your industry. It's like going to an expensive event and network, but for free.
Reddit
A lot of people might not have heard about it or are intimidated by it, but Reddit is a really vivid platform and can offers a lot of value to individuals but also for businesses – if done right. Reddit is basically a source for what is new and popular. A huge community is posting on Reddit in so-called "subreddits", which are about one specific topic. There are countless subreddits and some of them probably fit to your business. Just use the search function to find them.  The community in these subcategories, you probably find many people from your target audience.
Please be very careful with what you are posting on reddit. The community there is very sensitive to posts which are self-promoting. They might get "downvoted" and you could get banned from that subreddit or bullied by its subscribers. We experimented with reddit and had good but also bad experiences.
I recommend that you use reddit not primarily as a promotion platform, but as a place to get in contact with people that are talking about your industry or have problems that you and your business can solve. If you submit regularly things which are not self-promoting and comment on other submissions, the community won't get mad if you post things about your business from time to time, as long as it provides value to the subreddit.
You can find more information about how to use reddit successfully in our guide: How To Get Massive Traffic From Reddit To Your Website.
Quora
Quora is a question and answer platform created by its large community. Many professionals from different industries are actively answering questions and helping other people who are struggling with a topic or just want to learn more about something. The opportunity at Quora for SMBs is to help other people who have questions about your industry. By giving high quality answers, you can become an authority about your industry on Quora, which can drive traffic to your website and bring you customers.
Furthermore, Quora is great resource if you have a business blog. Check what problems or questions people have about your market segment and you get a lot of ideas for article topics. If people on Quora are asking about certain topics, then they probably used Google Search before that and couldn't find anything useful. This is your chance to be the first to offer a good answer and attract those people to your blog.
Final Words
In order to get many people to your website, keep them engaged and, hopefully, convert them into customers, you first need to create and optimize your online presence. You can do extensive SEO (search engine optimization) work and get thousands of people to visit your site, but if the website looks crappy they will leave it immediately and all your effort was in vain. Therefore, invest some time and money to improve your presence on the web. Once this is done you can go on to the next step: inbound marketing (get people to see your online presence).
But keep in mind: Always look at the big picture. If you don't have a strategic approach which considers all parts of online marketing from the beginning, you will run into troubles later on. It is important to develop a strategy and action plan, which include the points below, before you start:
how to build up a well optimized online presence

how to get found by your target group online

how to analyze your website traffic and visitor behavior

how to optimize your online presence based on your analysis data

which online tools should you use to make your online marketing work more efficient
With my guide, you will be able to identify and plan all these points before you start working on them.
I hope I was able to convince you to start investing in online marketing to increase your small business' exposure and revenue. If you have any questions or feedback, let me know in the comments.
Continue reading the next part of this guide covering inbound marketing.