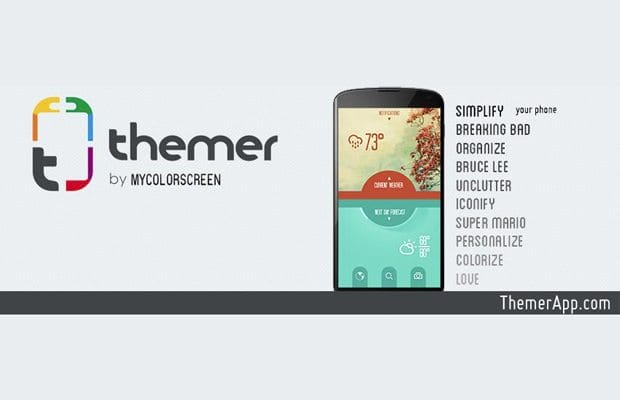 Themer App Review – Easily Install Beautiful Themes In One Click
Android is one of the most popular mobile operating systems on the market. One of the reasons for it's huge fan base is the fact that Android – in contrast to iOS – is highly customizable. You can use widgets, custom ROMs, launchers and themes to change nearly every aspect of your device.
MyColorScreen just published a new app called Themer to make Android customization even easier than before. Themer, which works like a custom launcher, is currently only available for a small, but growing group of people and offers a variety of beautiful and functional themes. The cool thing about it? You only need one click to install a theme!
Hello There, Beautiful!
After downloading and installing Themer from Google Play, you can either fill in your beta access code or request one. As the app is currently in beta, it may take a few days until you receive your code. On your first app launch, Themer will guide you through a short introduction about the features and how to use it.
Applying a theme couldn't be easier: Simply open Themer, browse the currently 43 available themes, press apply and the app will do the rest. It's as simple as that.
Themer Offers 43 Themes Ranging From Minimalistic To Complex
Being a customization junkie, I was really impressed by the amount and variety of themes included in Themer. With the app being available since October 1st, themes range from minimalistic tiles to a full-fledged GTA 5 interface. I'm pretty sure that the Themer team will implement more themes in the future.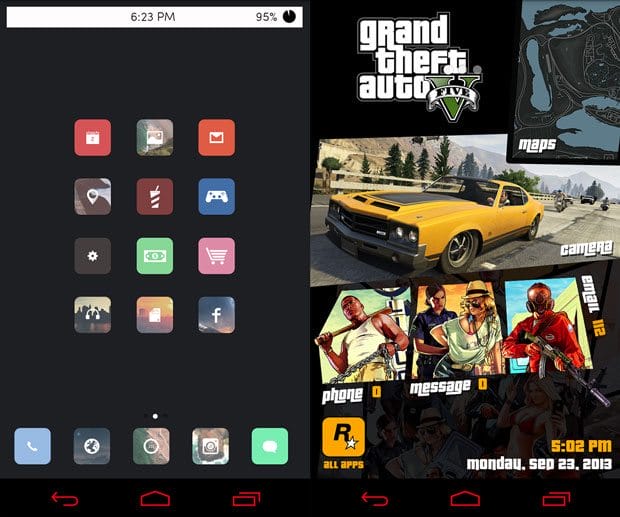 I quite like the fact that you're not completely limited to the layout as it is downloaded by the app. You can, for instance, adjust apps, icons and widgets to customize your home screen to your personal taste.
Themer – Too Good To Be True?
It might seem that Themer is the holy grail of Android customization, but I can't say that it is (yet). The app is unfortunately not available for Android tablets and customization has its limits. I, for example, wanted to change a few colors used in my theme but was not able to do so.
The app also hides the Android notification bar, which might be annoying for some users. However, a simple swipe down on your home screen displays the notification bar. Unfortunately, this also results in Facebook Messenger Chat Heads not showing up on my Nexus 4. I'm not sure if that's a bug or a feature, but we're talking about an app in Beta status.
I've been running Themer for a few hours now and can't really say something about any impact on my battery life. I would estimate it to be rather unnoticeable, depending on how many widgets the theme is using, of course.
Final Words
Despite the minimal criticism, I really like Themer. The launcher makes Android customization surprisingly easy and accessible for many people who where "scared" to try something new or didn't want to spent hours customizing their device.
I really hope that Themer will be available for tablets soon. An easy tool for designers to import their themes to the database could increase the quality and variety of themes even more. Let's see what the next days, weeks and months will bring! Themer is definitely a step in the right direction.
What's your opinion on Themer? Will it replace your launcher or do you rather want customize everything by yourself?
3 thoughts on "
Themer App Review – Easily Install Beautiful Themes In One Click

"