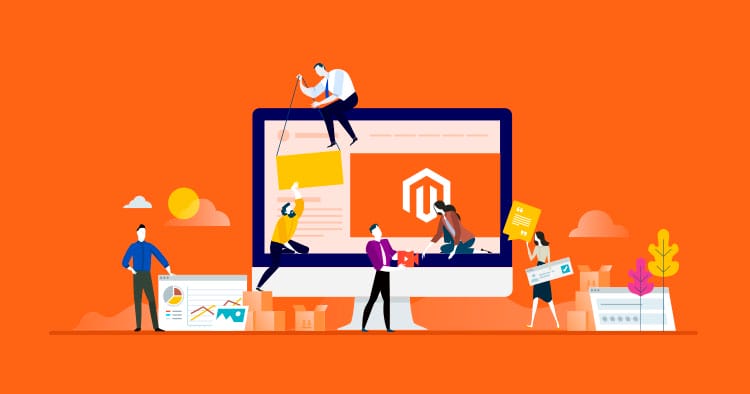 eCommerce has been one of the most powerful platforms around the world. The popularity of shopping online is getting easier and more reliable for people and that's why they always tend to lean toward this platform. Magneto is one such platform with multiple features that measure the interest of people around the world. Magento comes along with a bunch of themes, ideas, and designs that help customers to set up their reliable sources on the online platform and create their stores.
Magneto further allows the customer to create their customizable designs and helps them in their work. Magento 2 is one of the widely used tools that help in managing and enhancing your site. In this article, we'll be going to learn more about the tool. Here is everything you ended up learning about it.
Magento 2 Extension: How to Choose the Best One?
It can be a bit difficult to choose the best Magento 2 Extension, knowing that there are so many of them. Besides this, a person needs to build up his online business but one can't buy and invest his/her time one very simple one. That's why we have You can take some advice from Magento extension development which will help you to get some more insight into the platform. Choose the best Magento Plugin for your online digital business and take the path of developing your business digitally.
Here is the list of the Top 10 best Magento Extensions for you to grow your business. Go through every single one and mark the best one for you.
Magento 2 Improved Layered Navigation Extension
Price: $379 first year followed by $215 every year
Starting the list with Magento 2 Improved Layered Navigation Extension that helps the customer to navigate easily the user-friendly environment of the application helps the customer to go through every single piece of detail more conventionally.
The applications have amazing features which make the experience of a person easier and more reliable. Besides this, the extension gives easy navigation to the search bar and has a fast and easy way of providing filters, Price range, Sizes, colors, brands, genders, and sort-by features.
Furthermore, the expansion comes with SEO Friendly so you don't need to be worried about the traffic on the internet. Your product is going to feature on google ads and over time, the imagination will help you to attract real-time traffic which helps you to grow your business more significantly.
2. Magento 2 Mega Menu Extension
Price: $199 (one-time purchase)
Magento 2 extension enables store owners to check their page and enables them to receive more attention from real-time people. The application simplified the navigation experience of the customers and allowed them to go through all the filters.
The extension further helps the customer to give quick access across the websites for the different pages. Mega Menu helps when business owners examine multiple pages in a single place. It manages multiple pages at the same time and gives a quick transfer to another page within a few seconds. If you are eager to give more growth to your page then this extension will help you.
3. Magic Zoom Plus Extension
Price -$99
While seeing any product, it is important for the customer to zoom-in, in to get a great insight into the product. Magento 2 Magic Zoom Plus Extension allows the person to zoom in on the product. This application is already available on some top-rated ecommerce sites like Amazon.
4. Magento 2 Shop by Brand Module
Price – $129 first year and $79 every subsequent year
If you are interested in a significant brand, you must always select them while shopping. It is recorded that the majority of people shop again from the same brand that they shopped for earlier. Favoritism toward one and more brands is very common among people and 'Shop by Brand Module' will give you the same features.
5. Magento 2 Visual Merchandiser Extension
Price: $239 first year and $145 every subsequent year
Magento 2 Visual Merchandiser extension allows the store administrator to give quick details about the product. It saves a lot of time during the process and while other extensions may give some hard time, this extension is known for its effective time-saving capability.
Furthermore, the sort by features which allows customers to find out the product from new to old, lowest to highest, highest to lowest and Relevance features is worth checking for. Any out-of-stock product will easily be removed.
6. Magento 2 ElasticSearch Ultimate Extension
Price: $279
Magento 2 ElasticSearch Ultimate Extension is one of the popular extensions that allows the business owner to bring more ideas to the table. It provides the online store, and developers, with easy-to-use navigation and quick search features for the owners. It gives easy search features and searches navigation.
The unique shopping car feature is one of the unique features of this Magneto. Many eCommerce sites are mainly focused on the keyword that exactly matches the catalog. However, ElasticSearch Ultimate Extension gives Elastic Search and spell correction features to the customer.
7. Magento 2: LiveChat Extension for Customer Support
Price: Free
When it comes to online shopping, Customer Support is one of the significant tools to help customers who are in need. Online Chat Extension is one of the key roles for the better features of your business module. You must need to include the live chat extension and customer support to solve the query of your customer.
The working of LiveChat Extension is crucial and at the same time simple. It simply works with your platform and helps the customer with their problems.
8. Magento 2: FAQs Extension
Price: Free
Most of the customers face similar issues which can be regarding sizes, delivery, Shipping charges, return, and refunds. Such problems can be cured through FAQs which enable the customer to go through their queries. Sending emails and talking to Customer Support might take a long time and when a person needs instant help with such queries, FAQs extension will turn out to be a great help.
9. Magneto 2: SMTP Email Settings Extension
Price: $129
Mainly emails from any eCommerce site directly go to the spasms of the customer, which became difficult to get track of. However, Magneto 2 SMTP Email Settings Extension lands directly to customers.
Furthermore, the Email setting Extension takes a copy of all the emails that were sent to the customer and helps in maintaining and organizing them.
10. Magento 2: Secure Payment
Price: $319 first year and $195 every year
Slow working of the site, internet bot, and regular ads might bring more hindrance to the payment mode. A customer needs to feel secure while making payment for the order. You need to make sure that the payment was Legit and secure. This extension will provide a safe and secure environment for the customer while paying.