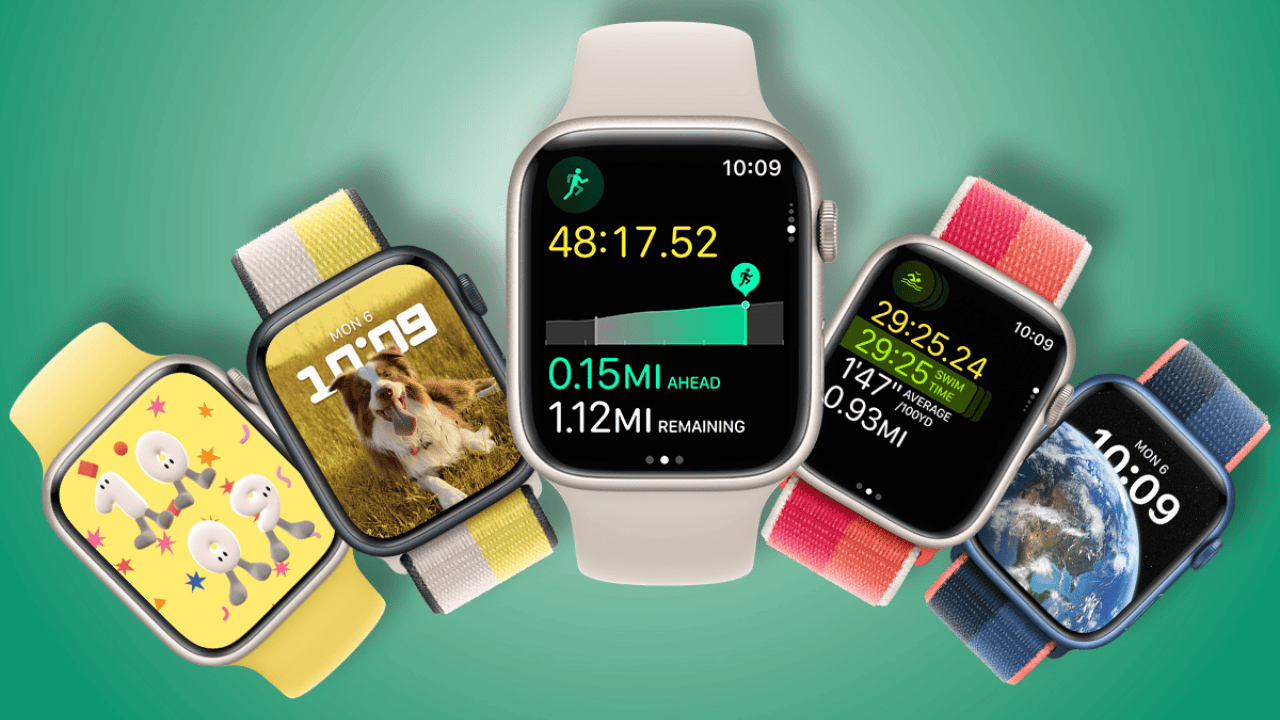 What are the New Features in Apple Watchos9
If you have an iPhone, the Apple Watch is far and away the best fitness tracker. The only downside perhaps (besides the battery life) is that Apple's health software has historically been somewhat lacking. It's not uncommon to see Apple Watch users immediately transfer their data to more useful and easily actionable software, like Strava or Nike Run Club. But that could all change with a whole host of new fitness features debuting in WatchOS 9. 
What are the New Features in Apple Watchos9
If features like measuring stride length and vertical oscillation work as intended, they could easily turn the Apple Watch into the best running watch and best watch for endurance athletes, period. That's in addition to a whole host of brand-new features on the new Series 8, such as crash detection and a body temperature sensor that will help people who want to become pregnant track their fertility. Here, we break down all the top new features in WatchOS 9. Don't forget to check out our Best Apple Watch and the Best Apple Watch Accessories guides for more
Health and Fitness features
Apple has made a number of changes to the watch's fitness and health apps since its first release. This is the skinny, so to speak.
Better Workout Views
Apple has upgraded its Workout app to display more information, and you can switch between perspectives, such as Heart Rate Zones, Activity Rings, and Power and Elevation, by rotating the Digital Crown. In addition, you may create Custom Workouts that include work and rest intervals, as well as notifications for your heart rate, speed, power, and cadence.
Compass App
The updated Compass app now features a dual-view that combines the traditional analogue compass for determining bearing with a modern digital version. By rotating the crown, essential navigational data such as latitude, longitude, altitude, and inclination can be viewed. Enhanced orienteering tools like Waypoints and Backtrack are also included. You can indicate a location of interest by tapping the Waypoint symbol. If the user gets lost and needs to backtrack, Backtrack will use their GPS data to show them their previous locations.
IN- Depth Running Access
Tracking new metrics like Ground Contact Time, Stride Length, and Vertical Oscillation on an Apple Watch can be a huge boon for runners looking to fine-tune their technique. You may view them in the Fitness app's summary and the Health app's workout log (the Fitness app is finally available for iPhones as of iOS 16). Additionally, you will see patterns and developments throughout time.
Fitness features
If you've been utilising AirPlay instead of Apple TV to stream your Fitness+ exercises to a second screen (like a TV), you'll now be able to view your heart rate, calories burned, and Burn Bar in real time on the display (if it's compatible). In addition to the standard metrics presented to you, we have included a new "trainer callouts" option to your stats that includes encouragements like "Hard!" and "All Out!" —so that you may exercise harder.
Sleep Stages
The many stages of sleep can now be seen through sleep tracking. You can tell when you're in REM, Core, or Deep sleep thanks to your smartwatch's heart rate sensor and accelerometer. The Sleep app on the watch allows you to review this information upon waking up. The Health app will sync with the device to provide a more in-depth analysis of sleep, such as the amount of time spent asleep, heart rate, breathing rate, and comparison charts.
Log your Medications
A new Medications tab has been added to the Health app in iOS 16. It's useful for keeping track of prescriptions, organising treatment plans, and reminding users to take their pills. You can record the time you remembered to do anything by touching the notice on your Apple Watch (or iPhone).
Track your Afib History
When you enable the AFib History feature after receiving a diagnosis of atrial fibrillation, you will receive weekly updates on more in-depth insights related to your condition. You may examine how factors like exercise, sleep, and alcohol use affect your AFib risk and how often your heart rhythm exhibits AFib symptoms. The Health app also provides access to a comprehensive medical history, complete with a PDF export feature for sharing with your primary care provider. In addition to the United States, Canada, Europe, Hong Kong, Mexico, South Africa, the United Kingdom, and more, the functionality will be accessible in more than 100 nations and territories, including Australia, sometime in the fall.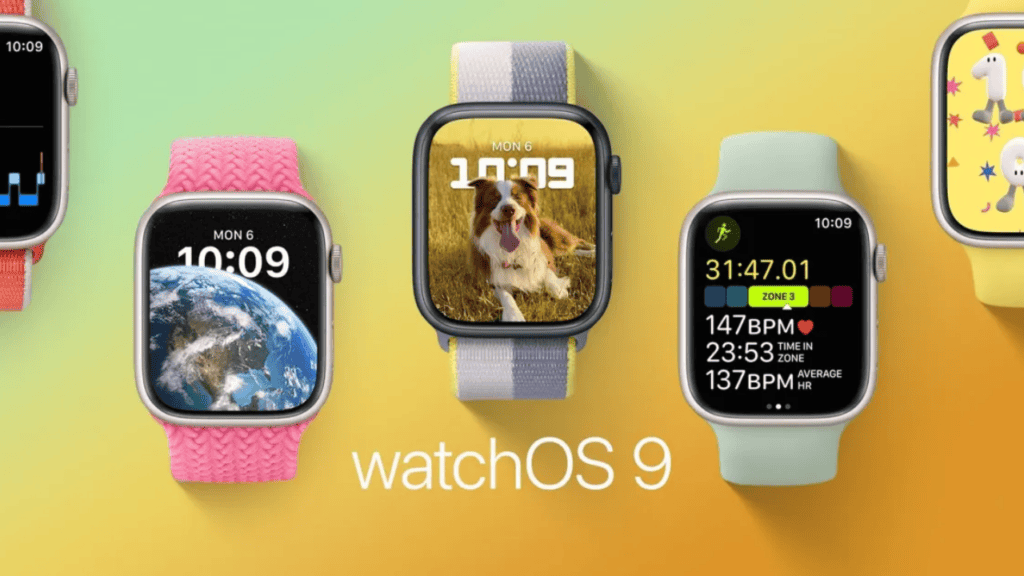 Temperature Sensing 
The Apple Watch Series 8 includes a new feature that can help identify changes in your body based on your temperature thanks to a dual-sided temperature sensor (one on the back of the smartwatch next to your skin and one behind the display). By monitoring your wrist temperature as you sleep, it can pick up on deviations from your normal temperature pattern that may indicate illness or fatigue. Through the Health app's period tracking, users can receive "retrospective ovulation estimates" to aid in family planning and enhance period forecasting.
If your recorded periods show signs of irregularity, infrequency, persistent spotting, or seem to be protracted, you will receive a notification as part of a new feature available on all Apple Watches running WatchOS 9.
Revamped Watch Faces
The four new watch faces included with WatchOS 9 are Lunar (which displays the Gregorian calendar's relationship to the Lunar calendar), Playtime (created in tandem with artist Joi Fulton), Metropolitan (whose design adapts as you rotate the Digital Crown), and Astronomy (the original watch face, updated to display real-time cloud data and a redrawn star map). The Portraits watch face has expanded to feature bokeh not just on pictures of people, but also on pictures of animals, landscapes, and other objects. The new Apple Watch Ultra features up to eight complexities, including a compass on the dial of the new Wayfinder face, and is adaptable to the mountain, the sea, and the path.
Apple also included support for iOS 16's new Focus function. It's possible to set a specific watch face to appear on your Apple Watch whenever you activate a certain Focus mode on your iPhone.
Accessibility Features
Quick Actions are an extension of Apple's AssistiveTouch technology for the Apple Watch, and they're meant to assist people with upper-body limb impairments in using motions to access specific functions on the smartwatch. With only a double pinch or clench, users can begin an exercise routine, take a snapshot, answer or end a phone call, and play or pause audio and video.
Apple also released a new feature called "Apple Watch Mirroring" for people who have mobility issues. When connected to an iPhone, the Apple Watch's assistive features, such as Voice Control and Switch Control, become available. Only Apple Watches beginning with Series 6 have access to this function.
Crash Detection
When involved in a serious car accident, if you don't check in on your Apple Watch within 10 seconds, the Series 8, Ultra, and second-generation SE will use your iPhone to contact emergency personnel. When an emergency occurs, your location is transmitted to the appropriate authorities and your emergency contacts. Apple's new smartwatches include not only a barometer and GPS, but also a gyroscope, an accelerometer, and an innovative sensor-fusion algorithm developed with data from crash test labs.
Also Read: 
What are the new features in apple watchos9
How to use walkie talkie feature on Apple Watch: Complete Setup Guide
How to Download and Install Pixel 13 on Motorola Smartphones
Low Power Mode
The Apple Watch is notorious for having poor battery life. You can now increase the life of your watch's battery without completely disabling its functionality thanks to Low Power Mode, which is also available on the iPhone, iPad, and Mac. The Series 8's heart health alarms, Always-On Retina screen, and automatic workout recognition will be limited or turned off.
Coming Soon
Although WatchOS 9 already includes all of the aforementioned improvements, some further ones are on the way in the form of upcoming software updates.
International Roaming
The capability to use your Apple Watch's cellular connection when travelling internationally will be released later this fall. However, you may incur additional costs from your wireless provider if you do not adjust your plan accordingly.
Family Startup Functions
If you have a lot of smart home devices, you can include your kids as users of the Home app. Then, consumers may use their Apple Watch to command their HomePod, smart lights, and smart thermostats. Adding house keys or hotel keys to Wallet means you can allow your children in when they've forgotten their keys or are locked out, even if you're miles away.
Conclusion:
Finally, Apple is bringing a new low-power option to Apple Watch. This feature operates similar to the one found on the iPhone and iPad. Essentially, it enhances the Apple Watch's battery life by blocking functions like Always-on-Mode on the Apple Watch 5, for example, when the device battery is low. Apple states that the function will give you up to 36 hours of battery life on a full charge for the Apple Watch Series 8, and up to five days for the Apple Watch Ultra. The good thing is Apple is extending low-power mode to previous Apple Watch models, including Apple Watch Series 4.