Ever since WhatsApp announced – or perhaps "overhyped" – its end-to-end encryption for chats, many users continue to ask on forums if it is the safest app around. WhatsApp claims no-one can virtually snoop on private WhatsApp conversations.
Presently, three instant-messaging services claim to use "enhanced measures", or encryption, to ensure privacy – WhatsApp, Signal, and Telegram. In this article, we will tell you which service is the best among the three, when it comes to privacy.
Before we go ahead with the comparison, you must know what WikiLeaks has to say about the apps that use encryption. In its Vault 7 release, WikiLeaks revealed a lot about the CIA's global hacking program. One of the findings says encrypted apps that are popular for their privacy features – including WhatsApp, Signal, and Telegram – can be easily bypassed by the CIA. It turns out these apps may not be as secure as they seem to be, after all.
"By the end of 2016, the CIA's hacking division, which formally falls under the agency's Center for Cyber Intelligence (CCI), had over 5,000 registered users and had produced more than a thousand hacking systems, trojans, viruses, and other 'weaponized' malware.

These techniques permit the CIA to bypass the encryption of WhatsApp, Signal, Telegram, Wiebo, Confide and Cloackman by hacking the 'smart' phones that they run on and collecting audio and message traffic before encryption is applied."
Keeping aside the CIA threat, we would now like to rank the three apps under three tags – The Good, The Bad, and The Ugly, depending on their effectiveness.
The Good: Signal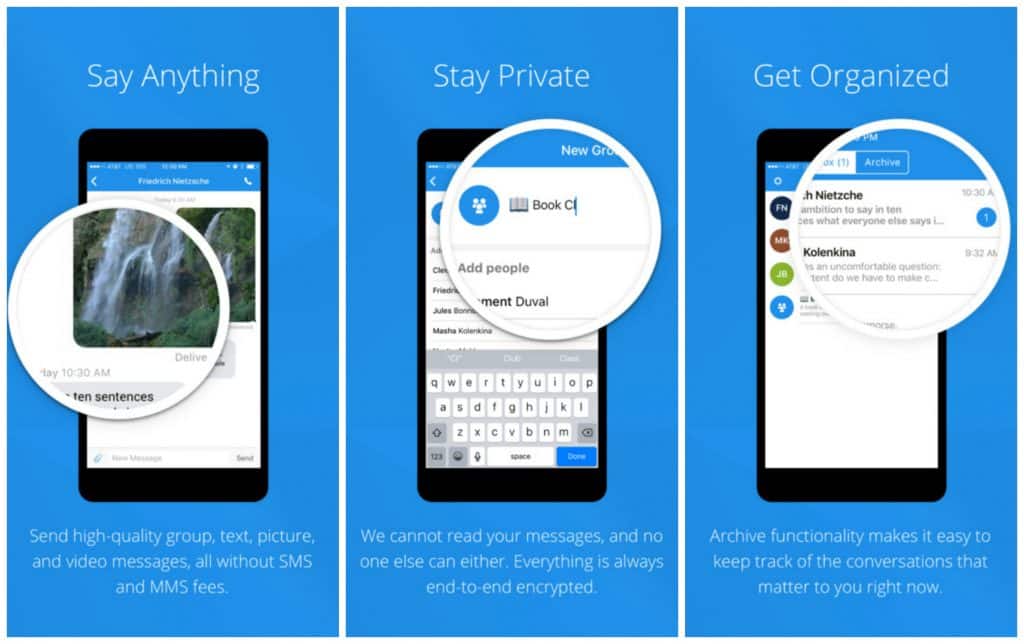 Signal is an instant messaging app run by a non-commercial organization – Open Whisper Systems. It is a normal messaging app, but it sends the message in encrypted form when you chat with someone who also uses the Signal app.
Signal's interface and encryption protocol make it the most reliable and secure app on the market. Also, Signal's encryption protocol has been lauded by some of the computer security experts.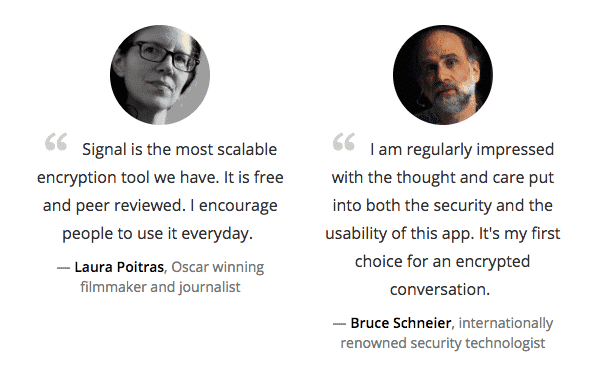 Even voice calls on Signal are encrypted. Screenshots can be disabled on the app by going into the "Privacy" settings in the app and toggling the "screen security" option to the right. It also has a "passphrase" option in the "Privacy" menu, which sets a password for opening the app, so no one else can access the app on your phone.
Other options such as "Appearance" lets you change the background theme from light to dark. Similar to WhatsApp, Signal also lets you share media and GIFs.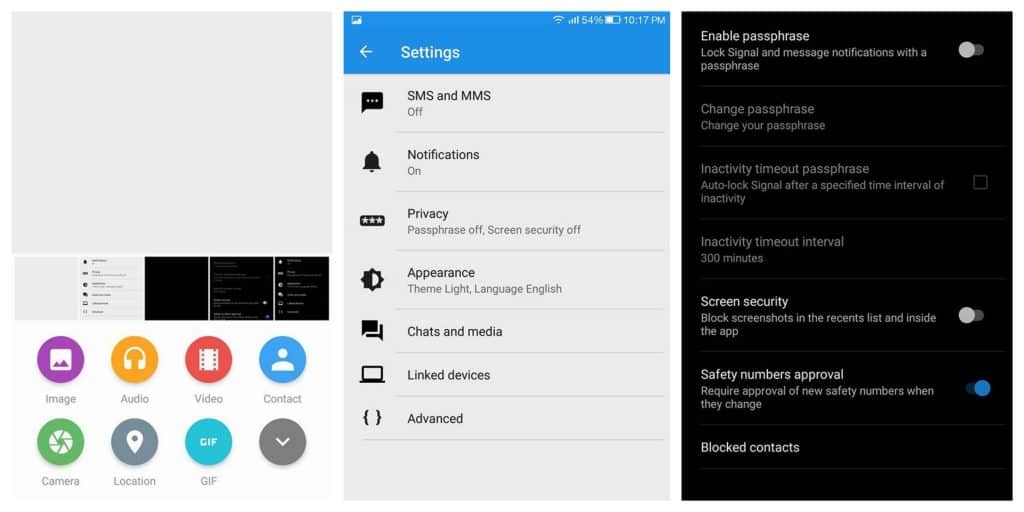 The app is free and the developers behind it are supported by community donations. The backend of this app is fully open-source which ensures its code can be inspected at all times by anyone who chooses to look at it.
Pros Of Signal
Specifically made for providing a secure messaging platform to users.
Fully open-source, which makes it readily available for outside testing for security.
Easy interface.
Trackers can see you are on Signal but can't read your messages.
Enables audio chat only after verification.
The app does not allow anyone to take screenshots.
Even Edward Snowden recommends it!
Cons Of Signal
Not very smooth on iOS.
Some features might not work very well, but these are just design problems, which do not affect security settings.
Not a very popular messaging platform, so you won't find many of your contacts using it.
Download Signal for Android
Download Signal for iOS 
The Bad: WhatsApp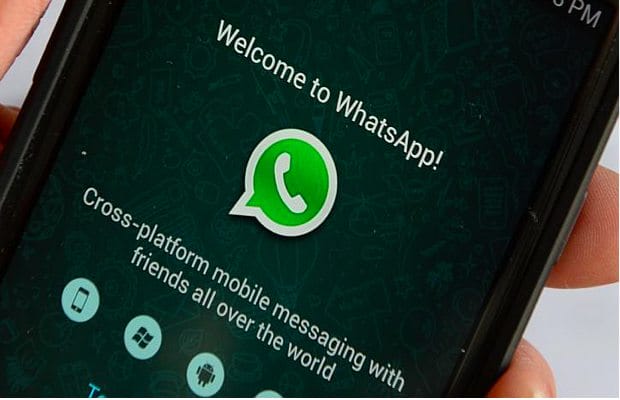 WhatsApp is the most popular instant messaging app. After it released the end-to-end encryption for private chats, the app has received a positive response from everywhere. But if privacy is all that matters to you then it would be better for you to stick to Signal. However, if your friends are reluctant to install Signal, WhatsApp could be the second choice.
One should also not forget that WhatsApp is owned by Facebook. The social media giant has monetized almost every feature on its platform by marketing and we all know that it is not a coincidence when you search for something on Google or even talk about something on Facebook Messenger, you start seeing related advertisements on the side panel.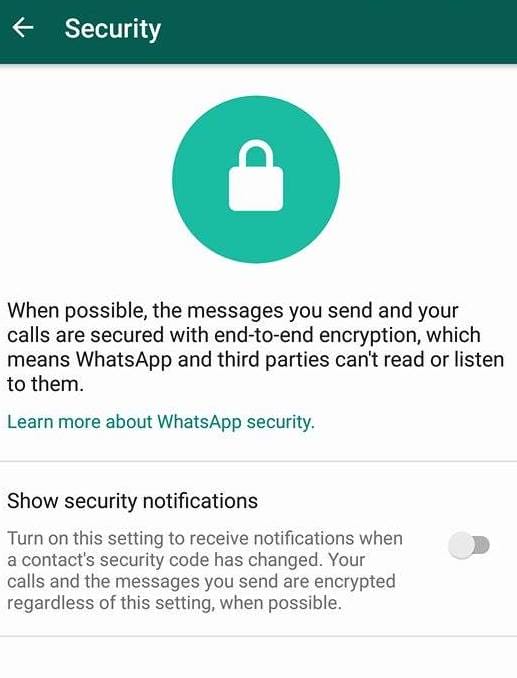 We are not implying that Facebook would sell WhatsApp data to make money. The WhatsApp team has always claimed to operate as an independent unit within Facebook, but it is always better to take precautions, right?
WhatsApp has a long list of features such as voice calling, video calling, GIF support, thousands of emojis, a Snapchat-like status feature, and much more. However, when it comes to privacy, regardless of end-to-end encryption, it is not as clean as Signal.
Pros Of WhatsApp
End-to-end encryption of messages ensures privacy.
Almost all your contacts are using it.
User-friendly interface with new features.
Default security settings encrypts every message automatically
Cons Of WhatsApp
Constant threat of data misuse by Facebook.
Not open-source, which means the backend is controlled by Facebook – not an ideal setting for privacy.
Download WhatsApp for Android
Download WhatsApp for iOS 
The Ugly: Telegram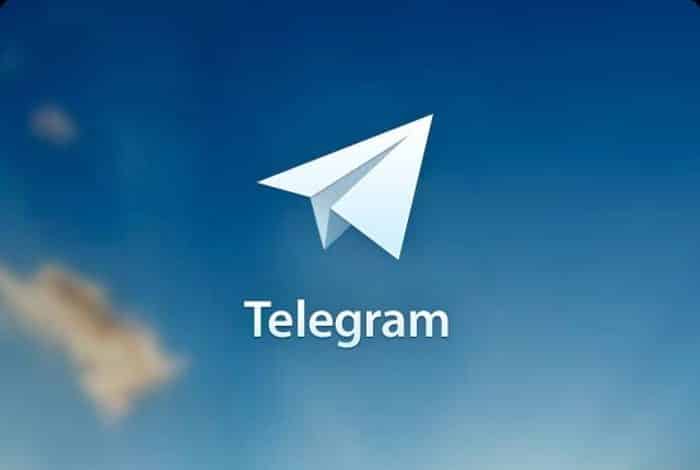 Telegram is touted to be a safe and secure app, but the reality is far from that. The app only uses encryption when the user chooses the "Secret" mode. This means default messages on Telegram are transferred over Telegram's unencrypted servers.
Of course, there are features like disappearing messages, which lets you put a timer on messages. After the timer expires, the messages gets wiped automatically. In addition, Telegram has a clean user interface, but even these features cannot make us overlook the privacy factor.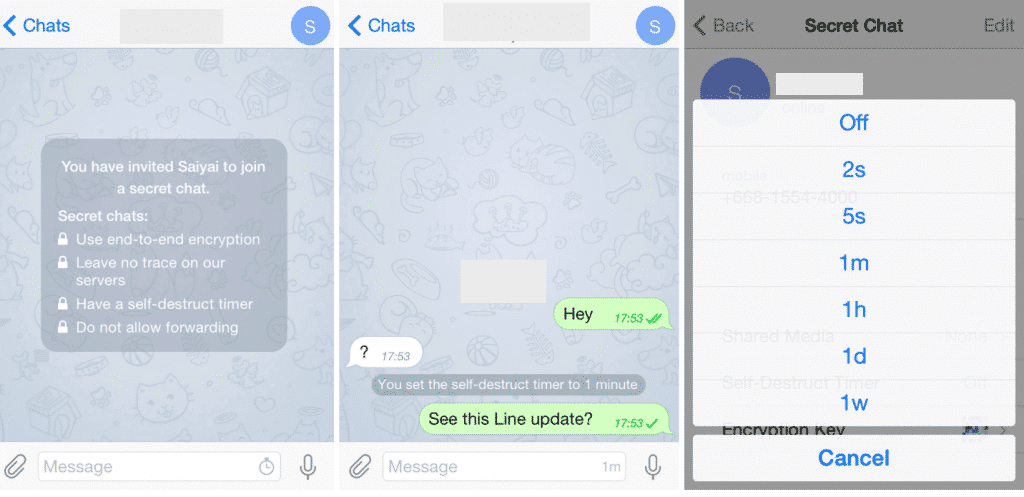 You have to be careful to ALWAYS turn on the Secret mode to ensure privacy, and that's what makes Telegram the worst of the three apps profiled here. Why can't it roll out default encryption like WhatsApp?
Even in Secret mode, Telegram's encryption model has not been praised very much. So if you are all for privacy, then it would be better to steer clear of Telegram.
Pros Of Telegram
Clean interface.
Privacy-focused features such as disappearing messages.
Free and convenient large file sharing.
Cons Of Telegram
Not fully open-source even though its API is open-source. The backend is still run by Telegram.
End-to-end encryption is only for "Secret Chats". Default chats have zero encryption.
The user-base is way smaller than WhatsApp, which means only some of your friends might be using it.
Download Telegram for Android
Download Telegram for iOS 
Conclusion
We think Signal is the one which stands out among the three apps. It ensures better privacy and encryption because of its non-commercial background. WhatsApp can still be trusted to some extent, and Telegram disappoints us with its non-default encryption policy.
Which encrypted smartphone app do you use to have your secret conversations? Let us know in the comments which one you prefer.