The official release of Windows 11 was scheduled for the 24th of June. However, a couple of days ago, we got something that looks like a leak of the entire system. We did a small search to see whether this leak could be real info or someone was messing around.
The pictures first appeared on the Chinese website, Baidu, containing all the information about Windows 11 OS – from the interface and start menu to sounds.
Let's see it together.
Windows 11 – new design
As someone told me after the leak, the new Windows reminds of the Windows 10 and macOS child. It has all the Windows 10 features we love, with a MacOS interface.
In the new Windows design, the Start menu is placed in the center of the screen, while, as we know, in all the previous versions, we had it in the bottom left corner. However, there is a setting to transfer it back to the left side if the new design is not too attractive for you, or you are simply a creature of habit.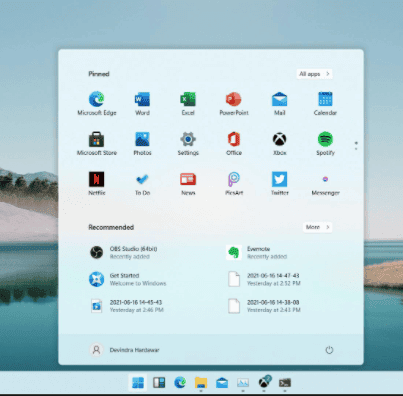 If you ever had a chance to see unreleased Windows 10X, you will notice that not much has changed. Initially thought of as a dual-screen OS, then moving to a standard laptop, just to be canceled, Windows 10X will come to life as a huge part of Windows 11. However, live tiles are replaced with simplified icons that are rounded instead of sharp on the edges. You have quicker access to the restart button and Power off. Also, you have a new snapping feature added. It can be accessed from all the maximize buttons in every app.
Also, there is a Dark Mode, and the original screen should come with a blue picture.
A new icon labeled Windows Widgets supports rumors that widgets are officially back with the latest OS version.
From this leak, we do not see any improvements in the Windows Store. Is it because the leak is not a final version, or Windows haven't made any changes for real, is yet to be seen. However, Microsoft's CEO did promise a new Store with more accessible options for both users and developers. So, all we can do is hope that this will be fixed once we get an official version of Windows 11.
Microsoft decided to improve the Xbox experience, too, by integrating a new Xbox app. The app offers quick access to Xbox Game Pass games, social parts, and the Xbox store.
Since we were announced that this OS version would be the "next generation of Windows," we can only wait to see what Microsoft really prepared for us.
Editors' Recommendation