ZOTAC GAMING GeForce RTX™ 3080 Ti AMP Holo Review
ZOTAC GAMING GeForce RTX™ 3080 Ti AMP. I've had the opportunity to examine a wide range of cards from several of the largest GPU manufacturers in the industry since the release of the RTX 30-series. One conspicuous omission from that lineup was Zotac. Now, it is different. To determine how well the Zotac Gaming RTX 3080 Amp Holo holds up, I've spent the past week putting it through its paces. It certainly has the appearance of a flagship graphics card and will retail for $799, but will it perform as well?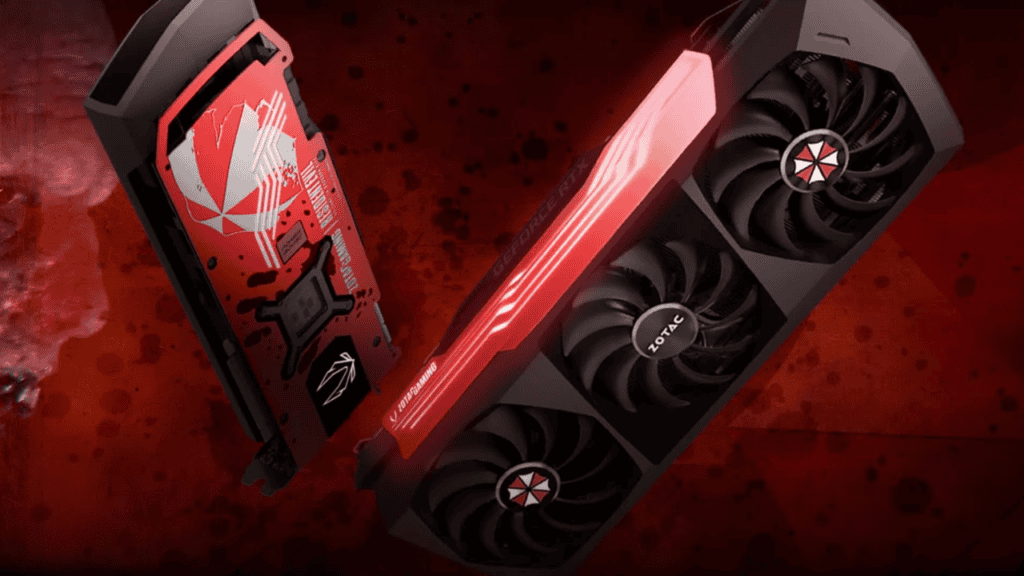 Design and Features of the ZOTAC GAMING GeForce RTX™ 3080 Ti AMP
A stunning GPU is the Zotac Gaming RTX 3080 Amp Holo. It's obvious that the designers spent a lot of effort creating a striking focal point for your gaming PC. The eye-catching RGB strip and branding along its side are mostly to blame for this. Although the shiny plastic that protects it from fingerprints is horrible, it gives the card a more upscale appearance than competing cards like the MSI RTX 3080 Gaming X Trio. Additionally, an RGB striped pattern is carved into the backplate. It's odd that the card's face is entirely dark, so it seems a little less striking when mounted vertically. However, considering its somewhat higher temperatures, it's best to avoid this mounting method if at all feasible.
The Amp Holo is bigger than the Founders Edition. It is actually 12.5 inches longer than the RTX 3090 Founders Edition, but it is slimmer with a 5.2-inch width and 2.5 slots as opposed to the BFGPU's triple-slot girth. You should thoroughly inspect your casing, especially if your radiator is situated up front.
This additional space is needed to fit the card's substantial triple-fan cooler: 
The Icestorm 2.0 cooling technology from Zotac is used by the RTX 3080 Amp Holo. The fans have more blades than previous versions, which boosts airflow by up to 10%. In order to effectively transport heat from the components into the aluminium fin array, the finstack was designed around seven copper heat pipes. Each fan's speed can be separately adjusted as well.
The cooler is only mediocre in use. The card reached its maximum temperature during my testing in the Lian Li LanCool II chassis at 78C, making it the hottest RTX 3080 I've yet tested. In contrast to many AIB cards, Zotac did not build a significant vent into the backplate, and the one that is there appears to be obstructed by the PCB. I allowed it to run a cycling benchmark with the case fans turned down to 20% so that I could evaluate how it would perform in a more air-limited environment. When I came back, the card had increased its temperature to a maximum of 85C and scaled up its fans to an audible 85 percent speed. It's a good thing this card looks best on its side because there is no way I would ever use it in a vertical installation where a glass side panel may block airflow. However, it didn't make a lot of noise when operating at fan speeds below 60%, where it spends the majority of its time. Instead, it blended in well with my case fans.
Specifications of the RTX 3080:
The Amp Holo has the same underlying specifications as the RTX 3080: 8704 CUDA cores, 10 GB of lightning-fast GDDR6X VRAM.And Nvidia's Ampere architecture, which combines ray tracing RT cores, AI Tensor Cores, and Shader Cores for standard game rendering. The factory overclock on the Holo, which clocks in at 1770 MHz, 60 MHz. More than the Founders Edition, kicks things up a notch. Even with the increased temperatures.I frequently found myself gaming between 1900 and 1950 MHz using GPU Boost, Nvidia's automatic overclocking behaviour. So, even while it's warm, it's not hot enough to cause the card to throttle down.
Standout Features
The other standout features of RTX cards this generation are also included. Such as DLSS upscaling, RTX Broadcast, and RTX Boost, as well as H.265 and AV1 encoding and decoding for media streaming. The biggest and finest of these is undoubtedly DLSS, which enables 4K gaming at high settings with RTX enabled while maintaining FPS more in line with what you would anticipate at 1440p. At lower settings, this upscaling may exhibit some oddities, such as flickering decals, but it is normally very good. It is quite amazing how textures can occasionally appear even more crisp than at native resolutions.
Conclusion:
The card provides three DisplayPort 1.4a connections and one HDMI 2.1 connector for a total of four screens with an 8K maximum resolution. Performance Zotac Gaming RTX 3080 Amp I put each graphics card through a series of simulated and real-world tests. In order to give a comprehensive depiction of the performance. You may anticipate across a variety of games and genres. I also include a combination of ray-tracing and DLSS-enabled benchmarks and games. Every game has been optimised for Ultra settings, and DLSS is turned on wherever practical.
Also Read:
Nvidia GeForce RTX 3090 Ti review
Nvidia RTX 3080 and RTX 3060 Ti back in stock at retail price
MSI Radeon RX 6750 XT Gaming X Trio Graphics Card Review
Ludicrous! AMD's monster $1,000 Radeon RX 6900 XT is on sale for $720
FAQs:
Q1: Is the Zotac RTX 3080 AMP Holo good?
The Zotac Amp Holo competes favorably with the rest of the RTX 3080 lineup when it comes to gaming. Although most RTX cards, whether they are Founders Editions or not.Will deliver comparable levels of performance thanks to GPU Boost. The card still produced outstanding results.
Q2: How Good Is the Zotac Gaming RTX 3080?
One of the flashier and more potent video cards available right now.Is the Zotac Gaming GeForce RTX 3080 AMP Holo. If you can get it for a fair price, it's a must-have for anyone. Who wants to play high-end 4K games.
Q3: Is the RTX 3080 an amplifier?
The new gaming flagship, the NVIDIA GeForce RTX 3080, has arrived. A few weeks ago, to much excitement, NVIDIA CEO Jensen Huang made the GeForce RTX 30 series. Based on the company's Ampere architecture, official.
Q4: What distinguishes the Nvidia RTX 3080 from the 3080-Ti?
The 3080-Ti's power is slightly greater than that of the Nvidia RTX 3080. Both of these GPUs are quite strong, however the Ti version of this card has larger VRAM. A greater number of shader cores, and stronger hardware overall. Making it a somewhat superior GPU.
Q5: What is AMP Holo Zotac?
The ZOTAC GAMING GeForce RTX 3080 AMP Holo enables amplified gaming with ultra graphics fidelity in style thanks. To its improved RT Cores and Tensor Cores, new streaming multiprocessors, and fast GDDR6X memory. Second-generation Ray Tracing Cores. – Third Generation Tensor Cores