Apple Watch Series 8 Launch: From Large Display to Body Temperature Sensor
Apple Watch Series 8. The 41mm Apple Watch Series 7 has a display size of 1.691 inches, while the 45mm Apple Watch Series 7 has a display size of 1.901 inches. It is possible that Apple may unveil its future Apple Watch series 8 with a larger 1.99-inch touchscreen and a body temperature sensor that will alert the user if he or she has a fever.
According to MacRumors: 
Apple Watch Series 8 could have three different display sizes, as predicted by analyst Ross Young in October of last year. Apple Watch's new display size would be 1.99-inches diagonally, according to Young, who responded to a question about the rumour on Twitter "In a report, IANS stated.
According to the article: 
It  appears like Pu has just rounded up the 1.99-inch display size supplied by Young. The 41mm Apple Watch Series 7 has a display size of 1.691 inches, while the 45mm Apple Watch Series 7 has a display size of 1.901 inches. Compared to the 45mm Apple Watch Series 7, the larger display size would provide an extra 0.089-inches of diagonal space, or a 5 percent increase. Apple Watch Series 8 is rumoured to have flat edges, which could explain the bigger display size.
According to the leaker known as "ShrimpApplePro" earlier this year: 
The Apple Watch Series 8 would have "a flat front glass display" like the Apple Watch Series 7, which had a rounded shape. If you've recently noticed an increase in your body temperature, you'll be prompted to take a reading with a thermometer. However, this health feature will be absent from the next SE model of the Apple Watch. In addition, the body temperature sensor is expected to appear later this year by Ming-Chi Kuo, a well-known Apple analyst. Reports from earlier this year claimed that the sensor may potentially be used for fertility tracking—the fluctuations in body temperature could assist someone identify when they're more likely to get pregnant. An improved Workout app, sleep phases, the first-of-its-kind Afib History function, and an entirely redesigned Medications app are just some of the major additions to watchOS 9.
As Apple's chief operating officer Jeff Williams stated last month: 
"This autumn, watchOS 9 will bring even more innovative ways for people to personalise their Apple Watches with scientifically proven insights across fitness, sleep, and heart health."
Also Read: 
Apple's 5 upgrades for Airpod max 2 Unleashed
Internal One UI 5.0 beta for the Galaxy S22 already underway
Fitbit Versa 4 and Sense 2 designs just tipped in deleted video
Samsung Galaxy A53 vs Moto Edge 30- trendblog.net
FAQs:
Q1: How can I tell the difference between the sizes of Apple Watch?
It is 40mm in diameter for the smaller of the two Apple Watch sizes, while it is 44mm for the larger one. The smaller Apple Watch is 34mm wide, while the larger one is 38mm wide. The measurements of the 40mm and 44mm Apple Watches are shown below.
Q2: Is Apple Watch able to read the temperature of a user's body?
Health-centric Body temperature sensors are expected to be included in the upcoming Apple Watch Series 8 model. Body temperature sensors are expected to be included in Apple Watch Series 8's health-focused features, according to reports.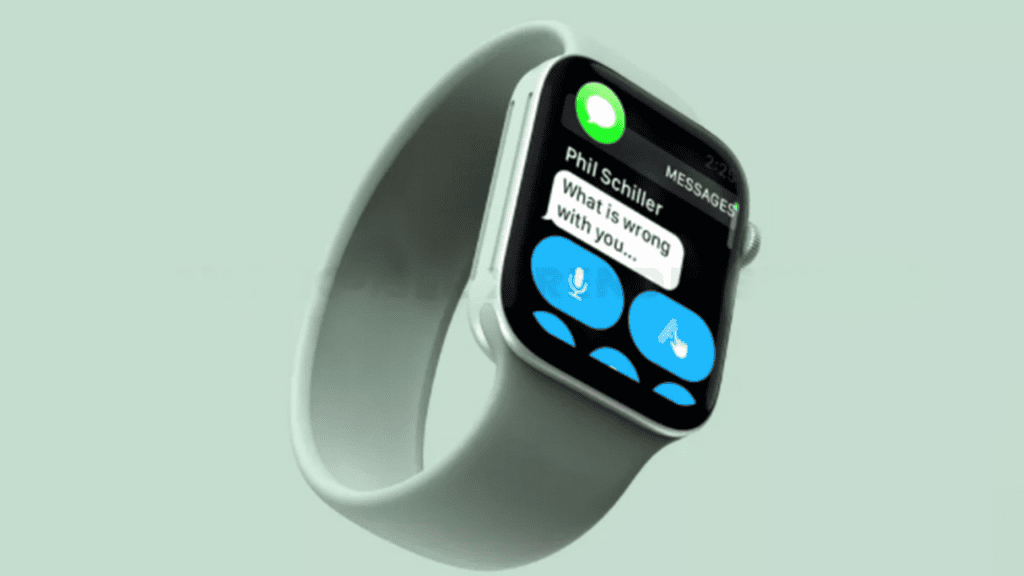 Q3: When Apple Watch 8 is expected to be launched?
A number of additional health-related functions are reportedly being developed by. Apple for future Apple Watch models According to The Wall Street Journal and other sources. Blood pressure monitoring, a thermometer for fertility and sleep tracking. Sleep apnea diagnosis, and diabetes detection are all included in this category of products.
Q4: Is there going to be a new Apple Watch in 2022?
We're anticipating the release of the Apple Watch Series 8 in September 2022. There was a time when Apple's smartwatches were less predictable than the company's iPhones, but the company now appears to have settled on September as the launch timeframe for its Watches. The most recent iterations demonstrate the following: Series 7 of the Apple Watch will be released on October 15, 2021.
Q5: When will Apple watch 8 go on sale?
On the first or second Tuesday of September, Apple has traditionally held its iPhone and Apple Watch announcement events. However, due to Labor Day falling on Monday, September 5, this year. The Apple Watch Series 8 release date is most likely September 13 – assuming there aren't any unexpected delays there.
Q6: Is there going to be a Series 8 of the Apple Watch?
Body temperature sensors are expected to be included in both the upcoming. Apple Watch Series 8 and a new, tougher version, according to Gurman. On the other hand, the Apple Watch SE 2 is unlikely to get this feature