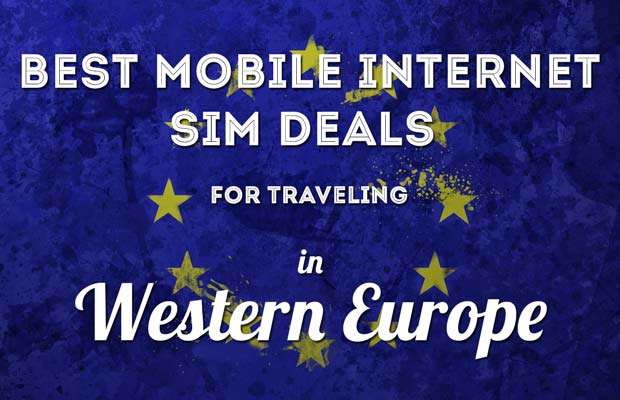 Traveling in Europe? Here's where you can get cheap mobile data SIM cards!
Historically, getting internet connection while travelling around Europe has been a surefire way of making a significant dent in your travel budget. While there have been several large changes to European law when it comes to the amounts that providers can charge for data rates while roaming, the best way to get cheap internet connection on your smartphone when travelling around Europe is still to purchase a cheap SIM card in the country you are currently visiting. The drawback of this method is that mobile phone providers, their organization, setup and tariffs can vary greatly from country to country and most, if not all, of the terms and conditions will be in a language you probably don't speak fluently. This makes it hard to figure out the right one to pick, especially when dealing with the stress of finding your bags, locating your hotel and planning which sites to see.
For these reasons we've put together a little guide to help you navigate this complex world easily and arrive to your destination forearmed with all the knowledge you need to pick the right SIM card service,. We are focusing on some of the most popular destinations in Europe but we will also try to give some general tips for choosing SIMs in any location within this continent.
First, a Small Distinction
As we go on we are going to be talking a lot about MNOs (Mobile Network Operators) and MVNOs (Mobile Virtual Network Operators). You may know the difference already, but just so people are not confused by all the acronyms, here is a little background information on these two categories.
[su_spoiler title="Expand: Difference between MNOs and MVNOs" style="fancy"]
MNOs
There are the main network providers in any given location and own or lease the infracture of the network itself. Examples in Europe are Vodafone, Orange and T-Mobile.
MVNOs
These are basically companies that piggy-back on the infrastructure owned or leased by the MNOs. MNOs often have surplus capacity and they sell it on to these companies. Some MVNOs are big enough to have their own customer services while others use the systems belong to the MNO to provide billing and service information to the customer. Examples of big MVNOs in Europe are Virgin Mobile and Lyca Mobile, though there are many very small MVNOs out there as well.
The reason we go into this distinction is that MVNOs often try to distinguish themselves from the main MVNOs by offering cheaper rates. Sometimes the result is a straight up better deal, however there can sometimes by drawback in circumstances where MVNO customers doe not receive the same access to all the same services that MNO customers do. A good example of this is 4G coverage. Of course, this is not necessarily the case with all MVNOs but we will try to keep you informed about any known issues with MNO and MVNO interaction as we go.
[/su_spoiler]

SIMs and Deals in France
You are better off sticking with the main MNOs as they offer rates as competitive as the MVNOs and also offer the best coverage. Orange, SFR and Bouygues Telecom all offer competitive rates for SIM cards. Bouygues Telecom currently offer a 10 EUR SIM card package that comes with 500MB but you will need to purchase a 40 EUR package to get a larger 2GB allowance. You will need to pay 3.99 EUR from a SIM from SFR and their 5 and 10 EUR tariffs offer pretty measly data allowances. However, their 10 and 30 EUR options give you 1 and 2GB of data respectively.
France has 3G coverage in most areas including countryside locations. Most networks have restrictions on access to their 4G networks except on certain tariffs, however Bouygues Telecom offers it on all Tariffs.
Also, be aware that you will need to present your passport when purchasing a SIM card in France. Purchasing a SIM is best done in main branches, as doing so in other locations can result in delays with the activation of the SIM. MNOs such as Orange have locations throughout the country including several airports.

SIMs and Deals in Spain
By law all SIMs in Spain must be registered, so you will need your passport when you purchase one in-store. Cheaper SIMs in Spain generally offer low amounts of data. The highest data budget SIM offers we could find were from MVNO Lebara Mobile (link leads to the official website in English, check it out). You can buy a SIM from them online and get it shipped to an address in Spain or purchase directly from phone stores and other locations throughout the country. The SIM costs 10 EUR and comes with that much credit. Data costs start at 1GB of data for 8 EUR all the way up to 5GB for 35 EUR. You can also get a Movistar SIM for 10 EUR with 10 EUR credit already loaded. They offer 3G and 4G internet for 5 EUR for 400mb. The MVNO Lycamobile is also worth looking at as it offers a 5 EUR prepaid SIM that comes with 5 EUR credit and charges 14c per MB of 3G internet.
Movistar and Orange offer the best coverage in Spain. These two are also your best for 4G service as they make it available on the majority of their tariffs.

SIMs and Deals in Germany
Germany is a market where MVNOs enjoy an abnormally large portion of the market space. For this reason they are generally the best option when it comes to cheap SIMs and data. If you are a traveler you may need to provide the address of your hotel/hostel and present a passport. You won't be able to purchase an MVNO SIM from the airport but will need to travel to a phone shop or normal store. For instance, you can purchase a Lidl SIM from the same checkout you buy your groceries at.
Blau is an MVNO on the E-Plus network and offers flat rate packets. You can get 1GB for 9.90 EUR leading up to a 5GB deal for 19.80 EUR. The supermarket brand Lidl also offers mobile service as an MVNO (Now part of Fonic). They are the best value for a 5GB packet, which costs 14.99 EUR for the month. If you are looking for something smaller with a lower cost, Tchibo Mobil works off of the O2 network and charges 6.95 EUR for 300MB of data.
2G coverage is available in even the farthest flung corners of Germany and from all providers, but 4G coverage is most easily obtained from the main MNOs such as E-Plus and Vodafone.

SIMs and Deals in Italy
TIM are the main operator here and, like most networks in Italy, offer tourist tailored SIMs. You can buy a SIM directly from their kiosks which can be found in many of the main airports. Topping up online can be tricky with credit cards but you can top up directly in shops, tobacco stores and newsagents. The best internet deal among the TIM tourist deal is a 20 EUR top up package that offers 5GB of internet for 30 days. The 3 network also has tourist offers but, in general, they aren't much to speak of. However you can get your hands on a regular voice and data SIM deal that gives a respectable 2GB of internet for 12 EUR.
Wind have incomplete 4G network coverage but, on the plus side, they give access to it on all their tariffs and generally offer good prices on internet packets. Examples are their voice and data SIM offer where you can get 2GB for 7.5 EUR. Their data only SIM also offers an immense 8GB for 18 EUR. Keep in mind, both deals last for 28 days rather than the usual 30 day time period. Don't ask us why, they just do.
2G and 4G coverage is available in most locations, however 4G coverage is generally only available to prepaid customers on the MNO tariffs, such as with TIM and Wind.

SIMs and Deals in the UK
One thing to bear in mind when getting a SIM in the UK is the issue of the 'Content Lock'. This is a measure placed on all SIMs to restrict access to what is deemed adult content. This might not sound like much of a problem for you but keep in mind that this will restrict access to all content that has not been specifically designated 'Not Adult'. This can include content that is not in anyway inappropriate but hasn't received the required designation. The easiest way to deal with it is to request the removal of the lock when purchasing the SIM (You will need some form of ID, such as a passport, in order to prove your age.) For this reason it is best to visit the main branch when purchasing a SIM. You can find some kiosks and stores at the airports, particularly those of the main MNO's, but MVNO branches are more likely to be found in the city.
If you are looking to maximize data for the best price, 3 offers an 'all-you-can-eat' data package for 20 GBP, though you can get a similar deal with MVNO GiffGaff. However, the latter's lower priced data packages are not as competitive as major MNO EE, which offers several competitive packages including the offer of 1GB for 10 EUR with 50 mins of calls to boot.
4G coverage is available with all MNOs and most MVNOs. EE has the most coverage, with 80% followed by Vodafone, O2 and 3 with 60%. Keep in mind, even 20% shortfall means a lot of areas without coverage, so it is a good idea to ask in the store if they can check the area you are travelling to for the likelihood of good coverage.
SIMs and Deals in Portugal
MEO is the largest service provider with the most amount of coverage which includes 4G coverage. That said, 4G coverage is available in most areas for almost all providers. You can get a SIM from MEO for 9.99 EUR. From there, the best value offers available are the Super tariff which offers 2GB for 12.99 EUR or, if you plan of doing a whole load of surfing, the Ultra Plus tariff gives you a whopping 15GB per month for 30.99 EUR. This last offer goes for 30 days and is probably your best option for a high-volume data pack that lasts the month. The Vodafone presence in Portugal offers high volume data packets on their data-only SIMs. The tariffs work in an unusual way that may suit some short-term visitors. Basically, they offer tariffs of 15 EURO and up that give 1GB for every Euro spent and the data package lasts the same number of days as the number of gigabytes.
Both companies offer SIM purchases in-store (with Vodafone offering SIM purchase straight from their airport branches) and MEO will ship one online but only to an address within Portugal. If you don't want to go with either of these companies but still want something to get you started quickly after you land, Portugal Internet is an unusual style of service aimed directly at travelers. It offers rental of unlimited data SIMs for a set number of days. For instance, you pay 15 EUR for 3 days and 30 EUR for 8 days. Generally, it works out more expensive than getting a SIM from the providers mentioned above but it also cuts out a lot of the middlemen and the extra work, so it maybe worth for some.
Other Destinations
We have focused here on some of the most popular destinations in Europe to be able to go into more detail on them. However, if you are traveling to places outside these countries, there are many websites that allow you to order SIMs from that location online. A little research will tell you whether such as service is available for your particular destination.
Additional Pro Tips for staying connected while traveling
Now that you know what SIM card to buy, you only need to take care of a few more details. Just to be sure:
Get the right size SIM card
Although you might think that you know what kind of SIM card fits your mobile device, some people tend to mix up the terms and end up getting a SIM that's too big or small. If it's too big, you can usually ask the salesperson at the counter to make it smaller for you or cut the SIM card yourself. However, I recommend that you check what exact size you will need.
Mobile WiFi Hotspots & Battery Packs are a blessing
If you're traveling with a group of people, you will be better off sharing a single mobile internet connection. Usually, the price per GB of mobile data will go down with more volume.
To share your mobile internet you can either insert the travel SIM into a phone and then open a wireless hotspot for others to use, but it will most likely drain your battery so fast that you will run out of juice by early afternoon. If you want to avoid this, here are two alternatives: portable hotspots and/or external battery packs (both combined are perfect).
A mobile wifi hotspot is, basically, a small device that creates a WiFi network and shares a mobile internet connection from the SIM card you bought. Just take the card (usually regular-sized SIM), put it into the hotspot, turn it on and you're done. Now you and your friends will have access to a WiFi network on the go. However, you might run out of battery here as well.
Simply buy a portable battery pack (you'll be surprised how cheap they are), plug in your mobile internet hotspot and enjoy a good few days of uninterrupted WiFi connection while traveling Europe.
Hopefully, our guide helped you to zero in on a cheap internet option while you are traveling. If you have any feedback or found a better deal than those mentioned in one of these countries, please let us know in the comments below.
4 thoughts on "
Traveling in Europe? Here's where you can get cheap mobile data SIM cards!

"