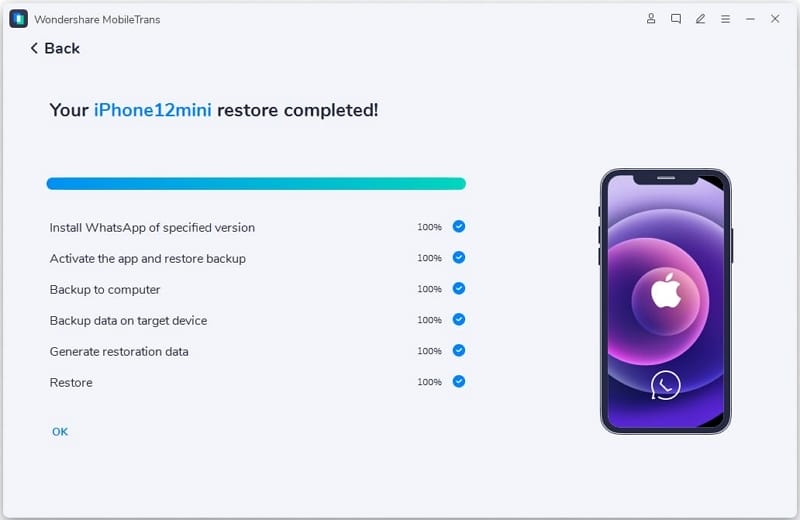 How to Transfer Messages from Android to iPhone
Are you willing to shift from an Android device to iOS? Many Android users like to upgrade their phone to the iOS operating system due to various reasons. iPhone provides advanced information security that protects the device from malware attacks. Moreover, you can get the best and most secured apps from the App Store.
iPhones also maintain their resale value as compared to Android devices. Due to the various advantages and high-quality performance of iOS devices, many people prefer shifting to iPhones. For your assistance, this article will introduce an effective tool through which you can transfer messages from Android to iPhone easily. Let's get started!
Part 1: Introducing Wondershare MobileTrans for Phone-to-Phone Transfer
Before upgrading your phone from Android to iOS, you should transfer your data safely. For this, the best and the most cost-effective tool is Wondershare MobileTrans because it ensures a safe phone to phone transfer. This tool supports cross-platform phone-to-phone transfers such as Android to iOS, Android to Android, iOS to Android, and iOS to iOS. Isn't it great?
If you wish to transfer the data from your Android to iOS, you can select photos, music files, videos, calendars, bookmarks, text messages, and voice memos. Moreover, it can instantly transfer 5 types of data from a computer to a smartphone. Along with that, you can also transfer apps from an Android device to an iPhone directly and smoothly. Thus, it's a popular tool for ensuring a smooth and comfortable phone transfer across multiple platforms. It is truly great.
Part 2: Tech Specs and Pricing of Wondershare MobileTrans – Phone Transfer
Wondershare MobileTrans is an advanced and efficient tool that ensures secure phone transfers. In this section, you can learn about the tech specs and pricing plans of MobileTrans in a structured manner. See these before buying this phone-to-phone transfer tool:
Tech Specs
| | |
| --- | --- |
| CPU | 1GHz (32 bit or 64 bit) |
| Hard Disk Space | 200 MB and above free space |
| RAM | 256 MB or more of RAM (1024MB Recommended) |
| Supported iOS Versions | iOS 6 and up (iOS 16 included) |
| Supported Android Versions | Android 4.6 and up (Android 12 included) |
| Windows OS | Win 11/10/8.1/8/7/Vista/XP |
| macOS | 12(macOS Monterey), 11(macOS Big Sur), 10.15 (macOS Catalina), 10.14 (macOS Mojave), Mac OS X 10.13 (High Sierra), 10.12(macOS Sierra), 10.11(El Capitan), 10.10 (Yosemite), 10.9 (Mavericks), or 10.8 |
Pricing of MobileTrans – Phone Transfer
Pricing For Windows
1 Year License
$39.99
Perpetual License
$49.99
Pricing for Mac
1 Year License
$44.99
Perpetual License
$59.99
Part 3: Guidelines to Transfer Phone Data from Android to iOS Device
Are you ready to transfer your phone data from Android to iOS? Read this section to check the detailed steps for efficiently transferring a phone's data from Android to iOS:
Step 1: Navigate to the Phone Transfer Section
To initiate, begin with installing Wondershare MobileTrans on your computer. After launching its main interface, select the "Phone Transfer" tab from above. Afterward, choose the module called "Phone to Phone" to proceed.
Step 2: Attach the Devices
Now attach your Android and iOS devices to the computer using a USB and lightning cable. The tool will automatically verify both of the phones. To transfer data from the Android device to your iPhone, choose Android as the "Source" and iOS device as "Destination." To change the position, you can use the "Flip" button.
Step 3: Start Transferring Phone Data
From the computer's screen, you can choose the type of data you want to transfer. For example, you can select messages, calendars, photos, and videos. Once done, click on the "Start" button to begin transferring data. To delete the existing data from your iPhone, you can enable the "Clear data before copy" option. Thus, wait until the transfer of the phone's data gets completed successfully.
Part 4: Main Advantages of Wondershare MobileTrans – Phone Transfer
Wondershare MobileTrans is a must-try tool for the phone-to-phone transfer. This section will highlight some of the key advantages of MobileTrans in a brief manner. This will be helpful for you.
Transferring data from one phone to another can be hectic and time-consuming. However, with MobileTrans, you are just one click away from safely transferring all of your data.
MobileTrans ensures fast data transfer so you can instantly copy complete data to your new phone. Also, it doesn't require an internet connection during the process.
This tool provides 100% data protection during transmission. Moreover, it does not harm the existing data saved in the destination device.
It has a user-friendly interface as each feature is described in a structured manner.
This software is cost-friendly as it offers affordable subscription plans.
Conclusion
Are you searching for a reliable tool for the phone-to-phone transfer process? This article has provided a detailed description that will help you efficiently transfer data from Android to iOS. Moreover, it will ensure complete safety and data protection during the transmission. Thus, it's a highly compatible tool that you can use on multiple platforms with great ease. You will have no issues using it!