Move to iOS is the best application that has been designed by Apple to transfer files from  an Android Phone to iOS devices. The system requirements to access the application Move to iOS version 3.2.6 is at least Android 4.4 "KitKat" and supports up to Android 12 "Snow Cone" which has been from March 18, 2022, onwards. Check the given points before using the Move to iOS App: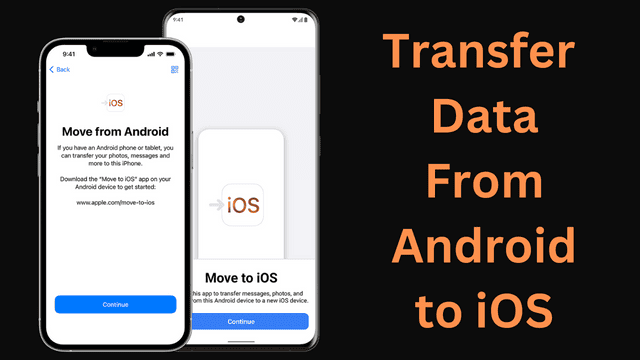 Check the Android version of your Android Phone, it Should be running at least Android 4.4 "KitKat" or later.
Using the Move to iOS app you can transfer messages, contacts, camera photos & videos, calendars, and mail accounts.
You can install free apps using App Store, and the paid apps can be added to the wish list of iTunes.
You can reset your old iPhone by following the given steps, go to Settings > General > Reset > Erase All Content and Settings to restart.
Make sure your both gadgets have sufficient Battery for the process.
Transfer Data From An Android to iPhone
Move to iOS
The steps to transfer the data of Android mobile to iPhone are given below:
Put your an Android device and iPhone close to each other, and turn ON  Wi-Fi.
Follow the on-screen Setup instruction on your Apple device.
Tap on Manually Setup in the Quick Start Screen of your Android Device, then Tap to move data from Android after looking for the App and  data
Open the Application of Move to iOS on your Android device. If you do not have a Move to iOS Application then you can download it from Google App Store. Once downloaded, open it Tap to Continue, read the terms and conditions, and tap Agree.
Open the Move to iOS App on your iPhone and Tap on Continue when you see the move on the screen of your Android device. After that, you need to wait for Six-digit or may ten-digit Code which will appear on your device. You can ignore any alert shows like your Internet is weak.
Use that code and enter it on your Android device.
Then, a temporary Wi-Fi network has been created on your iOS device. Tap the Option Connect to join that network on your Android device. Then wait to start the process of Transferring  Data.
Select the data on your Android Device which you want to Transfer, and tap Continue.  Do not use other applications on both devices until the process is not completed. Leave both devices alone and plug them into power while the data is transferred. The estimated time of the process depends on the quantity of data that you are transferring.
What can you transfer from Android to iPhone?
You can easily transfer data such as contact lists, messages, photos, and videos of your camera, albums, documents, files, accessibility and display settings, bookmarks and mail accounts, WhatsApp chat, and media.
Send Anywhere
Send Anywhere is an application through which you can easily receive and transfer data from an android to iPhone device. This application is working for both android and iPhone using Wi-Fi Direct. The main advantage of this application is you can share any size of file. As Send Anywhere application provides you peer-to-peer connection through which you can securely share data. You can download Send Anywhere application from the Google play store And App Store. Moreover, you can sign in to your account on the web Send-Anywhere.com.
The steps for transfer data from an Android to iPhone using Send Anywhere Application are given below:
After installing the application on both devices, Open the application on Android and iPhone, and allow the required permissions to access the stored data of your device.
Mark the Sender to Android and the receiver to iPhone, after that turn ON the Wi-Fi to connect both devices wirelessly.
Then the application allows you to select the files that you wish to transfer from your Android to your iPhone device. when you select the data then tab on start the transfer option.
As it provides peer-to-peer communication, to verify the connection, you need to enter the 6-digit security code into your iPhone which is appeared on your Android Phone. Then click on the "upload" option and the process of transferring data will be completed after a few minutes. On the other hand, you can scan the QR scanner of your iPhone to send the files directly.
Conclusion
Nowadays, numerous software is available to transfer data from  an Android to iPhone devices, the application Move to iOS was introduced by Apple which helps to send data most easily. Besides, you can use another popular application Send Anywhere to share data between Android and iPhone devices. These applications not only transfer data but also provides you with end-to-end encryption to transfer data between two devices.