M4A4 is a bit more expensive than the M4A1-S, but it is viable if you've got reasonable recoil control. While we're on that subject, if you have the M4A4 as a Counter-Terrorist, you might want to sport yourself out with some of the best M4A4 skins in CS:GO. They're definitely fashionable, and moreover, they're preferred by a good portion of the community, but at the end of the day, it boils down to your personal preference.
M4A4 | Dragon King
Price: $24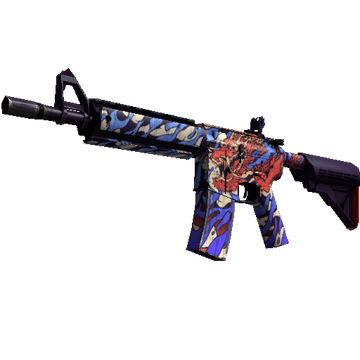 Why does the M4A4 Dragon King come top of this list? There are two reasons: it is fashionable and cheap. This particular M4A4 is made with a red Chinese dragon as the heart and soul of its beauty. You'll notice an ornament with blue, purple, and white colors on the handle, magazine, and guard.
It has a Float Value between 0 and 0.75, which means that you can get it in all conditions. The gun starts to wear out slightly on the magazine and buttstock in Minimal Wear condition, and it only gets worse from there.
M4A4 | Asiimov
Price: $154
M4A4 | Asiimov was released as a part of the Winter Offensive collection in 2013. If you've seen the AWP | Asiimov, you're probably familiar with what the skin looks like. It has white and black paint on its body, with streaks of orange, and is one of the more popular M4A4 skins within the CS:GO community.
M4A4 | Asiimov has a Float Value between 0.18 and 1.00, which means that the skin isn't available in Factory New condition but can be found in all other states.
Are you wondering why the prices we've listed for these skins don't match the ones on the Steam marketplace? That's because, with third-party marketplaces, you can buy skins for your CS:GO account at a much lower price than on Steam. You'll find trusted traders on our platform and multiple payment methods to help you complete your transaction quickly.
M4A4 | Cyber Security
Price: $12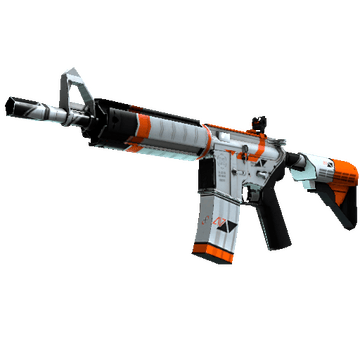 M4A4 | Cyber Security was released as a part of the Broken Fang collection and has a geometric pattern with blue, red, and yellow colors. You can find hieroglyphs on the receiver, handguard, and magazine.
The Float Value of M4A4 | Cyber Security is between 0 and 0.98, which means it can be found in all conditions.
M4A4 | Neo-Noir
Price: $28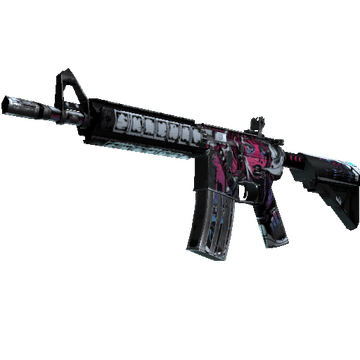 Inspired by the Neo-Noir comic style, the M4A4 | Neo-Noir has an image of a girl painted on its center, magazine, and handle. The girl is holding a sword and clenching her fist. The color scheme uses purple, black, blue, and pink.
You can find the skin in all conditions with a Float Value between 0 and 0.90.