Microsoft Office is a set of important software that many people use at home and at work. Word, Excel, PowerPoint, Outlook, and other important apps are included in this package. But Microsoft Office can have problems, just like any other piece of software. The Microsoft Office error number 0x4004f00c is one of the most common. This mistake can be hard to fix because there are several ways to do so. In this full help, we'll go over these ways step by step so you can get back to using your Office suite quickly and easily.
What is Microsoft Office error code 0x4004f00c?
Before we can figure out how to fix this annoying error code, we need to know what it means. Error number 0x4004f00c usually happens when there are problems with how Microsoft Office is enabled. It can show up in many ways. For example, when you try to open an Office program, you might see a message that says "Microsoft Office can't find your license for this application." Let's talk about how to fix it now that we know what's going on.
Method 1: Check your Internet Connection
We'll start fixing this problem by making sure that your internet connection is stable. A weak or unstable internet link can sometimes be the cause of problems with registration. Because of this, making sure your internet connection works well is very important. Once this is certain, try again to turn on Office.
Method 2: Use the Office Activation Troubleshooter
Microsoft has made the very helpful Office Activation Troubleshooter tool available. This useful tool is designed to find and fix problems with activation on its own. We'll show you how to use this tool in the steps that follow:
Start by going to the main Microsoft page, where the Office Activation Troubleshooter can be found.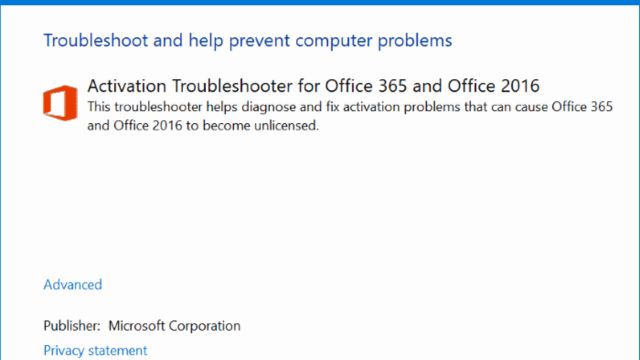 After you get the tool, run it by double-clicking the file you got and carefully following the steps on the screen.
The troubleshooter will then go off on its own to fix any problems with registering.
Method 3: Check for Multiple Installations
If you use the same product key for Microsoft Office on more than one computer, you will have activation trouble. It's important to know that the number of times you can run depends on the type of license you have. To fix this, turn off Office on any devices that don't need it and then try to turn it on on the device where the feared error code is showing up.
Method 4: Update Microsoft Office
Another thing that could go wrong with registration is the program itself. Activating old versions of Microsoft Office can sometimes be hard. So, you should always have the most recent version of Microsoft Office. Microsoft usually puts out updates that fix a wide range of problems, such as registration errors.
Method 5: Repair Microsoft Office
Error number 0x4004f00c can happen when an Office update is broken or not finished. You might want to try the following to fix your Office software:
You can start the process by going to the Control Panel on your machine.
Then click on "Programs and Features."
Find Microsoft Office on the list of already loaded programs.
When you right-click on Microsoft Office, you can choose "Change" or "Repair."
Pay close attention to the steps on the screen. They'll tell you what to do to fix the problem.
Method 6: Contact Microsoft Support
If you've tried all of the above methods and still can't get rid of the error code, it's not a sign of failure to contact Microsoft Support. They have a team of committed experts who know how to get through the hard activation process and can help you deal with this problem.
Conclusion
Microsoft Office error number 0x4004f00c can be annoying, but it's important to know that it's not hard to fix. If you follow this guide step by step, it will be easy to find and fix the problem. By doing this, you'll make sure your Office suite works well, so you can get back to work without any problems. To read more content like this, visit https://www.trendblog.net.
Frequently Asked Questions (FAQs)
Most of the time, what causes Microsoft Office error number 0x4004f00c?
Error code 0x4004f00c is usually caused by problems with activation, such as problems with the product key, having more than one installation, or an unstable internet link.
Can I fix this mistake on my own, or should I get help from a pro?
Follow the steps in this guide to see if you can fix this mistake. Don't be afraid to ask Microsoft Support for help if they don't work.
Why should I always make sure my Office suite is the latest version?
It's important to keep your Office suite's updates up to date so you can get the latest bug fixes and security improvements. Also, making changes can be a big part of fixing activation problems.
What can I do to avoid making the same mistake when I register again?
To avoid activation errors, make sure you use a valid product key, don't install more than the number of times allowed, and keep a strong, stable internet link.
Where can I find out more about Microsoft Office troubles and how to fix them?
You can find a lot more information and help on the official Microsoft support website or by joining a community group, where users often share tips and answers.