With the release of Android 14 Developer Preview 2, we are starting to get a better idea of what Google will bring to the table with this year's launch. When the stable build of Android 14 comes out later this summer, the best Android phones in 2023 and 2024 will run on it.
Even though it's not likely to be a big redesign like Android 12, it looks like it will still bring a lot of quality-of-life improvements like longer battery life, easier access, and a new way to go back. Stay with us to learn what we know about Android 14 so far.
What's New in Android 14 Developer Preview 2?
With the release of the second developer preview for Android 14, we are getting a better idea of what this year's OS update will be like. This includes the arrival of some hidden features that were first seen in DP1 and are now being pushed by Google as official features in the DP2 announcement.
Also Read: How to change the language in Google Chrome with a few simple steps?
For example, here in DP2 is the page where you can set your preferences for your country. In February, Mishaal Rahman found this page, but it was hidden by flags. With the launch this month, we can now see how they work. These settings can be found in Android 14 right below the language settings for each app.
They let you choose how you want to use units and numbers. You can use it to change individual apps between Celsius and Fahrenheit, use different calendars like Chinese, Dangi, or Hebrew, choose which day of the week you want to be the first, and choose which number system to use.
Top Features in Android 14
We're talking about the features and changes we like best so far, but it's hard to tell what will end up in the final version. On Google's developer site, you can find out more. From what we've seen so far, Android 14 doesn't seem to have any major new features and is mostly just a small improvement over its predecessor.
Improved Battery Life
There isn't one feature that stands out, but Google has worked hard to make Android run faster and use less power. Android phone owners should be able to get a little more battery life out of their phones by making a few changes to how the operating system handles background tasks, downloads, and uploads.
Notification Flash
When your phone's volume is low or it is only set to vibrate, it can be easy to miss a notification. If you have trouble hearing, neither of these options may help, so a visual indicator may be the best way to tell if your phone is getting notifications. You can make the camera flash or the screen flash when you get a notification with Android 14 Developer Preview 2, though.
Also Read: How to change the google background with five simple steps?
Larger Fonts
Android has had large fonts for a long time, but what if even the biggest font is too small for you? Well, you're in luck, because one of the biggest changes in Android 14 is that the font sizes are bigger. Google says that in Android 14, users can now make fonts bigger by up to 200%. In Android 13, users could only make fonts bigger by up to 130%. The company also says it will use non-linear font scaling so that text that is already big won't get bigger. For instance, a heading's size might not change, but the size of the text below it might.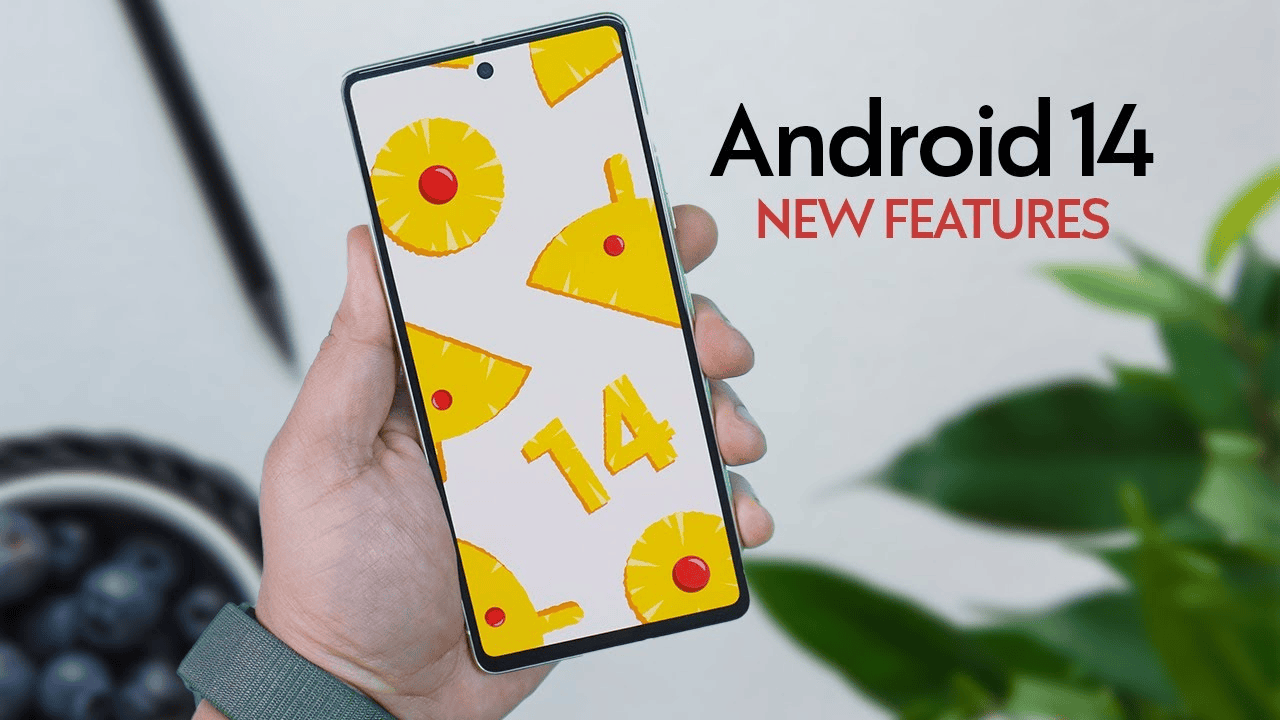 Better Support for Large Screens
Google said right away in the first developer preview that it would help developers make apps that work well on different-sized screens. When developers have more tools and design tips, they will be able to make apps that work well on smartphones, folding phones, and tablets. This would be like what Apple did to make sure its app ecosystem worked the same way on the iPhone, iPad, and MacBook.
Limiting Access to Photos and Videos
If you don't like that an app can see all of your photos and videos or none of them, you'll be glad to hear that Android 14 lets you choose which ones it can see. The same thing was added to iOS 14 by Apple.
Better Security
Malware tends to target older versions of Android to get around the security improvements in newer versions, so Android 14 won't let you install apps from Android 5.1 and earlier. A few other changes were made behind the scenes to improve security, but the one that might stand out the most is the better support for authentication with passkeys, which lets more apps use biometric login instead of passwords.
Regional Preferences
Whether you like the temperature in Celsius or Fahrenheit, Monday or Sunday as the first day of the week, or a certain calendar or number, you can set these system-wide in Android 14, and they will stay even if you back up and restore your phone. There is also better support for languages with genders, like French, and better personalization of languages based on where you live.
Connectivity via Satellite
Last year, when Apple released the iPhone 14 with Emergency SOS via Satellite, there was some talk about phones that can connect to satellites. Google's senior vice president for Android, Hiroshi Lockheimer, said in a tweet that Android 14 will support this kind of connectivity. Still, this could make it easier to connect in places that don't have cell service yet.
Predictive Back Movements
Google hasn't confirmed this, but the latest developer preview has predictive back gestures that let you see a preview of the screen you'll go to when you swipe back. On Android, it's not always clear where you'll go when you swipe back. It will sometimes take you to the home screen, sometimes to the screen before that, and sometimes to an app. This should clear up any questions.
Also Read: Check What's New In Android 14 Developer Preview 2 Released By Google!
Cloning an App
People who have more than one account in the same app will like this one. With a second copy of an app, you can use two accounts at the same time. There are other ways to do this, and some phone makers let you do it with certain apps, but an official Android setting will probably work better. Right now, Google is just testing this, so it may not be in the final version of Android 14.
Conclusion
Android 14 has the same plan as the ones that came before it. The timeline below shows that Google gave us two developer previews. The first one came out in February, and the second one came out in March. Google will release the first beta version sometime in April, but the full version is likely to come out in May. In the past, the company has always released some of the most interesting changes at the same time as its annual developer conference, Google I/O. Mark May 10 on your calendar if you want to see Android 14 in action on stage.