For most parents, ensuring the safety and security of their children is the utmost priority. Letting your children leave the house can be a concern because of increasing abduction, theft, and car accidents. You can't keep your children in front of your eyes all the time, but you can track their real-time location and be aware of what they are up to. Wondershare FamiSafe is an accurate tool that allows you to track a cell phone location for free and protect your child from worldly dangers.
Part 1: What Do You Understand by GPS Tracking?
We hear the word GPS tracking often and use it daily subconsciously. The Global Positioning System (GPS) is a navigation system that uses satellites orbiting the Earth. GPS Tracking enables users to find the exact location of an object or person. For this to work, a tracking device must be installed on the object you are trying to locate.
If you want to check your child's location, then a device such as their phone will be used to find the location and monitor movement. These devices, such as smartphones, send signals to the network of satellites, which can determine your child's location and find lost valuables as well. This advanced technology gives the exact location of your child using latitudes and longitudes. Without GPS, it would have been impossible to accurately get information about people, assets, and lost objects.
Part 2: Introducing Wondershare FamiSafe – The Real-Time Location Tracking Tool for Parents
Wondershare FamiSafe is a tool for parents like you who are constantly concerned about their children. You can view the real-time location in a few taps and check if your child is where they are supposed to be. This can help in an emergency so you can get to your children if you find them heading towards a suspicious area. The Location History feature is about to make your life easier than ever.
Sometimes you are busy, so you cannot track the real-time location when your child is outside the house. With FamiSafe's location history feature, you can check your kid's recently visited areas whenever you want. You can also set a geofence such as a school or home, and FamiSafe notifies you whenever your kids leave the safe locations. The fantastic tool offers many other features, including web and phone activity monitoring.
Part 3: Steps Explaining How to Find the Location of Your Child with FamiSafe
Now, you must want to track your child's location. But are you confused about the process because you are not tech-savvy? Well, don't worry because using FamiSafe is as easy as it can be. Just follow this simple guide and start tracking your child's location:
3.1 Set up Parent's Phone
Step 1: Go to Play Store or App Store and download Wondershare FamiSafe. Launch the FamiSafe application and click the "Start" button to start setting up your phone.
Step 2: Register a Wondershare ID or use an existing Google, Facebook, or Apple ID to log into FamiSafe. There is a "Continue as Guest" option for parents who do not want to log in at all.
Step 3: Next, tap the "Connect a Device" button to connect your child's phone with yours. The tool will take you to another screen where the QR and pairing code will be present. We will use these when setting up your child's phone.
Step 4: Follow one method from the next part to register your child's device. Go back to your device and set up basic parental control on it with the started wizard.
3.2 Setup Child's Phone
Method 1: Open your child's phone and scan the QR code that was given on your device. This will automatically download FamiSafe and connect both phones.
Method 2: The alternative method is to download FamiSafe on your child's phone manually. Next, open FamiSafe and hit the "Start" button. Now you can enter the pairing code you got on your device to establish a connection.
3.3 Grant Access to Child's Android Device
Step 1: Now, let's grant permissions to FamiSafe on your child's device so it can deliver accurate GPS tracking results. So, enable the "Run in Background" and "Accessibility" options.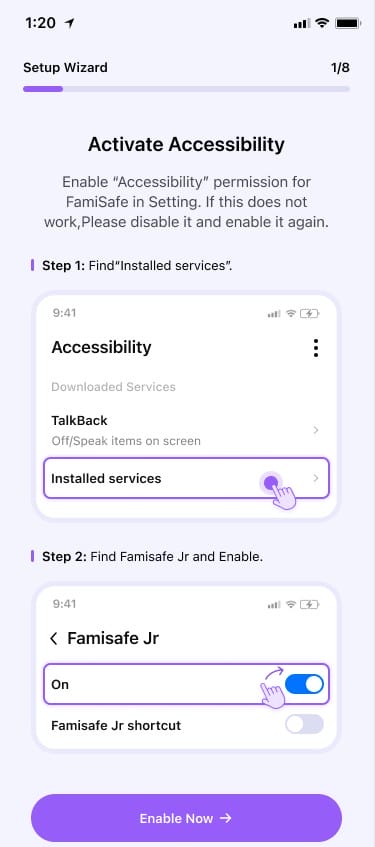 Step 2: Activate app supervision, so FamiSafe keeps you updated with reliable reports regarding your children. Following this, activate the "Display over other apps" feature to allow FamiSafe to appear on the blocked apps.
Step 3: If you want to capture and read through text messages that your kids receive, then turn on notification access. It is necessary to activate location access because you have to track your child's location.
Step 4: You can explore other permissions and grant access to FamiSafe. Such options include "Battery Saver" and "Autostart."
3.4 Grant Access on Child's iOS Device
Step 1: On your kid's iOS device, open "Settings" and search "FamiSafe." Open the application's settings and activate the location.
Step 2: FamiSafe needs permissions on an iOS device as well for optimal performance. Install a FamiSafe profile, and it will provide simple instructions that you can follow to grant permissions.
Step 3: The tool also has a feature that saves your child from exposure to inappropriate content on Safari. To use this feature, go to "Settings" and search "Safari." Here, click the "Content Blockers" option and enable "FamiSafe."
3.5 Track your Child's Location
Now, you can track your child's location, so launch the tool on the parent's phone and select "All Features." Explore and select features you need to use, such as "Real-Time Location," "Location History," or "Geofences." Apart from location monitoring, you can also check the YouTube or TikTok history. Tap on any feature, and you will get a set of instructions to use it.
Conclusion
As a parent, you have a huge responsibility to safeguard your children from the dangers that this world can pose to them. By tracking their real-time location, you can take a huge step toward their safety. Wondershare FamiSafe is a secure and reliable tool that will never share your child's personal information with anyone. So, download the tool today and start using its unique features.