The Review of Samsung Galaxy S21 Ultra and How to Bypass FRP Lock on It
Samsung Galaxy S21 Ultra was the flagship smartphone released by Samsung, and at its release, it was the best and fastest Samsung device. But as the Samsung devices go, it was also very expensive, making it hard for many people to buy the S21 Ultra. Now that Samsung Galaxy S22 Ultra has been released, you can buy Galaxy S21 Ultra at a much lower price when buying a secondhand device. There is a high chance that the device you bought is FRP locked due to hard reset, making FRP bypass Samsung devices compulsory.
FRP lock is a security feature that is enabled when an Android device is factory reset using untrusted methods. That means you need a great Android lock screen removal tool to unlock it. Dr.Fone – Screen Unlock (Android) is a great tool for bypassing FRP on Samsung Galaxy S21 Ultra.
Part 1: A Detailed Review of Samsung Galaxy S21 Ultra
Samsung released its flagship device Samsung Galaxy S21 Ultra, in January 2021, and at that time, it was the best Samsung device released ever. It proved to be a great improvement over its predecessor S20 series. A lot of glaring issues with the S20 series were resolved in Galaxy S21 Ultra. The smartphone contains an excellent design, immersive display, great battery life, and breathtaking cameras. Following are some of the key characteristics of the Samsung S21 Ultra:
1. Design
Samsung Galaxy S21 Ultra doesn't differ much from its predecessor but has improved in some areas. The phone design looks more beautiful and slicker now, and the camera hump looks good though it necessitates you buy a case for the device. The front screen has been curved around the edges slightly, making phone usage easier. The in-screen fingerprint button is 1.7x larger. It also comes in amazing colors: Phantom Black, Phantom Silver, Phantom Brown, Phantom Titanium, and Phantom Navy.
2. Display
The Galaxy S21 Ultra has a 6.8-inch Dynamic AMOLED display screen, which is the best screen compared to its competitors. The 120Hz dynamic screen refresh rate is marvelous, making the scrolling and game-playing super smooth and addicting. It is also the first Galaxy device in which Samsung has introduced its famous S-pen. Although you need to buy the S-pen and its case holder separately, it works pretty well with the device and can make your experience smoother and richer. Samsung has now also introduced S-pen Pro, which has many features.
3. Cameras
The most talked about part of the Samsung Galaxy S21 Ultra is probably its cameras. It supports a 108MP wide sensor camera, two 10MP telephoto shooters, and a 12MP ultra-wide camera. The front camera also consists of 40MP with a phase-detection autofocus feature. The main camera also contains laser autofocus to stop photo shakiness. One telephoto camera offers 3x optical zoom, while 2nd one supports 10x optical zoom. The S21 Ultra offers 100x zoom when taking pictures, though it works best at 30x zoom.
Regarding making videos, Samsung Galaxy S21 Ultra can record in 8K up to 24fps, while all its cameras can record videos in 4K up to 60fps. Unlike its predecessors, it also offers the ability to play videos using a 120Hz screen rate and Quad HD resolution. The best new feature is Director's Cut, in which you can record videos using both front and rear cameras simultaneously. This feature could be very appealing to you if you are a content creator or a vlogger.
4. Performance
The Samsung Galaxy S21 Ultra is among the first devices powered by the new speedy Qualcomm Snapdragon 888 5G chip. It is perfectly enhanced by 12GB or 16GB of RAM of S21 Ultra. The device doesn't lag or overheat when running multiple apps simultaneously or playing games packing heavy graphics. Since Samsung has decided to remove the MicroSD card slot from S21 Ultra, storage space can be a problem. You would likely need to buy a 256GB or 512GB version; both are pricey. Samsung has also removed the support for Samsung Pay – MST in the S21 series.
5. Battery Life
Samsung Galaxy S21 Ultra supports a 5000mAh battery and offers 25W quick charging. The battery life is among the best when it comes to 5G smartphones. When web surfing on 5G, the battery can easily last up to 12 hours. The battery performance is reduced if you use the device on 120Hz and Quad HD resolution. You will not get a charger with Galaxy S21 Ultra. If you use a 25W quick charger, S21 Ultra can charge up to 56% in 30 minutes.
Part 2: Dr.Fone – Screen Unlock (Android): Introduction and Features it Packs
The secondhand Galaxy S21 Ultra you bought is FRP locked, and you need a way to bypass it, and that's where Dr.Fone – Screen Unlock (Android) comes in and solves your problem. Dr.Fone is the complete package for any phone issue that you could face. This tool contains services like phone and WhatsApp transfer, data recovery and permanent data eraser, phone and password management, phone back and restore, and screen unlock.
When specific to screen locks, it can bypass any type of lock, including PIN, password, pattern, or biometric locks. In the case of Samsung and LG devices, you can unlock the screen without losing data. It can bypass FRP lock on Samsung devices with Android OS 6 and above.
Part 3: The Process of Bypassing FRP on Samsung Galaxy S21 Ultra
Bypassing process of FRP lock on Samsung Galaxy S21 Ultra using Dr.Fone is easy and short. You don't need high technical knowledge, as Dr.Fone has turned the process into a few simple steps for you. Have the Dr.Fone app installed on your computer, get a USB to connect your S21 Ultra to your computer, and you are ready for the process.
Make sure that your Samsung Galaxy S21 Ultra has at least 50% battery and is connected to stable internet constantly. You can follow these simple steps to bypass FRP on Samsung Galaxy S21 Ultra:
Step 1: Select "Unlock Android Scree/FRP" after choosing the "Screen Unlock" option on the home interface of Dr.Fone. Here click on the option "Remove Google FRP Lock" to initiate the process.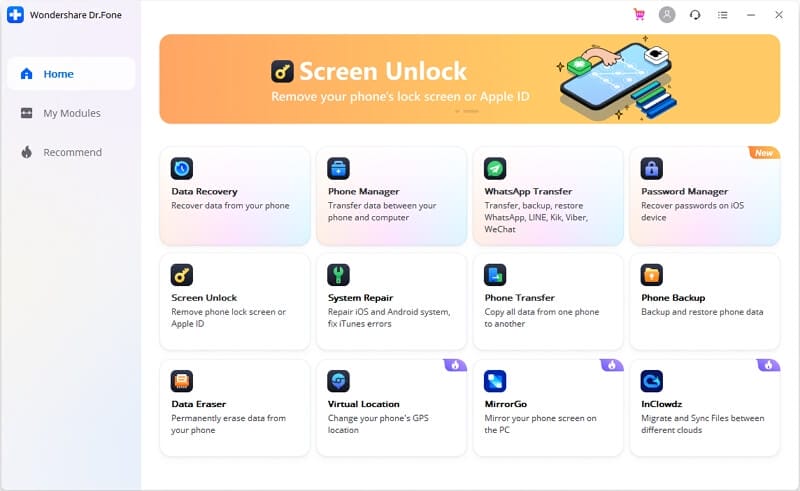 Step 2: Now connect your Galaxy S21 Ultra to your computer and select "Android OS 11/12" from the options under "Remove Google FRP Lock." Next, press "Start" to begin the S21 Ultra FRP bypass process.
Step 3: After pressing "Start," notification will be sent on both the computer and Samsung Galaxy S21 Ultra. Click "Confirmed!" on the computer and move on to your Galaxy S21 Ultra to proceed further.
Step 4: You need to press "View" on the notification on your S21 Ultra device. It will open the Samsung Galaxy Store, and here tap on "Agree" so you can install an application. Now search for the "Alliance Shield" app on the Galaxy Store and press "Install" to start the installation process.
Step 5: Before you can install the app, you need to login into Galaxy Store. If you already have a Samsung account, use that or create a new one and use it to log in. After logging in, complete the installation of "Alliance Shield."
Step 6: When "Alliance Shield" is installed, press "Open" to launch it on your S21 Ultra. Tap "Skip" to proceed to the login screen. You need to create an account at "alliancex.org" to be able to use the app. Create the account and log in to the app using it.
Step 7: First, set up a device name in the app and then turn on "Device Admin" across the app. When tapping "Next," a confirmation window will appear. You have to press "Activate" to close it and continue the FRP bypass process.
Step 8: In the next screen, you need to enable "Knox" across the app. A confirmation window will open after pressing "Next," you have to click "Agree" to confirm enabling Knox.
Step 9: As the "Knox" is now enabled, press "Next," and on the proceeding screen, tap on "Finish" to end the configuration process. Afterward, proceed with the "App Manager" option from the Alliance Shield menu.
Step 10: Next, search for "Service Mode" in the search bar on the app, and be at the "Activities" tab when accessing it. Here search for "com.sec.android.app.modemui.activities.USB Settings" option.
Step 11: Tap on the option when you have found it. It will open a pop-up menu; proceed with the "Open" option from it. On the resulting screen, mark the "MTP + ADB" option and press "OK" to proceed to the next screen. There you need to enable the USB Debugging option. When the USB Debugging is enabled, unplug the Samsung Galaxy S21 Ultra and reconnect it to the computer.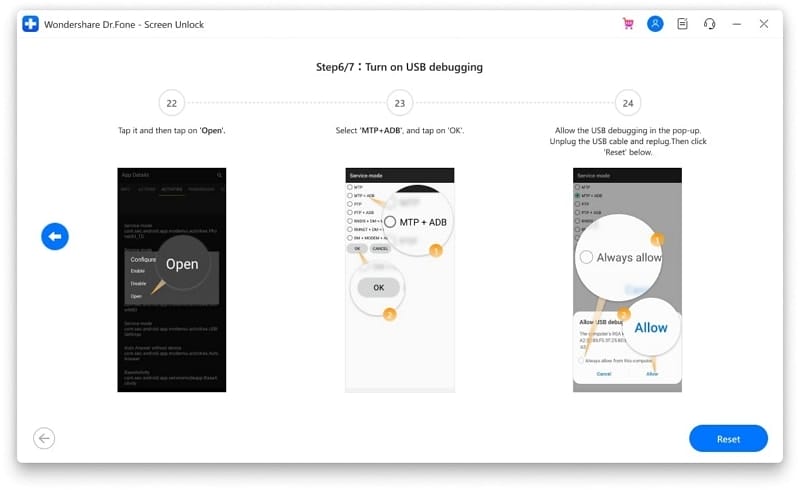 Step 12: The Samsung Galaxy S21 Ultra needs to be restarted to continue the process. After the restart is complete, factory reset the device from phone settings. Bypassing process of FRP lock on Galaxy S21 Ultra is completed once the device has been factory reset. Now you can add a new Google Account to it and use the device limitlessly.
Wrapping Up
Although Samsung Galaxy S21 Ultra is a year-old device, it is still among the best devices in the smartphone world. The One UI can be upgraded to version 4.0, and Android OS can also be upgraded to the current Android 12. Samsung has also promised to provide updates until Android 14. It means that Galaxy S21 Ultra can be used for several more years. So, if it is FRP locked, don't worry, as Dr.Fone – Screen Unlock (Android) can unlock it, leaving you with a great smartphone at a low price.