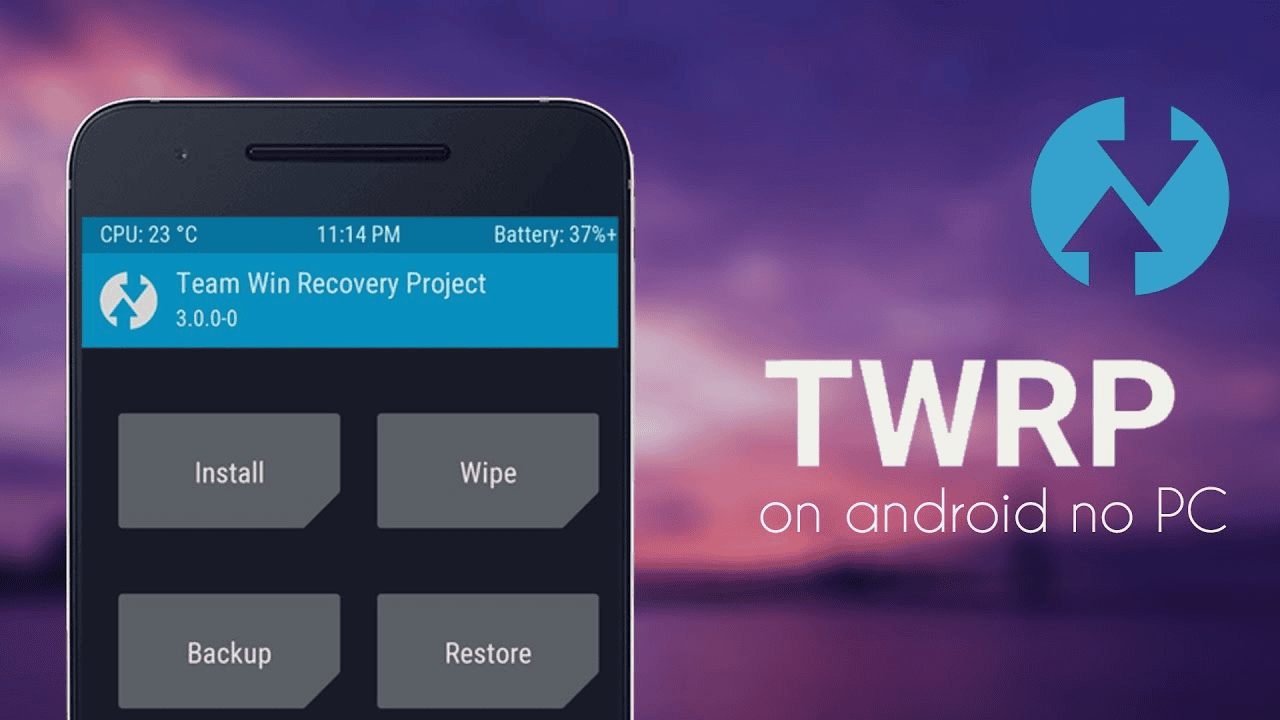 How to install TWRP Recovery on Android
Install TWRP recovery on Android, TWRP, short for TeamWin Recovery Project, is a custom recovery that adds a number of useful functions to your Android-powered mobile device. This recovery can be used in place of your stock recovery to facilitate the installation of new software, such as a different operating system or kernel, on your device.
Depending on your device, you'll need to utilise a certain technique to flash TWRP recovery. Following are a few options for downloading and installing TWRP Recovery on your mobile device.
Why Install TWRP Recovery?
Moving away from vanilla recovery and onto TWRP has several benefits.
Usually, this is done so that you can flash your device with modified software. To flash any custom stuff, you can't use the stock recovery. However, TWRP allows you to flash just about any supplemental software onto your Android handset.
TWRP's features greatly outshine those of standard recovery. With this modified recovery, you can back up and restore data more efficiently.
How to Install TWRP Recovery Using an App (Root Required)
The official TWRP Recovery app is the simplest way to install TWRP on a rooted Android smartphone. The programme directs you to the appropriate recovery image download page for your device, and then you may use the same app to flash the image into your device.
To install a custom recovery, you must first unlock your phone's bootloader. Find out how to accomplish this specifically by visiting the device's manufacturer's website.
TWRP can be installed when root access and the bootloader have been established in the following ways:
If you want to install the official TWRP app, you'll need to head to the Google Play Store.

Start up the freshly downloaded programme.

Choose OK to accept TWRP's licence agreement.

On the next screen, select TWRP Flash.

To select the Android smartphone you wish to use, tap the Select Device button.

The device recovery images have loaded. To use the latest recovery, go here.

When used, the software will launch your device's web browser and send you directly to the TWRP homepage. To store the TWRP recovery to your gadget, click the download link for the TWRP.img file below.

Go back to the TWRP programme after the recovery has finished downloading.

Select the file you want to flash by tapping the corresponding button in the programme.

Flash the recovery image you downloaded by selecting it.

Make use of Flash to Recovery, then click Okay.
How to Manually Install TWRP Recovery on Android (No Root Required)
While rooting is required to flash TWRP recovery on an Android device, the fastboot technique can be used even if root access has been disabled. This method will flash the recovery image straight to the device's recovery partition.
Verify that the bootloader has been unlocked. Then, if you want to install TWRP, do as follows:
Open a web browser and go to the TWRP recovery site on your computer.

Visit the site, go to the Devices tab, choose your device, and then save the most recent recovery image (.img) to your computer's desktop.

To do this, navigate to Settings > About phone on your Android handset and tap the Build number about seven times. A notification will appear on your screen congratulating you on your new career as a programmer.

Again, enable USB debugging by going to Settings > System > Developer Options on your phone. Use the USB cord to link your gadget to the computer.
Get the Android Debug Bridge (ADB) toolkit and unpack it on your PC. Insert the recovery image (.img) file you downloaded here.

Simply launch CMD and replace PATH with the complete path to the ADB folder in the command below and hit Enter to get started path cd

Paste the following into the Command Prompt window and hit Enter. As a result, your device will restart in bootloader mode. reboot bootloader with adb

To proceed once your device has entered bootloader mode, open a Command Prompt window and enter the following command. You must change "twrp.img" to the exact name of the recovery image you downloaded. quick recovery twrp.img flash using fastboot

If you do that, your device will be updated with the TWRP recovery. Launch the following command to enter the recovery mode when the flashing process is complete. You may avoid having the ROM erase your custom recovery by following these steps.

This is a fastboot boot twrp.img. At this point, your Android smartphone should have entered TWRP recovery mode.
How to Install TWRP Recovery on Samsung Devices
The aforementioned approach won't work with a Samsung Android handset because Samsung doesn't support the fastboot mode. You should utilise download mode to flash TWRP recovery on a Samsung phone or tablet.
Launch TWRP on your computer, then go to the menu bar and click Devices.

To customise your experience, select Samsung and then your smartphone model.

A.tar file is the recovery image, which you should download. For the flashing process, you'll be utilising Odin (Samsung's flash tool).

To enter download mode on a Samsung, simply restart the device. Turn off your phone, hold down the Volume Down, Home, and Power buttons all at once, and then hit the Volume Up button to enter download mode.

Utilize a USB cord to link your Samsung device to your personal computer.

Obtain the Odin utility from the internet and run it on your PC.

Pick the AP tab in Odin and then select the recovery file you downloaded.

To begin setting up TWRP recovery on your smartphone, tap Start.

When recovery has been installed, you can enter recovery mode by pressing the Volume Up, Home, and Power buttons simultaneously.
In this way, you can install a robust custom recovery on your Samsung device.
How to Go Back to the Stock Recovery on Android
Flashing the original ROM on your phone or tablet is the simplest approach to restore the factory recovery. The phone will revert to its original settings if you do this.
Flashing the stock recovery image is another option for restoring the factory recovery. This image can be located on places like XDA Forums, and then flashed onto your device using the right manner.
When you use TWRP recovery on your Android device, you'll have access to a wide variety of additional customization options. You can quickly and easily backup your entire device, flash a wide variety of custom ROMs, and experience enhanced performance with custom kernels.
Also Read: 
Here is How to put iPhone 13 in Recovery Mode if you Can't update or Restore it
How to Hard Reset Your iPhone SE Using DFU, Recovery Mode or Manually
8 Methods to fix Hulu Error 94 Within Minutes
How to use YouTube in Picture-in-Picture (PiP) mode on iOS
FAQs: 
Q1: Can I install TWRP recovery without PC?
Even though you'll need a personal computer to unlock the bootloader and install TWRP Recovery, you can still do so by linking two Android devices together.
Q2: How do I enable TWRP in recovery mode?
The instructions say to "Volume Up + Volume Down + Home Button" repeatedly. You are now in the Bootloader. Activate the custom recovery mode by pressing the volume up and down buttons. Utilize the power button to access the Custom Recovery menu.
Q3: Can I install TWRP from SD card?
Fortunately, you can use TWRP to access files stored on an SD card or USB flash drive (using USB OTG). This allows you to obtain any necessary rescue ZIP, copy it to your device, and then flash it.
Q4: Can I unlock bootloader without PC?
The ability to unlock the Bootloader is manufacturer-specific. Google Pixel and Nexus devices can be unlocked directly from Google. Additionally, the Bootloader may be unlocked on a wide variety of smartphones, including Motorola, Xiaomi, Sony, HTC, Realme, and many more.
Q5: Can I flash TWRP with stock recovery?
The outcomes are equivalent when using either approach. TWRP recovery makes it easy to flash the stock recovery image. Simply restart the computer and select the recovery mode.