We can get some errors like Windows Update Error Code 0x80072efd, COM Surrogate Has Stopped Working, Kmode_Exception_Not_Handled BSOD Error, Blue Screen Critical Structure Corruption, and Corrupt Registry. The Kmode_Exception_Not_Handled Blue Screen of Death (BSOD) error is a dangerous system problem that can happen on Windows 10, 8, and 7 computers.
This mistake is often caused by drivers or system files that don't work well together or are broken. Having this problem can be very annoying, but you can try some things to fix it. In this piece, we'll look at these ways to fix your Windows system.
What is Kmode_Exception_Not_Handled BSOD Error?
Before we talk about how to fix the Kmode_Exception_Not_Handled BSOD error, let's talk about what might have caused it.
Drivers that don't work together or are broken: Hardware drivers that are out of date, don't work together, or are broken are often to blame for this problem. These drivers are very important because they let your hardware and system talk to each other. If they don't work right, the system could crash.
Software Conflicts: This error could be caused by two or more software tools or drivers that don't work well together. When multiple apps try to use the same resources at the same time, the system can crash.
System File Corruption: This problem can also be caused by damage to system files, such as those that control how hardware works with each other.
Now, let's look at how to fix the Kmode_Exception_Not_Handled error that causes the Blue Screen of Death (BSOD).
Method 1: Update or Roll Back Drivers
Without drivers, your computer's tools won't work right. The Kmode_Exception_Not_Handled error can be brought on by drivers that are too old or not the right ones. Here's how to update drivers or roll them back:
To get to Safe Mode, restart your computer and keep pressing the F8 or Shift+F8 key as it starts up.
To get to Device Manager, right-click "Start" and select "Device Manager."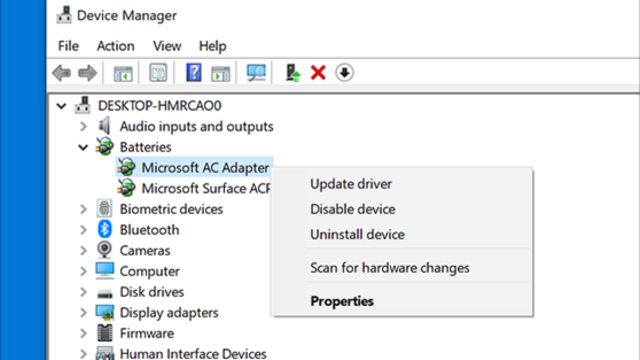 Update or Roll Back Drivers: Look for any devices with yellow circles or that you think might be causing the problem. If you can, right-click on them and choose "Update driver" or "Properties" and then "Roll Back Driver." Just do what it says on the screen.
Restart. Give your computer a standard restart and check to see if the BSOD problem is still there.
Method 2: Check for Windows Updates
When Windows changes, drivers are often updated and problems with the system are fixed. The Kmode_Exception_Not_Handled error can be fixed by checking for changes:
To get to Windows Update, click "Settings" and then "Check for Updates." "Update & Security" is better than "Windows Update."
Things to watch for: Click "Check for updates" and let Windows download and install any updates, like driver changes, that are available.
Restart Restart your computer to see if the problem is fixed and for the changes to take effect.
Method 3: Run the Windows Memory Diagnostic Tool
This mistake can also be caused by trouble with the memory. The Windows Memory Diagnostic tool looks for trouble with memory:
Start the tool for Windows to test memory. Type "Windows Memory Diagnostic" into the search box in Windows and click on the app that comes up.
Pick how you want to turn your computer on. You'll be asked to restart your machine and look for problems with the memory.
Wait until the Scan is finished. Windows will check the memory to see if it is okay. After you do this, your computer will work again.
Try to find trouble. After the restart, check to see if there were any memory problems. If so, your RAM may be broken and you may need to get a new one.
Method 4: Use a System File Checker (SFC)
System File Checker is a built-in tool that can look for and fix broken system files that might be causing the error:
Start Command Prompt as Administrator: Search for "cmd" in the Windows search bar, right-click on "Command Prompt," and choose "Run as administrator."
Start SFC: Type "sfc /scannow" and then hit "Enter." Wait for the scan to finish, then follow the on-screen directions to fix any broken system files.
Restart: Turn your computer off and on again to see if the mistake is still there.
Method 5: Check for Hardware Issues
Hardware problems, like loose links or broken parts, can lead to the Kmode_Exception_Not_Handled error.
Disconnect External Devices. Unplug any printers or external hard drives you don't need and keep only the ones you do.
Check how the hardware is hooked up. Make sure that all the gear inside the computer, like the RAM, hard drive, and graphics card, are in the right places.
Run Hardware Diagnostics. Many computer manufacturers include troubleshooting tools that can be used when the computer wakes up. Look at your computer's instructions to find out how to run these tests on it.
Method 6: Restore Windows to a Previous State (Windows 10)
You can take your computer back to when Windows 10 worked well on it. This can help if the mistake happened because of new changes or updates:
Get Access to Ways to Get Better: Go to "Settings", then "Updates & Security", and then "Recovery."
Click the "Get started" button next to "Restart this PC."
Select "Keep my files" to update Windows without losing your own files.
Just do what it says on the screen to finish the reset.
Method 7: Perform a Clean Install of Windows
If nothing else works and you keep getting BSOD problems, you might need to restart Windows. Make sure you have a copy of your information before you use this method.
Conclusion
The Kmode_Exception_Not_Handled Blue Screen of Death (BSOD) error can be hard to fix, but if you follow the steps in this guide, you can fix the problem on Windows 10, Windows 8, and Windows 7. Be careful with each way, and if you can, talk to a professional if you're not sure how to do something or if the problem still happens after you've tried these things. To read more content like this, visit https://www.trendblog.net.
Frequently Asked Questions (FAQs)
What does the BSOD message Kmode_Exception_Not_Handled mean?
The Blue Screen of Death (BSOD) error Kmode_Exception_Not_Handled means that a Windows machine has had a major system error. Most of the time, this error is caused by hardware drivers that are broken or don't work with the computer or by problems with system files.
Why do you have to update the drivers to fix this error?
Apps that are out of date or don't work well together can cause the Kmode_Exception_Not_Handled warning. Rollbacks and changes to drivers can help make sure that everything works well and stays stable.
What if I can't use these ways because I can't get into Windows?
If the error keeps you from getting into Windows, you can try starting up in Safe Mode or using a Windows installation or recovery disk to get to more advanced troubleshooting choices.
Is using the Windows Memory Diagnostic tool safe?
Yes, it is safe to use the Windows Memory Diagnostic tool. It helps figure out if the BSOD error could be caused by a problem with the computer's memory.
When might I want Windows to start from scratch?
Clean-installing Windows should be the last thing you try if nothing else works to fix the BSOD problem. Make sure you have a copy of all your files before you use this method because it will delete everything on your system drive.