Here at trendblog.net we need to use different online tools to manage the blog and to provide you with great content. But why? Because we are all separated by at least 1.400 miles (2.200 km) from each other. But still we have to communicate all the time.
There are many great tools out there which help people to communicate online. In this post I want to talk to you about one of the newest tools – Google Hangouts.
What is Google Hangouts?
Hangouts is Google's own cloud messaging system, which is integrated across all Google services and different platforms. To put it simply – Google Hangouts is a chat application with video call functionality and many other features.
Since the latest Google Hangouts update from May 15th we have decided to ditch all tools we used to communicate with each other and switch to the new Hangouts. Over the last week we have sent over 3,000 messages to each other using 10 different devices on 4 platforms.
To give you a clearer picture: We have tested and used Hangouts on our Android phones, iOS devices, Macs and Windows machines.
How is the "New" Google Hangouts different from the "Old"?
Introducing the new Hangouts, Google has successfully unified all of its previous messaging systems. "One chat to rule them all" so to speak. New Hangouts comes to replace Google's legacy messaging services like Google Talk, Voice, Messenger and the "old" Hangouts.
When the older messaging services were initially launched one after the other, Google has created a "communication mess", which the company has now successfully managed to fix.
Let's look at what the new Google Hangouts has to offer.
New Features & Stuff We Like
Being a replacement for Google's previous messaging apps, Hangouts combines everything into one single service, available on many different platforms. On Windows and Mac computers the app works as a Google Chrome plugin.
The good thing about having just one service is that you can now keep everything synchronized. So, with the new Hangouts you have all your communication, chats and everything else constantly synced across all your devices. For instance, if you dismiss a notification on one device, it will be dismissed on other devices as well.
The chat view features a flat and intuitive layout – messages from others on the left, yours on the right; just like with other popular messaging services like Whatsapp and iMessage. The position of your buddy's profile picture indicates what messages have been read and which are still to be read. Three green dots right next to the thumbnail show that somebody is currently typing a message.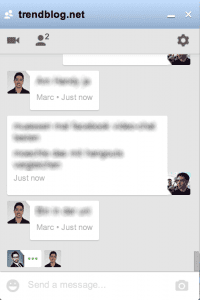 New Hangouts also offers free group video-calls for up to 100 people. The image quality is on par with Skype and Facetime, although video Hangouts are more sensitive when it comes to slow internet connections. Within the video chat you can add cool effects on top of your video and choose from a variety of games and apps.
If you don't want to be disturbed for a certain amount of time you can "Snooze" your notifications, disabling all Hangouts notifications for 1, 8 or 48 hours. If you snooze the notifications on one device, it will sync across all other devices. You can "un-snooze" the notifications any time you want.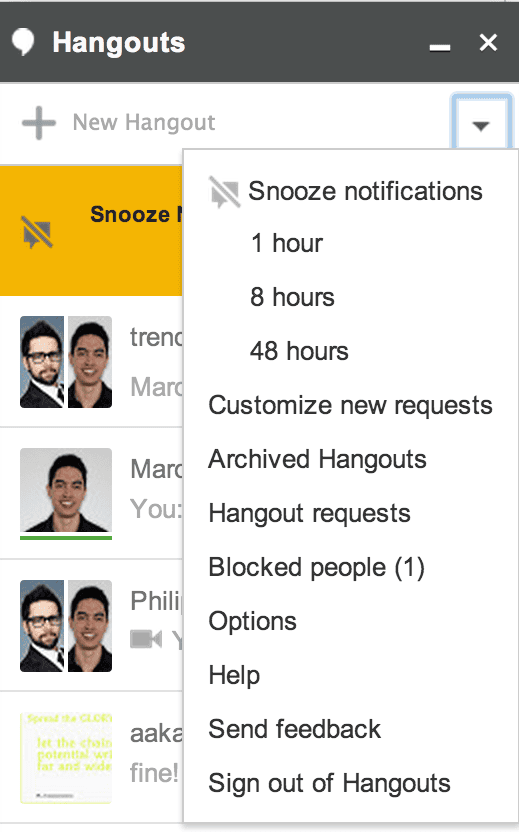 There was a huge discussion on Google+ about privacy settings. People were getting Hangouts messages from completely random people, which is quite annoying. I know. If you want to control who can and who can't send you messages, simply change your settings.
The service also comes with 800 hand-drawn emoticons on all platforms.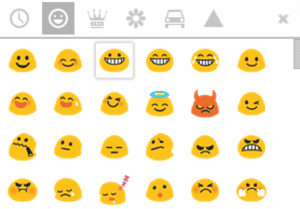 What we don't like about Hangouts
Google's main competitors, when it comes to messaging and video calls, are Whatsapp, Facebook and Skype. So, how will Google compete with them? Overall Google Hangouts seems to be working fine. But, as expected from new software, there are some bugs and missing features.
One of Hangouts' main selling points is that everything is in sync. Across all devices. Sometimes, when you switch to another device to continue the conversation where you left off, the chat doesn't seem to sync older messages to the other device.
On iOS this doesn't appear to be a big issue because you can "pull up to refresh" the chat and it will automatically pull the chat history onto the device. The function is missing on Android. You will either have to wait for messages to sync or just go with the fact that they simply won't.
On desktop computers and laptops Google Hangouts is working as a Google Chrome extension: all open chats are Chrome windows.
One thing we have discovered on Mac OS X is that if you are browsing in Google Chrome and have Hangouts enabled – when you minimize your main window you can't maximize it again by clicking on the Chrome icon in your dock. This is happening because the system thinks that Chrome is already open and the individual Hangouts are browser windows.
File & Photo Sharing
When collaborating with colleagues or chatting with friends you might sometimes want to send over some files or photos. Google Hangouts offers its users the option to transfer photos pretty easily. On desktop computers and laptops, clicking on the camera icon in the bottom-right corner of your chat window will bring up a pop-up, asking you to either drag-and-drop a photo into the pop-up, or choose a different source.
This also works seamlessly on mobile. You are given the choice to take a new picture, share a photo from Google+ or choose from other photos. So, basically, you can share a photo in 3 clicks.
To my surprise, Google Hangouts doesn't offer the option to transfer files to each other (yet?). In spite of having Dropbox, email and other ways to share files, sometimes you just want to quickly send something over.
When comparing new Google Hangouts with Skype, the latter definitely wins in the photo & file sharing category. Skype, for example, allows users to transfer files and photos by simply dragging and dropping the file into the chat window.
Conclusion
Overall, Google Hangouts is a very nice way to unify all the online communication you have. No more switching from Facebook to Whatsapp, then to Skype and back to Facebook. Google Hangouts keeps everything in one place. And this is its main selling point.
There are still quite a few bugs which have to be fixed. Google simply can't afford not to. In the long run Google will continue adding features and improve the service.
Below you can find the up- and downsides of the new Google Hangouts. Either way, test the new service and decide for yourself.
Our Rating: 4/5
TL;DR
Positive
Sync across devices

Consistent design
Easy mobile photo sharing
Search chat history in Gmail
Synced notifications
Snooze notifications
Group video up to 100 people
Hangouts on Air
Negative
Sync doesn't work sometimes

Relatively small amount of people using Hangouts
No ability to refresh chat on Android
No file transfer
No mobile Hangouts on Air
Other small bugs
What do you think about the new Google Hangouts? Have you discovered more bugs? Share your thoughts in the comments!