There are many factors that should count when rating a device. Apart from its performance and outlook, what should also be taken into consideration is customer satisfaction. Well, at least in the US, Samsung's Galaxy Note 5 got voted as the most popular smartphone among consumers. The device garnered a rating of 86/100 winning over Apple's iPhone 6s Plus with just one point. The iPhone 6s Plus received a rating of 85/100.
The poll was conducted by the American Customer Satisfaction Index (ACSI). Even though Samsung's Galaxy Note 5 topped the chart for being the most popular smartphone in the US, the company came second in the poll for the most reliable manufacturers. The first spot was taken by Apple while Samsung had to settle for the second position. Apple scored 81/100 while Samsung missed by just one point, at 80/100.
ASCI poll result for the Galaxy Note 5 and other smartphones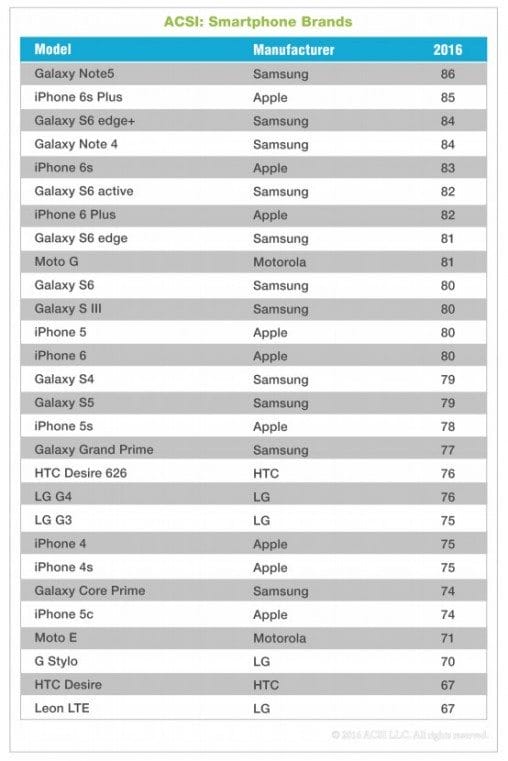 Talking about the most popular smartphone survey, the Samsung Galaxy S6 edge+ and Galaxy Note 4 won the third position with a rating of 84/100, while the iPhone 6s settled for the fourth spot with a score of 83/100. On the other hand, Motorola emerged as the third most reliable manufacturers with a score of 77/100.
To recap, the Galaxy Note 5 comes with a 5.7-inch QHD Super AMOLED screen. The device is powered by an Exynos 7420 chipset paired with 4GB of RAM. It sports a 16MP of primary camera and is backed by a 3,000mAh battery.
It looks like Americans have developed a soft spot for Samsung devices. An alarming bell for Apple, maybe?