Do you worry about locating your gadget that is not connected to the internet? It's becoming common for mobile phone makers to include security features that aid in the location of lost or stolen handsets.
While you may be concerned about your missing gadget, you may wonder: Is the service location of my lost phone still functional if my mobile phone is off? In order to find my offline gadgets, what need I do?
Don't be anxious! To learn how to retrieve your lost offline device, read the article below. Many of you inquire about the possibility of finding a cell phone that is switched off each and every time. The answer is obvious: Yes.
There are still methods that you may attempt to locate your offline gadgets, even if it isn't as simple as finding your mobile phone while it's on. Here's how it works!
How to locate a lost iPhone that is turned off for free
Finding your iPhone is made easy with the Find My iPhone feature. In order to use the feature, you'll need to go to iCloud.com to Find My iPhone. Click "All Devices" after you're logged in.
To retrieve your lost phone, just choose the device name from the list. Your phone will beep to notify you when you see a map on the screen that shows where your phone is. If your iPhone is missing or stolen, here's what you should do.
iPhone has the "Find My iPhone" and "Send Last Location" functions installed, which try their best to assist you locate an offline device running iOS 13 or later.
Even if your iPhone is not connected to Wi-Fi or a cellular network, you may still find it using "Find My iPhone." The "Find My iPhone" function in your iCloud allows you to locate your lost smartphone on another Apple device or the "Find My" app on another Apple device.
You will be unable to use the techniques mentioned above when your phone is switched off or has run out of battery. Although it shows your last location, the "Send Last Area" function may be helpful if you are searching for your phone in an unfamiliar location.
Additionally, you may activate the "Notify When Found" function, which notifies you through email when your phone is returned to you.
To set "Notify When Found" to notify you when you return, do the following steps:
Tap on your lost device in the "Find My" app.
There are two choices above the tab. Scroll up to view additional possibilities.
In the last step, toggle "Notify When Found" on.
Search for your iPhone using Google Maps
Google Maps is another method to find your iPhone if you've lost it. If you have not set up the Find My iPhone feature on your device, you may try this as an alternative.
Even if you haven't configured your Find My iPhone setting yet, your smartphone will register when you turn it on. You may use Google Maps to see your phone's "Location History" if it is not on.
If you've misplaced your Android phone, here's how to locate it.
If you have an Android phone, you may locate it using the Android Device Manager. If you have set up your Google account with your phone, just log in using that account on the Find My Device website to locate your phone. Select the "Find missing phone" option at the top of the screen if you have more than one phone. In addition, your phone's location will be shown on the map.
Click on "Play Sound" if the map displays that your phone is close. Even if the device is set to quiet, it will start ringing for the next 5 minutes to assist you locate it.
Trace switched off mobile current location or is it possible to locate a lost Android phone, if it is off
Even if you've misplaced your Android phone, you may find it if it is linked to the internet. If your device is off, what will you do? To locate your Android phone, you have many choices to choose from below.
Search for your lost phone using Google and Google's services.
In order to track down an Android phone that has gone missing, search for it using Google's Find My Device. To make this plan succeed, there are several conditions you need to meet:
With your Google account, your smartphone is linked to the internet.
To locate your device, you'll enable Find My Device to find it (this is turned on by default).
To alter this option, first go to the Google Settings app and make the adjustment.
The Find My Device app uses GPS to detect your phone's location and permanently erases existing info (this option is turned off by default).
Find My Smartphone is the simplest and most straightforward method to locate your missing Android device, and it doesn't need the use of any third-party application. As long as your phone is linked to your Google account, is switched on, and has access to the internet, you're ready to start using it.
While using your Google login, you may access the Find My Device page. The site will attempt to find your phone after you have visited the webpage. Note that you must choose the right Android device if you have several smartphones.
You can monitor your registered Android smartphone with ease by visiting the search results and looking for an updated tracking tool. In order to find your phone, just enter "Where is my phone?" into the Google search bar and Google will show a map pinpointing your location.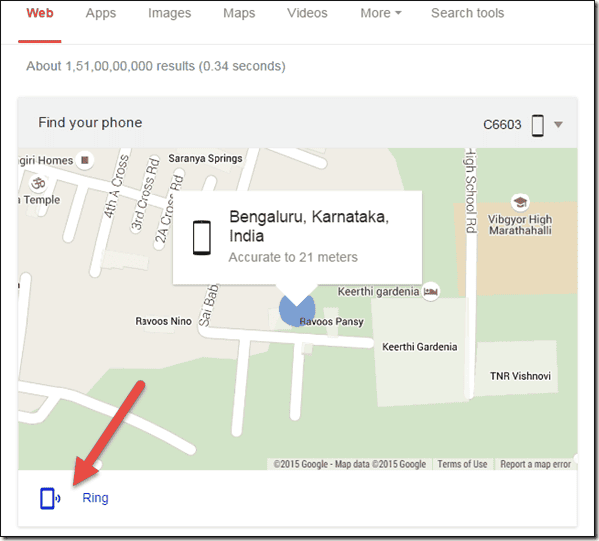 You'll be able to press on the "Ring" button to call your phone after Google has located it. While this shortens the time it takes to locate your phone, it does not provide access to all the features of Find My Device's complete UI.
If you set up Find My Device on your phone, you may locate it, have it ring, and erase all of your personal data to prevent your personal information from being compromised. No method exists for you to access your device remotely except these capabilities.
If you lose your phone, you may be able to locate it if you borrow someone else's phone. Although the Find My Device app may be used in addition to monitoring your mobile's browser, you can also utilise the app and sign in using guest mode, which uses your Google account.
Locating your phone, ringing it, and erasing the data is all easier with your phone on. In order for you to be able to track your phone, you must wait till it is enabled on your phone.
Start tracking your location on Google.
If you are looking for an inactive mobile phone and want to find out where it is last registered, utilise Google's location history to help you locate it. This function must be used prior to your phone being shut off and it must be linked to your Google account.
Whether you're using a brand-new phone or a reconditioned one, your Location History and Location Reporting must be enabled on your device. This option is different from the one above, since it doesn't monitor your phone but instead uses the last path logged on your device.
You may also see your device's location history even if it is off. In most cases, if your phone is on and you were nearby when it happened, you should be able to track the user's journey.
Use Google Photos to find your Android phone if you ever misplace it.
Google Photos can help you locate a misplaced mobile phone that is off. The procedure must be completed while connected to the internet and your device must have activated the "Backup & Sync" option in your Google Photos.
When you've picked up your phone, your Google Pictures will upload photos from your device, which will include those taken by the person who retrieved your phone.
This will not only assist you in your search for your missing phone but additionally, any pictures that you take on your smartphone will be backed up and synchronised with your Google photos.
You can see and edit all your photos in one place using Google Photos. You may see pictures appear on your Google Photos if the individual using your phone didn't log out of your account. If the latest pictures on your phone seem familiar, your phone will be within a close distance of you.
But keep in mind that this information should be approached with care, and it is better that you not find out about the theft on your own. Do you plan on being able to find your phone using your Google Photos? Follow these instructions to proceed.
Log in to Google Photos on your Android smartphone using your Google account.
If there are any pictures that have been posted lately, have a look.
Next, after clicking on the new picture, the user has to click on the blue information button which is situated in the top-right corner.
Information about the picture, such where it was taken and when, will be included next to the image.
To locate a lost cell phone that is turned off using its IMEI number, try the following:
Could you tell me how to find my mobile phone if it's switched off? With the IMEI number of your smartphone, it is feasible. The IMEI identifies a mobile station's equipment identity throughout the world. A number unique to a mobile phone consists of 15 digits.
Locating a missing or stolen phone may be done using this technique. If you're trying to discover your device's IMEI, your phone will be different based on the kind. You can find yours like this.
IMEI for iPhone
To go to your iPhone's Settings app, click to Settings > General. You can locate the IMEI by tapping About on your screen, and then scrolling to the bottom.
Keep a notepad with you at all times and write down your phone number.
IMEI for Android
If the IMEI number is on the back of your mobile phone, then go on to step 2. If you have not done so before, you should open the Settings app and scroll all the way to the bottom to locate the About Phone option.
Now note down the IMEI number you'll see on your phone. You may also remove the cover and battery, then turn your phone off. Your phone has an IMEI number, therefore you will also need to get a copy of it.
If you have your IMEI number, how can you find your lost mobile phone? Start by calling the police and providing your phone's IMEI, so that they can hunt down your phone. You may also trace your missing phone by calling your cellular service provider and providing your device's IMEI.
They can then locate your phone for you. You may download an IMEI monitoring app if you want to trace the IMEI on your own. The exciting thing is that there are many IMEI tracking applications available. This software requires you to enter your IMEI number, and then your smartphone will attempt to find it.
The majority of us don't pay much attention to our phone's IMEI, but if you happen to lose or someone stole your phone, now is a good time to record your IMEI to make sure you have access to your phone in the future. This will help you find it.
Find your lost phone using these third-party tools
Find and secure a lost phone in the future by installing a tracking app.
It is likely that Google's tools are the finest ones, but we still have a few more programmes to suggest. They often provide additional remote-control capabilities and are capable of implementing additional security.
Cerberus (free with in-app purchases)
We suggest Cerberus as your go-to monitoring app since it offers a wide range of remote-control possibilities. It is a comprehensive set of techniques for monitoring the places you go. Cerberus may be either the Swiss army knife or a tracking app because to the number of choices available.
Thanks to some of the more sophisticated capabilities, this software is even better. Cerberus may be hidden inside your app drawer which obscures its existence and makes it more difficult to remove.
You may use a flashable ZIP file to install Android if you have a rooted Android smartphone. Cerberus will still be installed even if someone else resets your Android phone to its factory settings.
Click on the logo to download Cerberus or Click here.
Lost Android (free with in-app purchases)
The remote control features available with Lost Android are comparable to Cerberus and include the ability to locate your phone, clear its data, and take photos remotely. Since you use the Lost Android website to manage your smartphone, don't criticise the rather plain appearance of the website.
Able to do its function effectively, the creator of the app makes this claim on the company site, saying that he's a technology engineer, not a web developer.
It's very simple to install. To launch the app, download it from the Play Store and provide device administrator rights when you open it. Done. Log in with the same Google Account as on your phone, select one of the available features, then search for your phone on the Lost Android website.
Download Lost Android (free with in-app purchases)
Prey Anti-Theft
In addition to cell phones, computers are often stolen in the city of prey. The good thing about Prey is that it allows you to keep tabs on up to three different devices for free. While Cerberus lacks remote control capabilities, it offers the majority of necessary and essential functions such as GPS tracking, scanning Wi-Fi networks, and capturing photos remotely.
Download Prey Anti-Theft (free)
Here's a bonus tip: There are many ways to turn off Find My iPhone without using a password.
Here we propose professional iOS devices unlock tool called AnyUnlock – iCloud Activation Unlocker.
If you activate Find My iPhone/iPad/iPod touch and leave your device powered on, turn off Find My iPhone/iPad/iPod touch without a password
Your smartphone will then be wiped factory reset and all data, including iCloud Activation Lock, will be deleted. The methods for fixing cannot turn off find my iPhone problem are shown below.
A step-by-step guide on how to turn off Find My iPhone without a password is shown here.
Instructions for Windows:
The first step is to Download AnyUnlock and run AnyUnlock on your PC. Once the programme is loaded, choose the "Turn off Find My iPhone mode" under the left control panel, then click the "Start Now" button.
To connect your iPhone to the computer, plug it into a USB port on the computer using a USB cable, and then click the Confirm button.
Now, kindly follow the Jailbreak Tutorial for a better and quicker experience. To confirm that your smartphone is jailbroken, please click the "Next" button on the software again.
To proceed, please connect your iPhone to a power source, switch off Wi-Fi, and disable cellular data.
In the last step, the app is shutting off Find My iPhone. In order to maintain the network connection, make sure the connection is steady.
At this point, locate your iPhone and make sure it is switched off. Proceed to the programme and enter the Find My iPhone status.
At the end of the procedure, you will see that the Find My iPhone service has been shut off and the old Apple ID has been deleted.
Startup instructions for a Mac:
AnyUnlock can help you locate and turn off Find My iPhone on your Mac if you are having the problem.
Follow these steps:
Download AnyUnlock – iCloud Activation Unlocker, which you may get at the link besides, and install it on your computer. To turn off the Find My iPhone feature, tap on the "Turn off Find My iPhone" control panel at the left side of the iPhone. Next, connect your iPhone to the computer using a USB cord.
Verify the "Terms of Use" box is checked. After you click on "Confirm," anyUnlock will begin to jailbreak your smartphone, but don't worry, as long as Find My is turned off, your device will return to its previous state.
Once you have successfully downloaded the jailbreak programme, you will follow the software's instructions to put your iPhone into DFU mode. This is what you will see after the jailbreaking procedure is finished. Click on "Turn off Now" to turn off the extension.
At this point, you should switch off the Find My iPhone function. Go ahead and click the Confirm option.
After that, the AnyUnlock programme will effectively deactivate the "Find My iPhone" feature.
In addition to preinstalled security features that make finding your misplaced phone quick and simple, every Android device has additional capabilities to protect your personal information and track down your phone if it's ever stolen. In other words, keep calm and do not become complacent just yet. When your phone goes lost, there are a few things you need to do immediately to ensure your success. The first of them is if you left your phone at home.
Follow along to learn all of the procedures you may undertake now, as well as when you should do those procedures if your phone is stolen.
Get a head start by taking a few minutes to prepare now
Setting a few different panes to various options while ensuring the appropriate switches are switched on does not take much effort. In the future, future you will thank you for doing the following: Take five minutes to do the following.
Create a lock screen that is secure.
Turn on passcode and fingerprint authentication, since doing so will likely make your life easier. It would be great if you could keep this promise to yourself by refusing to utilise facial recognition on your Android smartphone.
Facial recognition can be easily tricked, Facial recognition technology on most Android smartphones can be bypassed with a simple image of your face. In contrast to other smartphones, Google's Pixel 5 employ a more dependable method that's comparable to Apple's Face ID.
Next, use the Passcode option in the Settings app to establish a passcode, and then use the Touch ID sensor in the Security section to set up fingerprint authentication. Although using the fingerprint scanner or entering a PIN code every time you want to use your phone may be annoying, it's also terrifying to think that someone might get their hands on your pictures, financial applications, email, and anything else you save on your phone.
If you consider the possible effect of revealing your personal information to a stranger, it is worth it to take an additional step to unlock your phone.
Install Google's Find My Device service, regardless of manufacturer.
Find My Smartphone is automatically switched on whenever you login in to an Android device with a Google account. Find My Device is a fantastic free service provided by Google. It's the best way to locate, remotely lock, and remotely delete your lost phone.
Find My Device must be turned on in the Settings app and then go to Security & Location > Find My Device and make sure it is on. Google > Security > Find My Device is another option.
To locate a device, the Find My Device feature needs be switched on. In the event that you don't, set the switch to the on position.
In the end, it is essential to make sure that your device's ability to both lock and remotely wipe it is enabled, as instructed on android.com/find by searching for your phone on your computer, and then clicking on the Set Up Secure & Erase link. Push notifications will be delivered to your phone, and you may complete the setup by tapping on them.
One bit of advice for the day: Don't confront thieves
Do not try to hunt down your phone if it has been stolen. Using the phone in this way may result in you or someone else being harmed, and even if the phone is critical, you shouldn't use it.
Rather, call local police authorities and let them know you've been able to trace your phone to a particular location, and then ask for their assistance in retrieving it.
Your phone is missing? Call your carrier to report the damage and get compensation for it.
Contact your carrier and report your phone as stolen if it becomes apparent that you will never retrieve it. To prevent someone else from using the phone, blacklist it using this method.
Your service will be suspended when you make the call. This would be a smart precaution if you want to keep your phone out of someone else's hands. Keep in mind, though, that if you're still using your lost phone's locator to keep track of it, you'll lose a mobile connection to it, and you'll also lose the ability to monitor it.
You'll need to submit a claim and pay the deductible in order to receive a new phone if you've paid for insurance on your phone. Your carrier will send you to the third-party insurance provider that will replace your phone, and after that, the claim procedure will commence.
Have a nice day! Our goal is that you will never experience the gut-wrenching emotions of losing a phone, only to hunt it down and attempt to retrieve it.
The Conclusion
Hopefully, the following data will be helpful to you, and will assist you in locating your lost offline mobile phone! If you have more questions regarding this subject or any other pertinent topics, please leave a comment below. May you get your device back safely!